We at PDR firmly believe in the importance of obedience training, regardless of breed or size of dog, and have a clause in our adoption contract requiring adopters to attend and complete a basic obedience course at a facility of their choosing. Only in certain circumstances will we waive this clause so please be prepared to attend dog school should you wish to apply for a dog through our program.
All Pound Dog Rescue dogs are spayed/neutered, vaccinated, heartworm tested, dewormed (if required), and microchipped prior to adoption. The adoption donation of $400 is applied to assist in the costs of veterinary care and the overall care of the dog.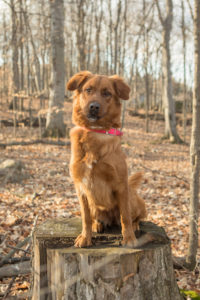 This gorgeous girl is Amber and she is a year and a half old Golden Retriever/ German Shepherd mix. Amber is a tall girl and weighs approx. 65lbs at this time with a bit of filling out to do. She came to us extremely thin and has been working on putting on weight, which has been a slow go as she doesn't have the Golden Retriever's love of food. Amber eats well now but she isn't a "foodie" and occasionally won't finish her full meal. She has the coat and colouring of a Golden Retrieiver but the body shape of a Shepherd. Amber is a dog that turns heads and garners a lot of attention when we take her out as she is so pretty and so lovely natured. Amber is house trained and crate trained and is crated when we aren't at home and at night and she does well with this. She will be a wonderful dog for a lucky person or family.
Amber rides well in the car but needs to be secured or she will try and be up front with you. She can sometimes get car sick on trips longer than a half an hour but does fine with shorter trips. She really enjoys going in the car though and is up for any adventure. We don't feel that Amber's prior family socialized her well or took her many places and so she gets very excited when she goes to new places. She requires a confident and experienced handler who can control her excitement and continue to work with her on socialization. She doesn't get aggressive or barky or badly behaved when she is excited, she just pulls on leash, gets antsy and wants to get where you're going fast. She just needs to continue to learn to remain calm in new situations. Because of this she will not be suitable as a first dog for a family; she does require an experienced person/family who can handle a strong, happy, big dog.
Amber is extremely affectionate and loves all attention given to her. She loves meeting people and receiving pets from new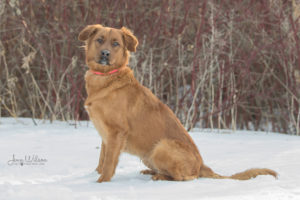 friends. She is a dog who loves when you give her hugs and just hold her close and tell her that she's a good girl. This is probably her favourite thing. She will often give you kisses when you are hugging her. She does occasionally try and jump up with excitement but we correct her every time and she is learning to keep her feet on the ground. Speaking of feet, Amber is very sensitive with having her feet handled. In her foster home we have been working on holding her feet and offering her treats to make feet handling a positive experience for her. It's necessary as she will need her nails trimmed from time to time, and her fluffy feet collect snow balls easily that need removal. So again, she requires am experienced handler who can continue to work on this with her.
Amber's ideal home would be an adult only home or one with kids over 12yrs of age. She is still learning a lot of obedience skills and is a big kid herself and is best suited to older children. She is perfectly fine with the cats in her foster home, but the cats here are very dog savvy and know how to behave around a dog. Amber would certainly chase a cat that runs from her or freaks out in her presence. She would be fine to go to a home that has a dog savvy cat. Amber is being fostered in a home with other dogs. Amber views herself as a bit of a diva and can be bossy with other dogs at times. She is easily corrected when she's being bossy but she has to be monitored. She does enjoy running and wrestling with her young foster dog brother but their play is supervised as Amber can get too rough at times. She is still learning what appropriate play is as it's apparent she didn't learn this when she was a puppy. Amber would be best in a home where she is the only dog and get all of the attention, or she could go to a home with a medium to large sized young, submissive male dog. It has to be a submissive male though who won't challenge Amber for status. Amber wants to be the doggie pack leader in her home. Amber will not want to live with another female dog. Diva's don't share attention with others!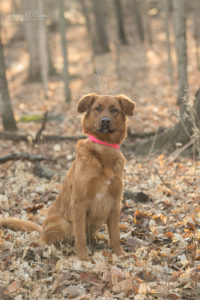 Amber is quiet and calm in the home and is a lovely and easy dog to live with. She does have a deep bark befitting her Shepherd side but she rarely barks. She will curl up on her dog bed in the family room when you are relaxing and you will hardly know she is there. But if you get up to move you will have a glossy red shadow follow you around in case she misses something. Amber is energetic and active outside and is up for anything you want to do with her. Amber requires a couple good walks every day as well as yard play. Amber enjoys being outdoors and would like a fenced in yard to play in and explore. Amber is also a dog that could be a good running companion if you wish to partake in that with her, but she doesn't require regular running to be happy; good long walks set at a fast pace will suit her fine. She does require an active person/family who would be capable of taking her for long walks and hikes. She is an active dog but not excessively.
Amber has been a healthy and happy dog in our care. She is a cuddler and loves nothing more than receiving affection from her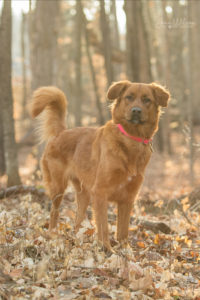 loved ones. Amber bonds strongly with her people and is a real pleaser. She is an easy dog to train as she just wants to make you happy. Amber will need to attend obedience school to work on her socialization and training and we know she is going to love attending classes. She is a good candidate for advanced classes as she is a very bright dog and has unlimited potential to learn. We are looking for a family who will work with Amber and take advantage of all of her potential and take her to advanced training classes. Amber would also be suitable for dog sports if that were an interest of yours. She really is a dog you can do pretty much anything with. We just want to expand Amber's world and bring out the best in this wonderful dog.
Amber requires a family who will bond with her and give her the commitment of a forever home. She just wants a family to love and will be a loyal companion to whichever lucky person or family adopts her. Amber will be your guardian, best friend and partner in crime. She has been abandoned once already by a family and we all want this next home to be Amber's final home where she can truly settle in and know that she is home and loved.