All Pound Dog Rescue dogs are spayed/neutered, vaccinated, heartworm tested, dewormed (if required), and microchipped prior to adoption. The adoption donation of $400 is applied to assist in the costs of veterinary care and the overall care of the dog.
We at PDR firmly believe in the importance of obedience training, regardless of breed or size of dog, and have a clause in our adoption contract requiring adopters to attend and complete a basic obedience course at a facility of their choosing. Only in certain circumstances will we waive this clause so please be prepared to attend dog school should you wish to apply for a dog through our program.
For more information and adoption applications please consult our website at www.pounddog.ca.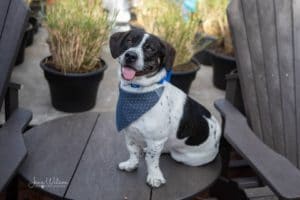 Meet Angus! Weighing in at 35 lbs and 13" tall, this pup is mightier than his measurements. A 1-year old Beagle-Basset Hound cross, Angus is all muscle, devoted to a daily regimen of running and jumping. White with black patches, curious brown eyes, and Basset-bowed legs, this pooch is a charmer to behold and knows just how to cock his head and lower his gaze when apologizing for his latest shenanigans.
And Angus is no stranger to shenanigans! Sadly, he was abandoned by his previous family at the pound, who found his high-energy and adventurous spirit too much to handle. Unfortunately, they did not put the care and time into teaching Angus basic manners. That said, he is clever, keen and motivated and with patience and persistence his good traits will out-shine his bad habits and allow him to be the great dog he's destined to be!  Angus is also much more active and energetic than you would think from his appearance so he requires a family or person looking for a higher energy dog.  Simple walks around the block do not suffice for this young boy; he requires running play and long, fast paced walks to be happy and behaved.
Indoors and outdoors, Angus is energetic and looking for adventure. One of his favourite games is stealing the humans' prized possessions (mostly slippers and socks but one time he was lucky enough to score a cell phone!) and hiding them under the humans' bed. Don't worry, you'll know if he has something, he likes to come and show it off before darting away to his not-so-secret lair. Outdoors, it's sticks, snow, ice and stones – anything he can fit (or almost fit) in his mouth.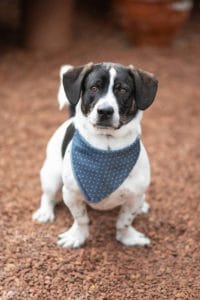 These makeshift toys aren't for a lack of dog toys – they're just more fun when forbidden! And dog toys don't last long. Angus is great at disassembling or devouring even the most "indestructible" toys – he could film anti-ads for Kong (no offence Kong, he's just that good!)
Aside from his habits of petty theft and product destruction, Angus has a sweet, soft side. He's quick to give kisses and loves being a lap-dog. He also loves to play and never tires of tug-of-war or a good ol' game of chase. He doesn't know many tricks yet (he's recently mastered "sit") but his love of treats makes him a strong student. Angus would thrive in a home with patience and persistence and experience handling high-energy, spirited dogs. He can be quite vocal when he wants something, and a bit mouthy when he doesn't. He's still learning boundaries where he is and isn't allowed, and has a tendency to jump up on people.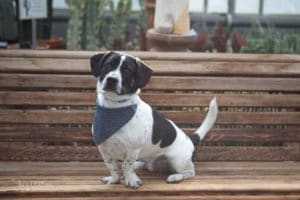 Angus loves other dogs and would do well to have a fur-sibling to learn from.  Ideally we are looking for a home for him that has another active and playful dog as this would be best for Angus.  He would be fine as an only-dog in the house as well, provided his family could give him the running and playtime he needs to get his energy out. He's a busy little guy and needs constant engagement – or he will find his own!
He can be a bit timid with strangers at first (especially men) but warms-up quickly when offered a treat. He is generally good around children but because he still requires a lot of training, his forever-home should be an adults-only or older-children (over 12yrs) household to help steer Angus in the right direction.
Angus is crate-trained, walks well on leash and loves running in the backyard. He's gone exploring hiking trails with his fur foster-sister and loves taking in the news smells and getting extra exercise on a long training lead – though his legs may be short, he loves long walks!
It's a shame that this loveable little spunk wasn't given proper training as a young pup. He's a sweet, comical, charming little pooch. He just requires an experienced owner or family who will continue his training and provide him the exercise he needs.  Although short legged, Angus is high energy and needs long, fast paced walks, and even runs, to be happy.  A simple walk around the block will not suffice for this little spitfire.  His people need to be up to this exercise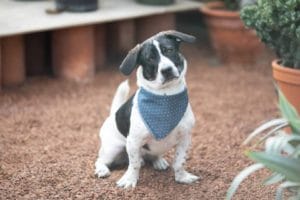 requirement and get him out regardless of weather.  The phrase "A tired dog is a good dog" certainly applies to Angus!! We hope to find Angus a loving, devoted home who will have the patience, time and care to help this sweet hound reach his full potential. Are you the right home for Angus? He's looking for you!!
Click the button to download the Adoption Application Form in a Microsoft Word file format. Fill it in on the computer or by hand, and email it to us at pounddog.ca@gmail.com.
If you need a different file type, please email us at pounddog.ca@gmail.com.