AVAILABLE
Please read our dog bios carefully to be sure that the dog you are applying for suits your family and lifestyle. We at PDR believe in the benefits of post-adoption training for our dogs and their families. This allows for continued socialization, learning and helps to create a well-mannered and balanced dog. Post-adoption training is a requirement in our adoption process.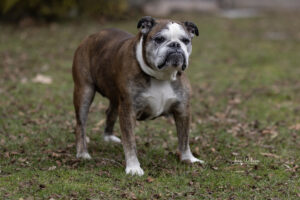 Hi there, my name is Betsy and I am going to be the first Olde English Bulldog to power walk 10km. I am 12 years young. I have a strict training schedule that I try to keep, power walking 2 to 3 km per day , rain, snow or shine. I walk nicely on a leash, but if you let me lead the way I will set a quick pace. If I'm on my 30ft training line, my foster mom will sometimes have to run a bit to catch up. I still like to break into a little bulldog gallop every now and then. I take my exercise seriously. I love walking soooo much, that I rarely stop to sniff. And if my foster stops to chat with people, I am happy to meet them as I am a friendly dog, but if she gabs too long, I grab the leash to get her to get moving again. (She needs the exercise too.)
Your probably wondering why, at the age of 12 years, do I live with my foster mom. Well I once had a loving home for many years, and I was taken care of pretty well. You can tell by my soft silky brindled brown fur, my good body weight and of course my great house manners, and sweet disposition. My prior person even got me from a breeder and my rescue has my papers to show that I am a registered purebred. I am in great health for my age. But due to unfortunate circumstances, I found myself surrendered to the local animal shelter as my previous person could no longer care for me. I am a fit and trim and athletic 60lbs of muscle but in a shorter, stockier body.
When I first got to my foster mom's home, I had a little trouble with the stairs, having been in a shelter and had smelly breath. But since my daily exercise program, I now go up and down all the stairs in the house. And this house has a lot of stairs. And my breath is much better since I had my teeth cleaned. Minty fresh now. So my new family should be prepared to keep up with my daily exercise to keep my joints and limbs nimble because as they say for us older dogs " if you rest you rust."
I do not much like to be crated, but as I have good house manners and don't like to chew anything but edible treats, I can be left uncrated for a few hours. I should let you know though, I I have separation anxiety so I prefer not to be left too long. I don't get into anything, I just get anxious and pant more and will bark for a while.
I like to think of myself as a low maintenance type of gal. I do my exercise outside and then when I am in the house, I am happy just to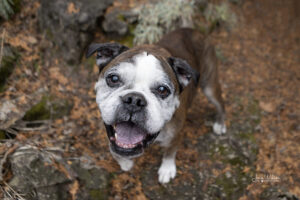 lazily follow my foster mom around and plop down wherever she is and take lots of naps. I love to get chin, ear and bum rubs. But when I tip my big muzzle up I have a tendency to snort in your face. Oops, I don't mean to,do it, it's just my bulldog breeding. I also like to fart, snore, and hrumpf a lot and sometimes drool when food is out. I can really make some strange noises. I also love to eat. Treats and food are my next best favourite things besides walking and being with people. I especially LOVE roast chicken which my foster mom makes for me regularly so I hope my new family will too.
I am happy when company comes over, I don't bark or jump up, I am polite when greeting people and enjoy the extra attention. I don't even bark when the doorbell rings. I will however bark when I am outside and a dog passes by. I don't much like other dogs. Therefore I should be the only dog in my new home. When I am out on walks I am interested in other dogs and if they are at a distant I will just walk by, but if they get in my face, I will bark and lunge at them until you bring out a treat and ask me to sit, or tell me to heel while holding the treat for me to smell. Then I say dog? What dog? I just just see treats. I am very responsive.
I sit readily on command or with a light touch on my rump. I will usually come when called. And I can shake a paw. I usually respond well to voice but I am also learning some new hand signals. I have learned a new command (the wait command) since I have been in foster care. Yes, you can teach an old dog new tricks. And I have learned to sit where you point your finger because before this I would get so excited at walk time that I would sit right in front of the door when we were getting ready to go out, essentially blocking the door from being opened. I would also try to grab the leash. We are still working on the leash grabbing, but now I sit at my assigned spot, and wait until I am told to proceed out the door. If you stop on the walk I will stop too and look back at you just to make sure you are still with me. If you change directions, I don't want to be left behind so I will follow.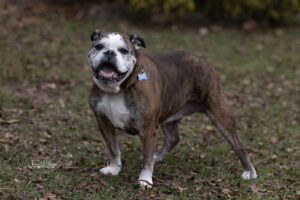 I am generally a calm dog, but you can rev me up by getting all excited and taking in an excited voice, then I might do a little bulldog dance for you. And lick you in the face. However, I do get anxious in new settings. As I am a responsive dog, I can learn to adjust. I am now getting used to riding in the car and will readily jump in the back for a ride. My foster mom's friends and family have described me as a very sweet, lovable dog. They also think I am cute, despite my bulldog mug. I am good with my foster mom's grandson, and love to sneak upstairs and crawl bedside his bed to listen to bedtime stories. I would do fine in a home with teen children but I wouldn't like the energy level or excitement of younger children. I can get over stimulated easily and forget my manners, so a calm, adult home or one with teens is what I am looking for.
I would love to have new forever companions that will share my enthusiasm for being outside, walking, food and just lazing around by the TV. I think a quieter family would be best as us old gals like to have lots of quiet naps. But my people need to be strong enough to manage me and be active enough to be able to fast walk me two to three times a day. And like to feed me treats and peppermint smelling chew sticks. As long as I am walked, I will not put on a lot of weight so I can eat lots of nutritious treats.