We at PDR believe in the benefits of post-adoption training for our dogs and their families. This allows for continued socialization, learning and helps to create a well-mannered and balanced dog. Post-adoption training is a requirement in our adoption process. For more information on our process and requirements, visit our website at https://pounddog.ca/adoption-info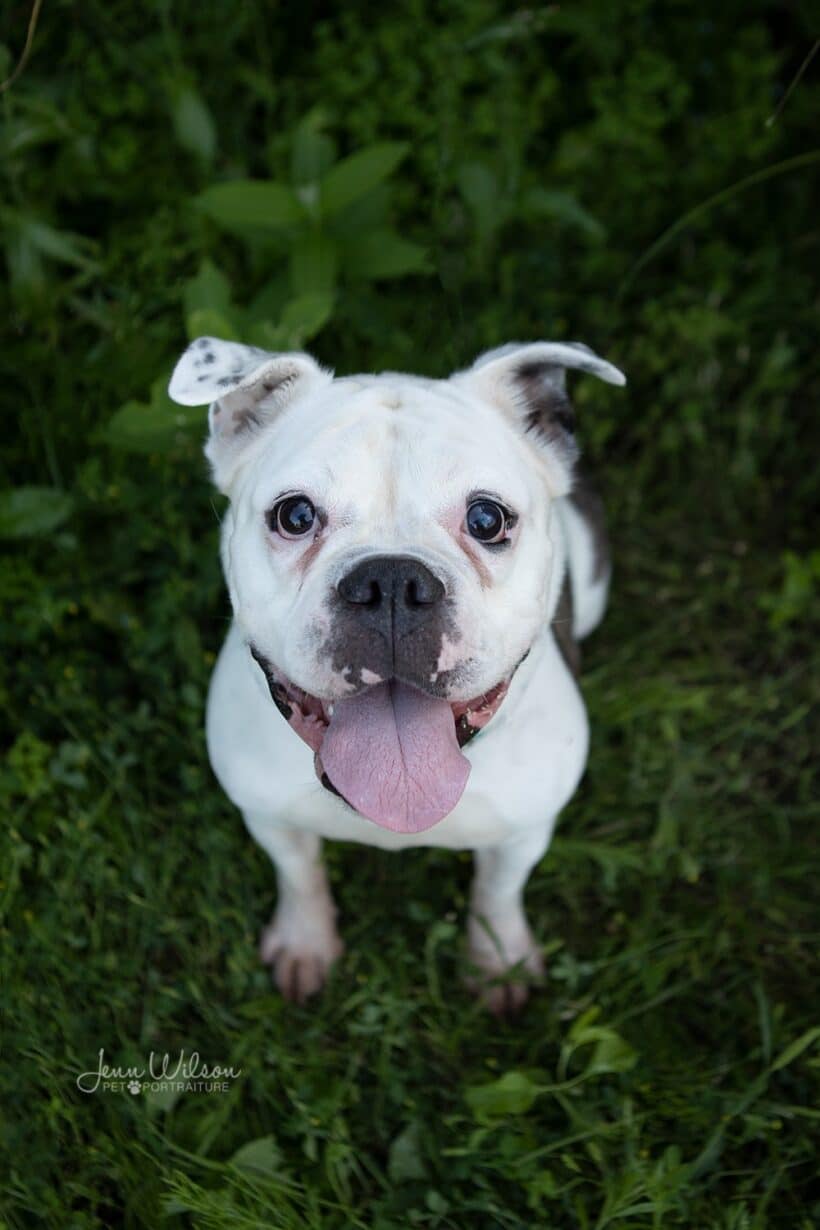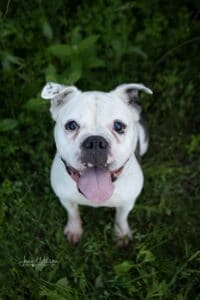 I can't believe the time has come that Bizzy is ready for the next part of her journey. As I sit here writing up her bio to introduce you all to her, I am getting teary because this dog is something else. Folks, meet Bizzy. She is a 5 yr old  female Bulldog that is just shy of a healthy 60lbs. She is a beautiful dark brindle and white with the best smile and the most adorable eyes…and she is a talker! That's right, when she has something to say, you are going to hear it…it isn't barking, it isn't howling, it isn't growling…it's a language all her own and it is hysterical! I kid you not, we can talk back and forth for a good 10mins without a pause. To be clear, this isn't every day all day long, it is just occasionally when she has something to share with you. Usually, she is a very quiet dog who rarely makes a sound and I haven't yet heard her give a full on bark.
Bizzy's first 5 years were not filled with kindness or good care. She has been extensively bred and came into rescue with a host of medical issues, she was underweight, she had no muscle tone…and she was still lactating. Bizzy had just had yet another litter of pups before she was dumped on the streets to take care of herself. Thankfully she was turned in by someone who saw her condition and knew she needed help. She then made her way to our rescue where her rehabilitation really began. I won't list all of the medical issues here as it is a lengthy list, but her medical history and all the records we have will be shared with the people in the adoption process for her. The important part to know is that she has been successfully treated for every issue she had and is now full of life and energy. Bizzy is ready to leave all the bad behind and is now looking for her forever person or people that will never let her down again…she deserves nothing but the best in people and we are looking for exactly that.
The first thing to know about Bizzy is that she is not a lazy dog. She feels better now than she has likely felt in years and she is ready to take on the world. This girl has spunk and energy and definitely falls into the more athletic category of Bulldogs. She loves to play fetch, she loves her walks and we have now worked up to 3.5 to 4km walks in the cooler weather. Like all Bulldogs, you do have to watch her activity levels in heat and humidity, so on warmer days, we do early morning or evening walks when the sun goes down. Outside of that, her stamina is growing and exercise will be a daily requirement for her. She is still building muscle and will fill out further, she is a strong girl but is easily walked on a martingale collar. She pretty much ignores dogs and animals on walks as she is on a mission, but we stop at least a few times during a walk to let her investigate the world around her…sometimes it is like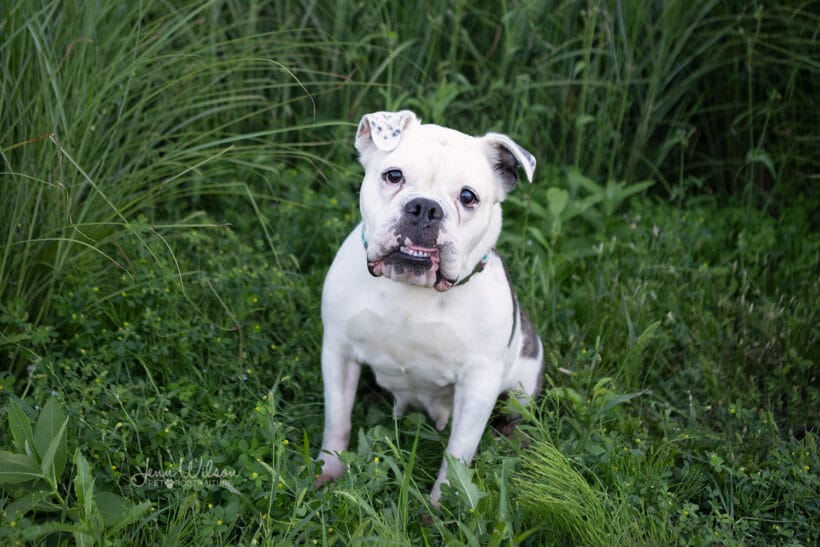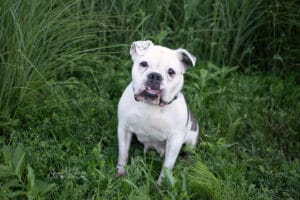 she is seeing things for the first time and is just fascinated by it all. She travels well in the car, LOVES car rides, and will require a seatbelt harness. This helps to keep her secure in travelling and also helps her settle in quickly. She is not a problem in the car at all, she loves watching the world go by and will then just lie down and sleep.
In the house Bizzy is very quiet, has not had one accident and she loves her crate. To be truthful, she loved her crate a bit too much. This is likely where she spent most of her time as she really didn't seem to know how to enjoy being out of it, how to relax on a dog bed and feel comfortable. The last two weeks this is turning a corner and she now seeks out the companionship of her foster Mom to snuggle on the couch or on her dog bed. Bizzy is getting the hang of the comforts of home and she is really starting to embrace them! Bizzy lives with other dogs and a cat and does pretty well with them, but she can be a bull in a china shop when initiating play and doesn't quite know how to respond when someone tries to play back. It would appear she really lacked positive socialization with other dogs and people although she wants to get to know them.  She has a long way to go before she can be considered to have good manners or a true comfort around them in play. For this reason, we are looking for her to be the only animal in her new home and an adult only home or one with older teens, so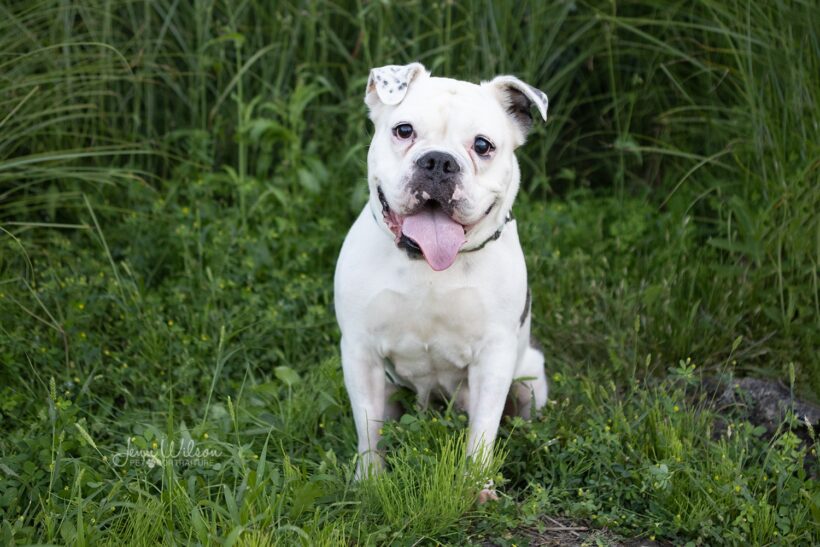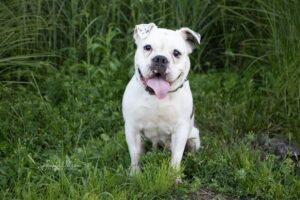 her family can help her continue to learn boundaries in play. She will need to ease into being around and interacting with other dogs in a more intimate way other than passing them by on the street. To be clear, she is not aggressive, she is overly boisterous and isn't great at reading or giving social cues…she is like a 12 week old puppy in an adult body. Her family really needs to understand that she is learning this from the ground up and to be patient with her and to continue her training.  Bizzy will not be suitable for first time dog owners but for someone experienced in stubborn, powerful breeds, this girl will be a delight!
Bizzy is learning about toys and how to play with them. Her favourite toys right now are Kongs and Nylabones. She is a chewer and a chaser, so these two toys fit the bill quite nicely! We have also begun to play with a tug rope for short periods of interactive play and she is responding well to the training around that activity. She really is a people pleaser once she bonds with you and she wants to know she did a good job. She can get over stimulated, so we keep the energy levels a little lower in play, end them on a good note and reward her positive interactions…she is doing a stellar job of learning! Attending obedience training classes beyond just basic level obedience will be a requirement for Bizzy. She loves to learn, she loves to work with her people and she has a lot of catching up to do…we need her new family to be committed to continuing to move her forward in life so she can experience all the things she has to discover about how wonderful, engaging, and fun life can really be.
One thing we need her future family to understand is that Bizzy does have allergies and she is on a strict diet. This is not at all uncommon for Bulldogs. She has one type of food she is eating (both in canned and kibble format) and one type of treats she can have. The food is Hill's Prescription Diet D/D formula and it must be purchased from a vet. She is doing very well on this plan and loves the food, she doesn't think she is lacking anything. Anyone interested in bringing Bizzy home needs to do their research on the cost and availability of this food and these treats. Most vet clinics should have it available.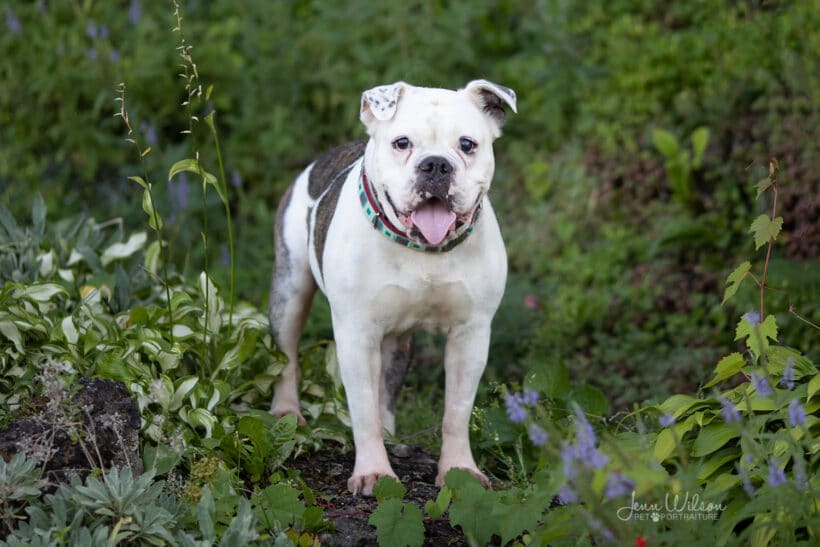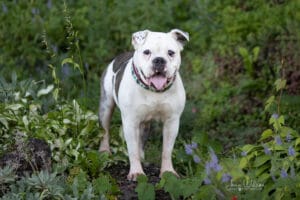 I honestly cannot say enough about the amazing resilience of this dog and the incredibly sweet heart she has. She loves every person she meets, she never has a down day anymore. She is full of life and love and excitement, the world is an absolute wonder to her. As I said at the beginning, it brings tears to my eyes to think of how far she has come and how eager she is to live in the moment and leave the past behind. She is truly deserving of a family that is going to cherish her and never let her down, who isn't going to get hung up on the story of her past but focusses on building the journey of a lifetime for her. If you feel that is you, please drop us a line and let us know…Bizzy is ready to take on the world with her partner(s) in crime!
Click the button to download the Adoption Application Form in a Microsoft Word file format. Fill it in on the computer or by hand, and email it to us at pounddog.ca@gmail.com.
If you need a different file type, please email us at pounddog.ca@gmail.com.