We at PDR firmly believe in the importance of obedience training, regardless of breed or size of dog, and have a clause in our adoption contract requiring adopters to attend and complete a basic obedience course at a facility of their choosing. Only in certain circumstances will we waive this clause so please be prepared to attend dog school should you wish to apply for a dog through our program.
All Pound Dog Rescue dogs are spayed/neutered, vaccinated, heartworm tested, dewormed (if required), and microchipped prior to adoption. The adoption donation of $400 is applied to assist in the costs of veterinary care and the overall care of the dog.
We will only be adopting out our dogs from now until the year end to people/families who are not travelling over the holidays, or having large family events at their home.  A new dog to the home requires calm and routine to successfully settle in.  If you have busy holiday plans please wait until after the holidays to adopt a dog.  But should you be having a quiet holiday season at home, we will gladly consider your application.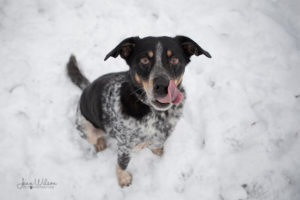 Let me introduce you to Bob who is ready to meet his forever family.
Bob is an 8 year old Australian Cattle Dog/ Beagle mix who is super smart, stubborn at times, and uniquely lovable.  He is a nice, medium sized dog who despite being mature, is very active and up for any adventure you would like to do with him.  He weighs about 40lbs but is on a diet and exercise plan now as he came to us very chubby and still needs to lose.  His ideal weight would be around 35lbs.  Bob ADORES playing fetch and will easily shed those excess pounds in a home where someone will play fetch with him every day.  He loves a Chuck-it ball launcher and will race after the ball every time, always bringing it back for the next throw.  He is easily entertained and even short throws down the hall while you are on the couch suffice on rainy days.
Bob's favorite thing, and his weight loss downfall, is food. He LOVES all food and will make all kinds of effort to get what he wants and his Beagle nose works really well. He comes by his extra weight honestly. Bob does not hesitate to tell you when he wants something or when it is meal time.  He lives for meal times.    He knows what he wants and how to get it.   If he disappears for a bit then you would want to check on him because his main goal is to get the food that you have left on the counter, in the fridge, in the garbage or a forgotten dog cookie in your coat pocket.  Because he is so food motivated training him with positive reinforcement is a breeze. He will do pretty much anything for a treat.  Because he needs his food amounts monitored, Bob would do best in a house with no other pets as he will try and steal their food. He is currently living with other pets and has to be constantly monitored so that he doesn't eat the other pets food. He doesn't interact much with the other dogs or cats and we feel that he would be happiest being the only pet and getting all of the attention….and treats.   Bob would make the perfect companion for someone who enjoys walks, playing fetch at the park, hanging out in the yard or watching TV and snuggling on the couch. Bob's second favourite thing ever is his people. He loves affection and cuddles and meeting new people.  He really loves the companionship of people and will be a devoted and loyal dog to his person or people. Bob will follow you absolutely everywhere and enjoys being close to his people.  He likes to interact with his people and have you play toys with him.  Bob loves most dog toys with his favorite being squeaky balls.  He goes crazy with them.   Bob loves the toy box and will not hesitate to dig through it looking for his favourite, he also loves playing tug of war and will pick up a rope and bring it to you.  He loves Kongs with peanut butter and he will keep himself occupied with any or all of these toys.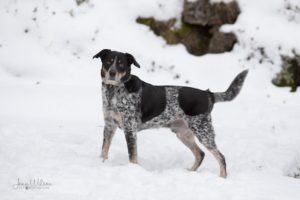 Bob is crate trained and sleeps in the crate during the night or when left alone. He is quiet for the most part when he is in the crate but noises will get him barking to make sure that he has not been forgotten.  He is best for detached home living as the hallway noises of an apartment or condo will make him react.  Bob would do best in a house where his owner is mostly home during the day or can come home for lunch and give him a break.  He needs to be crated when he is left in the home alone since he cannot be trusted out of his crate alone.  He will certainly go on a search for food if left to his own devices.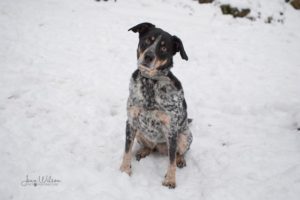 Bob can be protective when it comes to his food, and in a home with other pets this can be a problem.  Because of this he is currently being fed in his crate to allow him privacy.  In a home without other pets he could be fed out of the crate. He is doing better with this but his new family will need to keep working with him.  Because of this Bob will not be placed in a home with children under 16 as we need his family to know that Bob needs peace while he eats.
Bob is very smart and so far does know the following commands: Sit, lie down, no, go to bed, get down.  His aptitude for learning is vast.  We would love Bob to go to a home with people who would continue to work with Bob on his obedience skills.  You certainly can teach an old dog new tricks and Bob is a prime example of that.   Bob bonds very strongly to his person and working skills with him is the best way to continue to strengthen this bond.  He is a working dog by breed and needs to keep his mind busy to be happy.  Bob takes after the Cattle Dog part of his breed mix predominately.  He is active and smart and highly trainable.  Anyone considering Bob should be aware of Australian Cattle Dogs and know their personality and traits.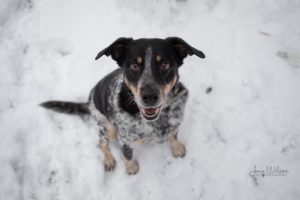 On a sad note, Bob has been diagnosed with Lyme disease.  His previous owner obviously didn't have him on the preventative which would have ensured he was protected from this disease.  Lyme disease is a totally preventable disease that is spread by ticks.  This disease is in Southern Ontario and we are seeing more and more of it as each year passes.  We are a rescue that Lyme tests all of the dogs we take in for exactly this reason. The good news is that Bob is completely free of symptoms and is an otherwise healthy dog, and we are committed to treating this and will get him all better.  Bob has no idea he has this disease and is in every way a happy dog. Bob has been cleared to be adopted as there is no reason to hold him back.  Bob is on medicine now to lower his Lyme level and he is doing well on it. He takes his pills wonderfully if you hide them in food!!  He won't need to be on meds long term which is great. His adoptive family just needs to be aware of his Lyme status and advise their vet of it and understand that he will test positive for Lyme's every time he has his heartworm/lyme tests done.   Lyme disease cannot be cured, but it is managed quite effectively.   Bob is so deserving of a family that will give him the care and love that he lacked in his prior home.
Bob has a huge personality and is looking for someone that will appreciate his uniqueness where he can be their only dog and unconditionally loved.  He will be a loyal companion and avid ball fetcher. Maybe you are lacking a furry ball fetcher in your life??
Click the button to download the Adoption Application Form in a Microsoft Word file format. Fill it in on the computer or by hand, and email it to us at pounddog.ca@gmail.com.
If you need a different file type, please email us at pounddog.ca@gmail.com.