We at PDR firmly believe in the importance of obedience training, regardless of breed or size of dog, and have a clause in our adoption contract requiring adopters to attend and complete a basic obedience course at a facility of their choosing. Only in certain circumstances will we waive this clause so please be prepared to attend dog school should you wish to apply for a dog through our program.
All Pound Dog Rescue dogs are spayed/neutered, vaccinated, heartworm tested, dewormed (if required), and microchipped prior to adoption. The adoption donation of $400 is applied to assist in the costs of veterinary care and the overall care of the dog.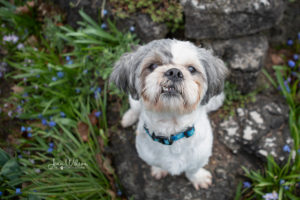 Hi! My name is Bogart! I am a 2 year old male Shih Tzu looking for my forever home. I'm a small dog, but large for my breed, weighing in at 18lbs. I was found as a stray, but my foster mom isn't sure how this happened as I'm such an adorable well-behaved boy. I am looking for a loving home that will take care of me and never let me get lost again! What makes me so special? Well, let me tell you!
I'm a very calm dog and spend most of my day sleeping or looking out the window watching the world go by. The front window is my favourite place to be. I get excited when I wake up in the morning, know I'm going for a walk, or get my kibble, but after that I quickly return to the front window for a nap. I enjoy cuddling and love people. Making friends with new people and dogs is one of my specialities…the more cuddles and friends, the better!
Walks are probably my favourite thing! I have a cute little bum bounce that I do when I know I'm going for a walk, or when I get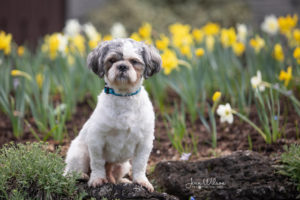 excited in general. Despite being excited to go for a walk, I've learned that I have to sit calmly at the door to get my leash on before I can go out. I have learned to walk well on a leash and don't pull. I'm intrigued by other dogs I meet on my walks and usually pass by them without any issue but sometimes I get excited and need to be reminded to walk past and ignore the other dog. Walks in town as well as on trails in wooded parks are both great! In town I walk on a regular leash but in the park I get to walk on my extend-a-leash where I have a bit more freedom to roam and sniff. Currently, I go on 3 20 – 30 minute walks a day. I would like to continue doing this in my new home.
Treats are also pretty great! I love any type of treat you give me! I have learned sit, down, and stay and will attempt any trick you try to teach me in exchange for a treat. Currently I am learning how to shake a paw and stand on command. I've almost got it! When it comes to toys, I'm indifferent about them. They are okay but definitely not one of my favourite things. At first, I had no idea why my foster mom kept throwing balls and squeaking things in front of me, but now I'm learning that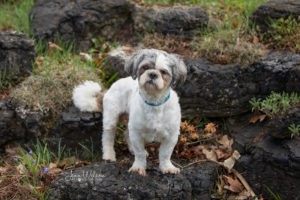 toys can be fun sometimes. If I get really excited I will play with my favourite squeaky toy for a few minutes but then I return to the front window to see what is going on outside. Bones are also okay for few minutes but then I get bored. I much prefer cuddling and will take all the affection I can get! My new family will need to continue to show me how to have fun and encourage me to play with my toys.
When it comes to car rides, I like to be with you but sometimes am hesitant to get in the car. Once I'm in the car I will curl up on the seat and occasionally look out the window to see where I am. I have been for a 3 hour car ride and had no problems.
I've been told I am a wonderful house guest. I rarely ever bark unless I feel I need to warn my foster mom about something. I'm also house trained. At night I sleep in my crate and am learning that it's a safe place to be. I get a treat every time I go in my crate, so it's not so bad. In fact, when I know it's bedtime, I run to my crate to get my treat. I also go in my crate while my foster mom is away. I don't like being left alone for more than a few hours a day though and would much prefer a home where someone is home most of the time with me.
I would be a good dog for a laid-back family. I am very gentle, patient, and affectionate. I'm not currently being fostered with any children or other pets, but my foster mom thinks I would be fine with children and love the extra attention. As for a
home with other pets, I would love to have another dog to keep me company and show me how to play. I really enjoy playing with other dogs and having another dog to hang out and play with would be great! Overall, I am pretty easy to live with. My foster mom is always telling me how I'm a good boy and this makes me happy. I would be thrilled to find my forever home. Do you have a small dog that could be my friend and do you have some room in your heart for a sweet ShihTzu boy like me? I need someone who will be committed to me and love me forever. Is that you?