We at PDR firmly believe in the importance of obedience training, regardless of breed or size of dog, and have a clause in our adoption contract requiring adopters to attend and complete a basic obedience course at a facility of their choosing. Only in certain circumstances will we waive this clause so please be prepared to attend dog school should you wish to apply for a dog through our program.
All Pound Dog Rescue dogs are spayed/neutered, vaccinated, heartworm tested, dewormed (if required), and microchipped prior to adoption. The adoption donation of $400 is applied to assist in the costs of veterinary care and the overall care of the dog.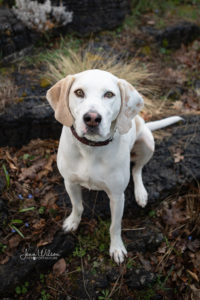 This gorgeous boy is Cameron and he is a 3yr old Pointer/Hound mix. He is a friend to everyone and he is looking for a very best friend to spend his life with. Cam will offer you lots of nose boops, gentle kisses and happy dances if you offer him butt scratches, ear rubs and the occasional " Who's a good boy?" (spoiler alert..it's Cam!)
Cam is an active boy. He requires daily exercise in the manner of yard play, long walks, hikes and romps with dog friends. Cam is put on a long lead in the park and loves to chase tennis balls and his foster brothers and loves diving into random bushes for no apparent reason. His recall has been improving but because he is part hound Cam cannot be let off leash in an unfenced area. He walks well on a gentle leader at our side. On a flat/martingale collar Cam pulls like a truck so the gentle leader head halter is the key to enjoyable walks with him. He doesn't use his nose too much on walks but will periodically drop his face to the ground to follow a good scent. His Pointer heritage takes over on walks though so Cam is all about the sights and sounds around him. Cam has also been trained to a pulling harness and has pulled sled and bike. He adores this sport and would love to continue participating if his adoptive family would have interest in it. Cam gets so excited when the harness comes out he will bounce up and down. It's his true joy. Cam needs a family that is outdoorsy and active and wants a dog to participate in their activities. Nicely though Cam is very calm and restful in the house. He will curl up on his dog bed and not make a peep. You will even forget that he is there. He will be ideal for a family that has someone that works from home because after morning yard play and a good walk he will curl up in your office with you and not bug while you get your work done.
Cam experiences separation anxiety and requires a home where someone is predominately home. He would not be suitable for a home where people are gone for an 8hr workday. His ideal home would be with a family where someone works from home, work opposite shifts, or active retirees. We are using an anxiety medication with Cam and it has worked wonders with him. It is not expensive and is something that will need to be continued in his adoptive home to ease with his transition to a new family. His foster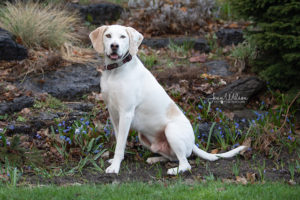 parents work opposite shifts and he is rarely left alone for more than a few hours at a time. He does best when left in a room with a window to look out of. Cam really enjoys having a view. He doesn't do well with access to the whole home when left alone, being confined to one room is best for him. His foster family have a mudroom that they have set up as Cam's room and he is quite comfortable in his room when they have to leave him alone. He has a dog bed, treats and toys and a window seat and he has done very well with this set up.
Cam would do well with or without animal companions in the home but would definitely benefit from gaining a friendly and active sibling to share daily romps. We are hoping for a forever home for Cam that has an active and playful dog to be his best buddy. He loves dog play and is a very dog friendly dog. He has a foster brother Bulldog who is his bestie and the 2 of them can be seen wresting and romping at most times in the yard. Cam currently lives with dogs and cats and spends most of his time at home throwing around toys and trying to entice his very patient foster brothers to play. Cam's favourite place in the world is the dog park and if he had it his way would spend all of his time there. We typically don't recommend dog parks but Cam is a dog that other dogs seem to really like and he is wise to other dog's moods and avoids the ones that don't want to play with him. Although Cam is full of beans on the walk to the gate, he is exceptionally well behaved and appropriate with dogs of all sizes and temperaments while inside. He spends his time running laps (usually in the opposite direction of the rest of the pack) and is the first to greet any new dog in the park. Cam's recall at the dog park does need continued work, however, he is usually mooching water/treats off another dog owner so it is easy to wrangle him.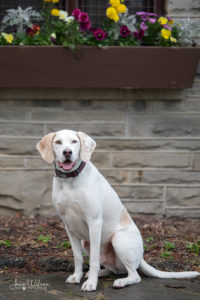 Cam is not being fostered in a home with children but has been excellent with the children he has met at local pet stores and in his neighbourhood. Although he is fine with children, he doesn't understand his size, strength, and lack of coordination and could easily knock a child down accidentally. Because Cam is still learning the ropes, it will be best for him to go to a home with children who are over the age of 5 to avoid any accidents.
Cam isn't a great traveller as of yet. He is still uneasy in the car so continued patience and positive reinforcement is necessary for continued success. He needs to be secured in the car as he will bounce from window to window and want to be on your lap when driving without confinement. We use a leash to secure him in the rear area of the vehicle. He will whine though and be anxious in the car. We work with this by taking him on short rides to fun places and make car rides a positive experience for him. Cam is an extremely sensitive boy who shuts down with the slightest hint of frustration or raised voices so patience, understanding and positivity are a must when interacting with him. He will require an experienced handler who is committed to continuing his training through (at a minimum) a basic obedience class to build the essential bond that is needed to help him flourish in his new home. Cam's forever family should consider enrolling him in some form of dog sport as his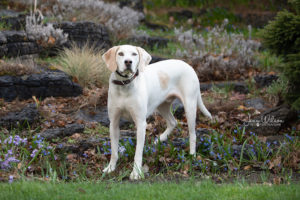 athleticism and energy level make him an excellent candidate for these types of activities.
Cam has some funny quirks that make us smile. When preparing his meals he will be avidly supervising and licking his lips while doing a little dance making it very apparent that he can't wait to eat his meal. He also likes to drink from the kiddie pool in the yard but this requires him to jump in with all 4 feet to get his drink. Cam likes to give hugs to his favourite people and this involves him putting his front feet around your shoulders and adding little kisses for extra love.
Cam is well on his way to being an incredibly well behaved dog and requires a forever home with calm and assertive handlers that will instil boundaries and rules so that he will continue to excel. He is an easy-going, kind hearted, gentle soul that will be a loyal and loving companion to whomever takes the time to earn his trust. Cam isn't a cuddly, sucky dog but once you become his people a bond is formed that is indescribable. He is very affectionate though and shows it in ways of "hugs" and lying next to you if you sit on the floor with him. If you are committed to continuing training and are seeking a lifetime of laughter and shenanigans, Cam is most definitely the dog for you.

Click the button to download the Adoption Application Form in a Microsoft Word file format. Fill it in on the computer or by hand, and email it to us at pounddog.ca@gmail.com.
If you need a different file type, please email us at pounddog.ca@gmail.com.