We at PDR believe in the benefits of post-adoption training for our dogs and their families. This allows for continued socialization, learning and helps to create a well-mannered and balanced dog. Post-adoption training is a requirement in our adoption process. For more information on our process and requirements, visit our website at https://pounddog.ca/adoption-info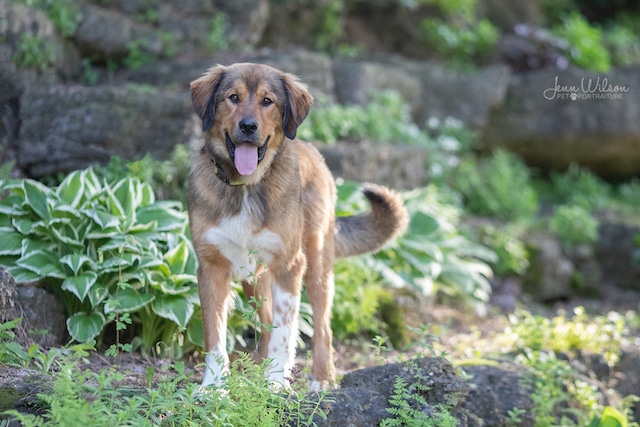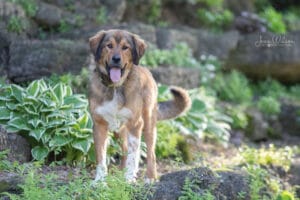 This sweet, fun loving boy is Clyde. Clyde is seeking his loving forever home. He is a two year old St. Bernard/Collie cross, who is so darn adorable, comical and a huge suck. He is a big size dog currently weighing 77pounds. Clyde has beautiful, soft shiny fur, this is all due to a much needed bath and a healthy diet he is current on. Clyde has been a joy to foster but it is his time now to find a forever home. He is ready to go to a great family that is looking for their new four legged family member.
Clyde came to us from a rural pound. He adjusted quickly when we brought him home, however you could tell he did not have boundaries, lack of manners and training. He is house trained, but like I said he needs a lot of work with boundries, behaviour and training, especially for being a big dog. He will take over if he does not have a strong, confident and consistent handler. He likes being inside just as much as outside, so a balance of outside play and inside time is best for him.
Clyde is familiar with a few of the basic commands like, sit and down. We are working with him daily on mastering these commands plus have introduced him to others like, come, off, stay, wait, leave it and enough. His manners are also a work in progress as he is a kitchen counter jumper, meaning that if he smells food he will find it and can reach the countertops. Soon as we see him wandering around the kitchen we try and nip it in the bud by using the command word 'leave it', until he comes over to us or lays down. This next behaviour is adorable but he needs to get out of it as it leaves scratches… understanding personal space. As soon as you go to sit on the couch, before you know it he is right there by your side smacking you with his paw and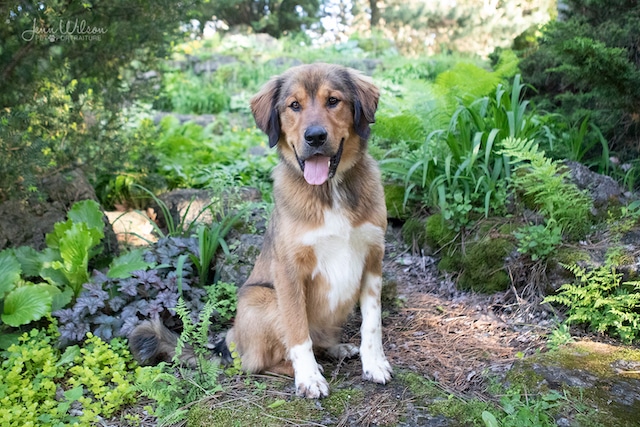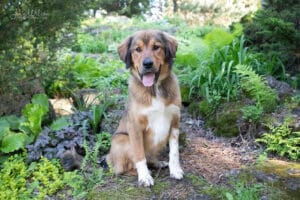 his face right in yours, wanting your attention to pet or cuddle him. We are getting him to lay beside us on the couch, instead of walking all over us. He is definitely classified as a "BIG LAP DOG" and a "BIG BABY". Even with all his quirks he is such a good boy, just wants to be your partner anyway he can.
Clyde's daily exercise will need to consist of walks, and outside play time. He didn't seem to have been on many walks as he was all over the place and pulled a lot. We have him on a Gentle Leader head halter and it is going great. The gentle leader helps with keeping his attention on us as there are so many sounds and movements that grab his attention. He now is a great walker and will walk right by your side. When we are going to approach another dog/person he gets very excited but has been friendly to them all, he just thinks he can play with anyone at any time. Since he is not an overly hyper dog, either one long walk or two shorter walk a day with a few outside playtimes will be fine for him. We find a morning walk and a walk just before bed are the best times, helps him calm down to have a great night sleep. I cannot express how important it will be for Clyde to get his daily exercise, he needs it for his physical and mental well-being. Even though he has a basic knowledge of commands he will still need to attend obedience school with his new family, this will be a great bonding experience for both parties. I have no doubt that Clyde will flourish into the most amazing trained dog, as all he wants to do is please.
Clyde is crate trained. He is happiest being outside his crate laying with you or just spreading out on a couch, however if you are out during the day it is necessary to crate him as he will get into mischief and since he is a bigger dog he can reach many things that you might not be aware of until it's too late. Clyde does not enjoy extended amounts of time in his crate though and wouldn't be happy with a family that is gone for a full work day. He would definitely be looking for a family where he wouldn't be left alone for hours on end.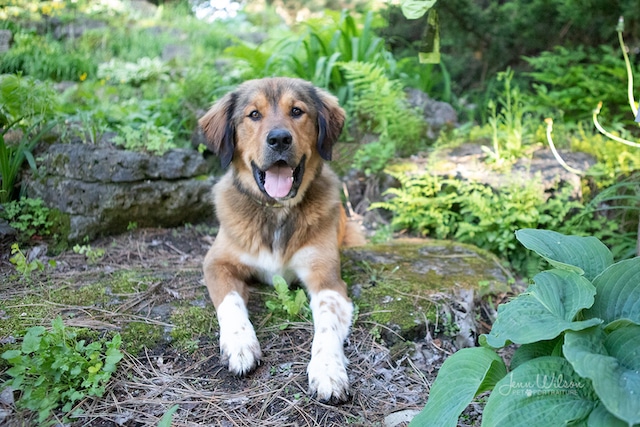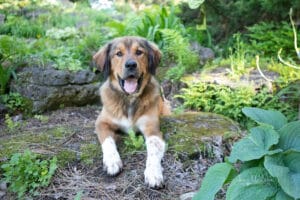 We are looking for a spacious home for Clyde (not an apartment), because he seems to need space to toss his toys around in the air. A good size back yard with a fence is a must. A backyard is a great way for him to let off some energy, having enough room to throw a ball around would be great for him as that is one of his favourite things to do. Oh, and we have found him also sitting on our picnic table, as if he were saying he was King of the Castle. Clyde is a very nosey boy, likes exploring but will also just lay around relaxing while you're doing your yard work. We are learning new things about Clyde daily; he is making us see how amazing of a dog he will be for someone. He will fill any home with joy, lots of laughs and entertainment.
Clyde is being fostered with another dog and two older teenage boys. If you have a dog already, it would be best if your dog was young as well as he just wants to go and go and sometimes it gets tiring for older dogs. Clyde would love a young dog sibling to play and run around with, however it cannot be a substitute for exercise as he will still require walks and training.
If there are kids in the household they would need to be older as he is big and also clumsy which could cause a lot of mishaps. Clyde loves to wrestle with the boys, however he needs to be reminded to be gentle when he starts getting to excited. We don't have cats so are not sure how he would be with them.
He has been on many long car rides to the cottage and does well majority of the time. He does tend to want to sit in the front seat and will push and push to try and get his way. We are not allowing him up front and consistently using the command word 'back', when he tries.
On a sad note, Clyde has been diagnosed with Lyme disease. His previous owner obviously didn't have him on the preventative which would have ensured he was protected from this disease. Lyme disease is a totally preventable disease that is spread by ticks. This disease is in Southern Ontario and we are seeing more and more of it as each year passes. We are a rescue that Lyme tests all of the dogs we take in for exactly this reason. The good news is that Clyde is completely free of symptoms and is an otherwise healthy dog. Clyde has no idea he has this disease and is in every way a happy dog. Clyde has been cleared to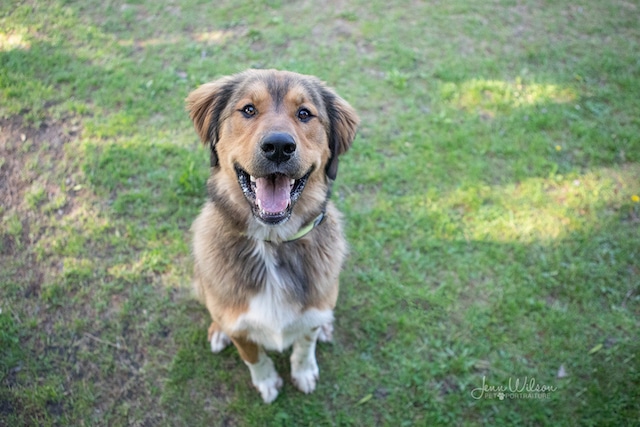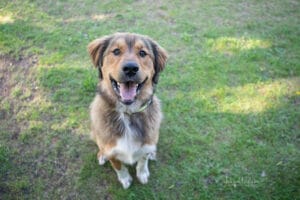 be adopted as there is no reason to hold him back He is on medicine now to lower his Lyme level and he is doing well on it. He takes his pills wonderfully if you hide them in food!! He won't need to be on meds long term which is great. His adoptive family just needs to be aware of his Lyme status and advise their vet of it and understand that he will test positive for Lyme's every time he has his heartworm/lyme tests done. Lyme disease cannot be cured, but it is managed quite effectively. Clyde is so deserving of a family that will give him the care and love that he lacked in his prior home. In exchange for a loving and committed family Clyde will provide funny antics, lots of cuddles, and an eager companion for all adventures, all in a super cute and fluffy package. If you can commit to loving, caring and giving this sweet boy the attention and active life he needs and deserves he will in return provide you with a doggie lifetime of unconditional love, joy, entertainment and a loyal companion.
Click the button to download the Adoption Application Form in a Microsoft Word file format. Fill it in on the computer or by hand, and email it to us at pounddog.ca@gmail.com.
If you need a different file type, please email us at pounddog.ca@gmail.com.