All Pound Dog Rescue dogs are spayed/neutered, vaccinated, heartworm tested, dewormed (if required), and microchipped prior to adoption. The adoption donation of $400 is applied to assist in the costs of veterinary care and the overall care of the dog.
We at PDR firmly believe in the importance of obedience training, regardless of breed or size of dog, and have a clause in our adoption contract requiring adopters to attend and complete a basic obedience course at a facility of their choosing. Only in certain circumstances will we waive this clause so please be prepared to attend dog school should you wish to apply for a dog through our program.
For more information and adoption applications please consult our website at www.pounddog.ca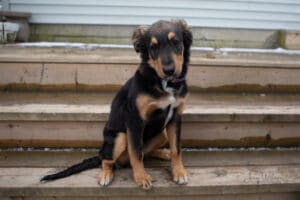 This adorable bundle of silky fur is Flossy, named after the softness of her fur.  She is 5mths old and is a German Shepherd/Collie mix who just may be the sweetest pup you will ever meet.  She isn't an overly large dog and will probably finish out around 40lbs.  Flossy has a story to tell and is a special needs pup so please be sure to read her whole bio thoroughly if you are interested in this darling.
Flossy is a complete love of a dog.  She is a total sweetheart and is very friendly and affectionate with everyone she meets.  She is a very social pup and loves meeting new people.  Flossy is at her happiest when she is lying on your lap, belly up, getting belly rubs and scratches.  She is a total lap dog and cuddler.  The more cuddling the better for her.  Flossy is also a gentle pup and is not nippy like some pups; she takes treats gently and would be a very suitable puppy for a home with children.  Flossy does occasionally try to jump up but we are working on this.  She is very receptive to training and we are making great headway.   Her adoptive family will need to continue to work on this. Flossy is currently attending puppy socialization classes and is head of the class! She is very intelligent and has learned her obedience skills easily and is so responsive.  She also plays nicely with the other puppies and is never the one needing a time out.  Her new family will be expected to get her right into obedience training to continue her learning skills and bring out the best in this great dog.
Flossy lives with other dogs and really enjoys their company.  She loves to run and play with them and gets right in there with wrestle play. We would love her to go to a home with another dog but this isn't a necessity for her as she would do equally well getting all of her family's time and attention, but she would need to have regular socialization and play dates with other dogs to keep her dog socialization up.  Flossy is also living with cats in her foster home and pretty much ignores them.  She would be a fine pup for a home with a tolerant cat.
Flossy is crate trained and is crated whenever we aren't home and at night.  She enjoys her crate and will run in there for her treat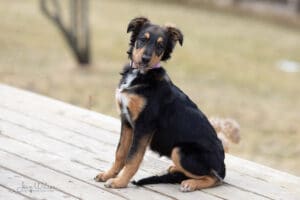 when she knows it is crate time.  She is also doing quite well on her house training and with proper supervision will be fully house trained in no time.  We had a slow start to her housetraining due to her medical issue but are on track now and she is responding well!
Flossy came to us all the way from Northern Manitoba where she was taken in by a local rescue who then sent her to Ontario for a better chance of finding her perfect forever home. Immediately upon taking Flossy into our care we noticed some abnormal behaviour.  Flossy appeared to have some neurological issues as she would walk in circles whenever not otherwise focussed on something.  Flossy does not do this all the time, she can stop the behaviour.  She can go for walks, rest, eat, chew toys, cuddle, play and work obedience skills without the circling.  But her forever family needs to accept that in between these times she will circle. So for example, when you walk down the hall to let her outside she will circle a few times, or when she is first let outside… circling… when she is in her crate and hears you coming… rapid circling. We have had her at the Ontario Veterinary College and had many tests done including an MRI.  A definite diagnosis was not able to be determined but there were abnormalities found in her brain.  Parts of her brain have not developed properly.  It was explained to us that most likely either her mother had an infection when pregnant, or Flossy had an infection while in utero, and her brain just never developed fully.  It does not affect her quality of life, and she has the expectation of living a full life, it just affects her coordination sometimes (for example she needs a boost to get up on the couch) and causes her to circle.  Her other issue, probably related to her brain abnormalities, is that she will drink and pee considerable amounts if not medicated.  It took weeks to determine the cause of this and what it has come down to is her brain is telling her body that she needs to drink and drink and drink and as such she produced copious amounts of undiluted urine and was urinating all the time, a lot of the time she had no idea she was doing it.  She is now on a medication that is used for dogs with diabetes insipidus, as this condition is what her symptoms mirror,  and this really works for her.  She now drinks a normal amount of water and hence, urinates a normal amount, which has led to success with housetraining her as well.  The goal of this medication is to reduce her to the lowest working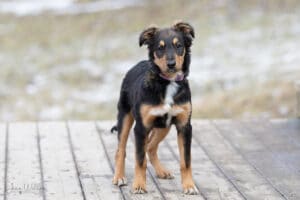 level.  We do though need to advise that at this point, overnight, Flossy cannot hold her urine.  It is just too long of a stretch for her.  She cannot hold her urine for more than a few hours and this is a biological condition of hers, not a training issue.  We are hopeful that with maturity this will improve as she gains stronger bladder control.  We are also tinkering with her medication dosage, with our vets guidance, to see if we can help her in this regard as well.  But for now, this is her reality.  She would be a dog suitable for doggie diapers overnight if that was her person's choice.  We just have a stack of old towels we use for her and switch out a clean towel for a soiled towel every morning.  This is why it is imperative that she is crated overnight, so that she is contained and not messing in the house.
Anyone interested in Flossy needs to be honest with themselves and really consider if they have the patience and compassion to deal with the circling and the urination issues that come with our special needs, darling pup. The circling can get annoying at times. And it is something that everyone will ask you about so having to constantly explain it gets tiresome.  Her urination issue requires patience and the knowledge that she can't help it.  And her person or family will need to be ok with cleaning wet towels from her crate or diapering her.  With the medication this has gotten drastically better but still results in a damp towel in her crate every morning or if we are away for more than a few hours. Flossy will not be suitable for a person or family that is away for a full work day and needs a home where someone is home more than away.  She also needs a home where she can be let right outside from the house, so a home with a fenced yard is a must.  She just wont be able to hold it in an elevator or down a flight of stairs for example,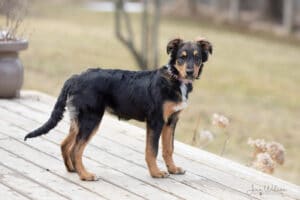 so apartment living is out. When Flossy has to urinate, she has to go NOW, so quick access to the yard is a must.
Although our girl has some special needs, she makes up for it ten-fold with her sweet and affectionate nature.  She will be a loyal and devoted dog to her people.  This is a very special puppy who is so deserving of a loving forever home. What she doesn't need is someone to feel sorry for her; we are not looking for sympathy applications here. What we are looking for is some person or family who is looking for an amazing dog, is willing to treat her like any other dog, but has that extra room in their hearts for a special needs dog and will ensure that she has a great, fulfilled life.
Click the button to download the Adoption Application Form in a Microsoft Word file format. Fill it in on the computer or by hand, and email it to us at pounddog.ca@gmail.com.
If you need a different file type, please email us at pounddog.ca@gmail.com.