We at PDR firmly believe in the importance of obedience training, regardless of breed or size of dog, and have a clause in our adoption contract requiring adopters to attend and complete a basic obedience course at a facility of their choosing. Only in certain circumstances will we waive this clause so please be prepared to attend dog school should you wish to apply for a dog through our program.
All Pound Dog Rescue dogs are spayed/neutered, vaccinated, heartworm tested, dewormed (if required), and microchipped prior to adoption. The adoption donation of $400 is applied to assist in the costs of veterinary care and the overall care of the dog.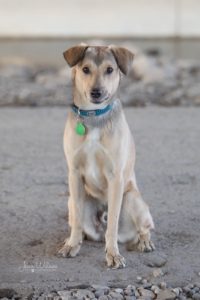 I would like to introduce you to Fynn who is a busy 8 month old male Border Collie/ Lab mix with a very spunky personality. He is a medium size dog currently weighing 37 pounds. When full grown he will probably weigh 40-50 pounds; his energy levels will probably keep him at a thin build. His fur is very beautiful, soft and shiny, all due to the great healthy diet he is currently on. He is so energetic and loves to keep busy, but wants to do everything with his human. He would bring absolute joy to any household as he has a cheerful approach to life.
Fynn came to us from a rural pound as he was found wandering on his own. He may have been out for quite some time as when we met him he was underweight and in desperate need of a bath. We are working on getting his weight up, as well we have given him a few baths, which made a world of difference. When we brought him home he adjusted extremely well and was especially taken by his foster dad. He really, really loves his foster dad and hangs out with him as much as possible, doing boy stuff. Fynn would like to have a "dad" in his forever home…he loves women as well, but he took to his foster dad right away and has a strong liking of men. He likes a lot of attention but that is normal for any young dog. A family that will be able to reassure Flynn that he is loved, provide entertainment, activities, and training will be a great fit. He is a beautiful boy that just wants to be surrounded by his human family.
Fynn is house trained; he will let you know when he wants out by going to the door. However because he is still young we make sure he gets out for bathroom break on the hour when we are home with him. We are crate training him, which we do with all of our foster dogs so it comes easy to their new family. He is not fond of the crate, however it is a necessity for a young, active dog who will get up to no good if left to his own devices. Fynn goes into his crate at night as well. At night his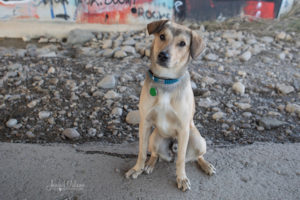 crate is in our bedroom, this helps him as he settles right away and sleeps all night. Fynn would not do well in a home where he is left for a full 8hr workday. He is so strongly bonded to his people that he does need someone home more often than away. A family with someone that works from home, people that work alternating shifts, or young active retirees will be best for Fynn. He isn't left alone for much time in his foster home and this is ideal for him.
Car rides are fine for Fynn, we haven't gone a long drive but he has done well in all our travels. We do not think he had a lot of interactions with humans or other dogs before, as he will bark (a quiet bark) at any human walking by. We are working on taking him out and about and getting him used to a bunch of different sights and sounds and smells and his forever family will need to continue this. The more socialization that can be done with him the better.
Fynn would do well in many home situations, but not apartment, condo or shared living situation. He will need a large fenced yard as his favourite play time is fetch. He is being fostered with another dog and two teenage boys. He gets along with his foster dog sibling and loves to play and get him going. Really, anyone that gives him attention he loves. Fynn would do fine with a family or couple/person, with or without another dog in the household. However, if there are children in the household they should be older than 12, as his excitement levels may be a little too much for young kids. Fynn is very much a young kid himself and needs to have his family's full attention and time to train him and exercise him and play with him as he is still so young. He is a very active pup, and does not know how contain his excitement yet. This sometimes causes him to jump up and give love nibbles but only when he is trying to get like a hundred kisses from you. We are working on teaching him to give calm kisses, but again, he's an excitable pup and has trouble containing his joy. He has shown no aggression around food and toys. He is just too happy of a boy and adores people. Being with his human is the most important thing to him. He will be so dedicated and loyal to his forever family.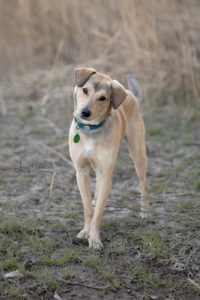 A family/couple that loves the outdoors, hiking, biking etc. would be the best fit for this guy. He is a very high energy dog and requires running play, long, fast paced walks, and activity to be settled and happy. Fynn's daily exercise will need to consist of a few long walks daily plus extra outside play time. Even with walks, if they are not long enough he seems to have more energy once back home so a good backyard playtime will be needed. We have started to put him on a bike leash and take him on bike rides to tire him out. These bikes need to be either lengthy or at a fast pace. Fynn does well running beside the bike and would love to have someone in his forever home bike with him. He would probably LOVE being in some kind of Agility class, and would be really good at it. I see awards in his future! He loves playing fetch in the yard, he is such a fast runner. As mentioned sometimes walks are just not enough for him, especially if they are short so his leash manners are a work in progress as he just wants to get going and run. We are working on his heel command and excitement levels on walks by using a gentle leader head halter. Have we mentioned that Fynn requires an active family?? We jest, but he takes on his Border Collie genes and is a dog that needs to be busy to be happy. If you aren't already an active person who runs, hikes, bikes or a combination of these activities Fynn won't be a good fit for you. Dogs don't make you active; dogs compliment your current activity level. So please don't consider Fynn if you think adopting him will make you more active. But please, give this dog some great consideration if you are already active and are looking for a loving and devoted companion to share your love of the outdoors and an active lifestyle.
Fynn has not been socialized with too many other dogs, just a few that we knew would accept his excitable puppy behaviour and he has done great, no aggression shown. At the beginning of meeting his foster sibling he did want to be in charge but once he knew he was the second in in the pack he settled into his role very well. We do not have a cat in his foster home so do not know how he would do with cats in the household. We are going to say he should go to a home without cats though as his desire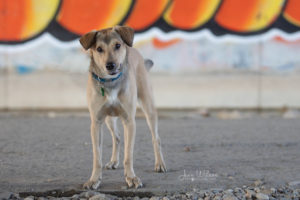 to chase will come into play with cats. He loves meeting new people, he just has to work on his manners and not jump up for his kisses he demands to give to everyone.
Basic training for Fynn is coming along. He has had very little training prior to coming into our rescue. He knows the command "sit" well, but the others we are working on. He is getting good with them but still tests you, just like a little child; so funny to watch! It will be very important for him to be taken to obedience training, as he really is starting from scratch. We feel that if he gets this right away it will help with his socialization as well. As mentioned before we feel he would be great in some kind of agility class, which usually comes after he perfects his commands and manners. If Fynn becomes a member of your family you will have to put in the time, have the patience, and especially enjoy teaching this eager little guy the right behaviours.
Fynn is a fun loving pup, and with a lot of training, patience and love he will be a very loyal and entertaining new family member. He will be your running partner, playmate, best friend and cuddle buddy. If you can give Fynn the lifestyle he needs, he will fill your lives and home with laughter, kisses and unconditional love.