AVAILABLE
Please read our dog bios carefully to be sure that the dog you are applying for suits your family and lifestyle. At Pound Dog Rescue, we believe in the benefits of post-adoption training for our dogs and their families. This allows for continued socialization, and learning and helps to create a well-mannered and balanced dog. Post-adoption training is a requirement in our adoption process.
This good-looking guy is Gryphon.  He is just over two and a half years old.  Gryphon is a dark red coloured Golden Retriever.  Gryphon is a tall dog with a coat that is medium in length.  His coat requires regular brushing which Gryphon loves to have done.  Gryphon weighs approximately 60 lbs.  We know Gryphon is a gorgeous dog and will surely attract a lot of attention, but we are looking for a very specific home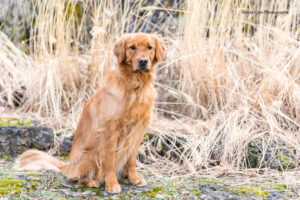 for him so read on if interested to see if this dog would be your ideal fit!
Gryphon came to us through our trainer who had been recently working with his prior family.  Gryphon had been with his family since a puppy but unfortunately he has too strong of a personality for them.  It became clear that this is a good dog with potential however his personality is not a good fit for the family.  Our trainer took Gryphon into her home to learn more about him, get consistency with his training, and figure out what makes him tick. Gryphon is a different dog in a household with structure, rules and confident leadership.  He is a great dog in her care and fully respects her leadership.  The family made the tough decision to surrender Gryphon knowing that they were not the right fit for him.  He is doing well living in a structured, adult only home.  We respect this decision made and know it was tough, but it was made as it was what was best for Gryphon.  Our trainer reached out to us to take Gryphon into our rescue as she knows that his ideal forever home is out there.
Gryphon is a happy playful dog that loves to play ball and chew on bones.   He is great at entertaining himself with balls and loves to chew on his bones when being supervised outside of his crate.  He walks very well on a lead and gentle leader and has excellent manners when walking past other dogs. He loves long walks, hikes and any other forms of exercise.  He is a young and athletic dog who needs to be active every day, all weather.   He travels very well and loves to go for car rides.  He is a great and easy travel companion.  Gryphon is very good in his crate.  He happily runs to his crate for his meals.  He sleeps 8-9 hours at night in his crate.  He settles well in his crate when he cannot be supervised.  He is fully house trained and has never had an accident inside the house.  
Gryphon has been attending dog obedience classes while in our trainer's care.  She has different people of different ages and skill levels handle him and he does well with all the handlers.  Gryphon really enjoys the structure of class and loves learning.  He is very motivated to learn new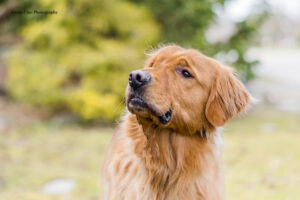 things. He is working advanced obedience skills and doing fantastic!
Gryphon likes to grab things and play with anything he can find.  He needs a home where there aren't things left lying around as he will grab anything he can get his mouth on, like shoes, towels and clothes.  He likes to be active but settles once he has had plenty of exercise.  He requires active, outdoorsy people/person who can ensure that this dog is properly exercised.  
As mentioned, Gryphon has a very bold, pushy, outgoing and confident personality.  What makes for a great working dog also makes for a challenging pet dog in the wrong hands.  He will try to control you if allowed.  He needs to be in a home with an experienced dog person that can confidently represent the pack leader in order to get his respect.  He is not suitable for a 1st time dog owner or anyone who is passive around dogs.  Gryphon has no respect for people who baby him, or don't exude confidence in handling him.  Gryphon will need to be the only pet in the home as he needs all the attention and time that you can give him.  He is not a dog suited for a family with children or planning on having children in the next few years.  Gryphon requires an adult only home and one without visiting children.  The energy, noise and activity of young children over stimulate him and make him mouthy and jumpy.  
Gryphon is very smart but also can be stubborn.  He likes to test you to see what things he can get away with. Once he realizes that he can't get away with bad behaviours or not listening he will respect that and settles in to being a lovely, well mannered, easy dog.  He also has a loving, loyal and devoted side to him with people who he respects as pack leader. Gryphon is a dog that seeks leadership in his people.  He wants to have that confident pack leader to follow.  Without that he tries to fill that role but that isn't a healthy role for him to take on.  He can relax and just enjoy life when he knows that his person is in control and he doesn't need to take on that role.  
Because Gryphon has come so far and is doing so well in the care of his trainer; we are looking for his adoptive home to be in the Kitchener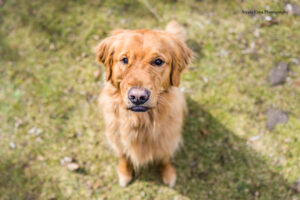 Waterloo or close by area so that his adopter(s) can continue working with the trainer one on one and in classes.  We want Gryphon to have this consistency as its what works for him. We also want his new family to have the support of a professional trainer who knows this dog so well, having lived with him for months now.  Gryphon is doing excellent in his trainer's care and we want his new person or family to have this mentorship so that we can set everyone up for success.  
If you are looking for an active, busy, happy, good looking working dog then Gryphon is the one for you.  He needs a family committed to furthering his training and make sure he gets exercised and loved every single day. He will give a lot of love back and then some!!!