We at PDR firmly believe in the importance of obedience training, regardless of breed or size of dog, and have a clause in our adoption contract requiring adopters to attend and complete a basic obedience course at a facility of their choosing. Only in certain circumstances will we waive this clause so please be prepared to attend dog school should you wish to apply for a dog through our program.
All Pound Dog Rescue dogs are spayed/neutered, vaccinated, heartworm tested, dewormed (if required), and microchipped prior to adoption. The adoption donation of $400 is applied to assist in the costs of veterinary care and the overall care of the dog.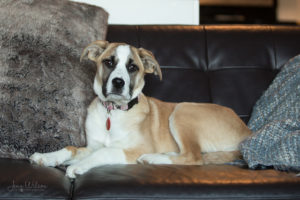 Let me introduce you to sweet, Haven! This loving female puppy is approximately 16 weeks young and is a Lab-Boxer cross with a very gentle nature and kind heart. She is expected to become a large dog once fully grown as you can already see by her rather large puppy paws! We expect her to clock in around 70 pounds when fully grown, although we cannot be for certain. Haven has beautiful markings and is sure to grow up to be a stunner. She has a sweet demeanor and is learning how to have fun and be a good dog each and every day. We have no doubt she will be the perfect addition to the right family!
Sadly, little Haven had a rough start to her life so far but that all changed a few weeks ago when she was rescued by Pound Dog Rescue and brought into foster care. Since then we have watched this shy girl begin to blossom into a fun and happy puppy with the proper care and socialization she so badly needs. Haven's back story is a short one, she was born in a rural barn and lacked a lot in her early weeks including good food, socialization and all things fun that a typical puppy would enjoy. This left Haven unsure of people and confused as to how to act as a dog. Although extremely timid at first, she is coming around to learn how to trust people again as she socializes with her foster family and foster dog brother and sister.
When Haven was first brought into our care she was scared to make a sound in fear of the consequences and continuously sought out shelter in the corners of rooms and under pieces of furniture. This is where her name originated from with her desire to always find a safe haven to feel secure. Over the first week however, that safe haven became not just a piece of furniture but her entire foster home and one day will become her forever home where she will feel love and receive great care she deserves for the rest of her life.
This sweet girl may be a little shy still but her confidence has dramatically grown, she now is an avid kisser and cuddle buddy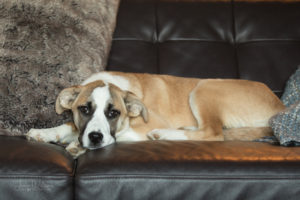 at home. She is curious and loves to watch how her foster dog siblings act together and with their human parents. Haven sees them trusting, cuddling and obeying rules which is the best influence for her. We sincerely feel that Haven would flourish in a home with a mature well-behaved dog that is around her size. Being a puppy still, she is very malleable and will take training and positive influences from another dog quite easily. We want her to have a playmate and positive doggie role model in her forever home as she will make a fantastic second (or third..) dog for the right family. Her foster siblings have already taught her that outside is where you go to do your business with only some back-up positive praises and reinforcement from her foster humans. Some shy dogs that never get proper socialization can use aggression as a way to handle their insecurities but not sweet Haven. Even at her most timid moments she has never turned to any type of aggression but rather just shuts down which is quite heartbreaking. As she continues to build her confidence everyday this will slowly pass you just need a little patience with her.
Haven, like any dog will need to continue having frequent socialization and exposure to different people, sounds and experiences especially while she is young. New things are still very confusing to Haven and forcing her to get outside of her comfort zone a little bit more each day will bring her out of her shell. Haven had no prior leash training and is still not really sure what to make of the thing. Positive encouragement has worked to get her around the block a few times and she will need her new family to have patience with her while she continues to build trust on the leash and learn how to walk properly on it. Haven has a playful nature that is slowly coming out day by day and enjoys chew toys and anything with peanut butter! She has been on a few car rides and is very quiet and calm in the car but has gotten sick on a few occasions for any drives over half an hour. This may pass as she continues to go on car rides and learns to relax. It is all about repetition with this pup so she can learn that new things are fun.
The mix breed of Lab/Boxer will bring out a very devoted, playful and kind dog with energy. Haven is curious of children and has done very well meeting her foster families dear friends, 3 and 4 year old kids. However, with toddler and young children's high energy levels she feels a little unsure and became scared of their unpredictable nature. If she were to go to home with children they ideally should be over 10 years old and be able to understand that she will take time to trust before she is ready to play and have fun with them. Haven will do wonderfully in a quiet home without a lot of commotion and would ideally be suited for an adult home or one with teen kids.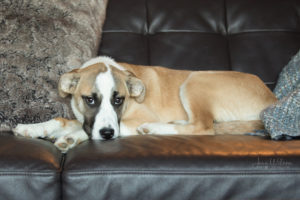 Haven is presently being crate trained anytime her foster family is not in the house with her. She does whimper and bark in her crate before bed but eventually settles down and sleeps through the night. She has no issues going into her crate and is fed all meals in it. The crate is one of her safe havens and she will find security in having one in her new forever home. Haven is eager to get out of the crate when we come home and has to be told to go straight outside to do her business before bouncing around the house. This is becoming a good routine with Haven that will need to be continued with her forever family to avoid accidents and create some structure.
Haven is looking for a loving home with a mature and playful dog to mentor her and continue teaching her the ropes of being a "good dog". She has a very sweet demeanor and will bring so much love to her forever home. Puppies require a lot of work and patience but are fun and rewarding to train into great companions. We highly recommend that her new family enrolls her in dog classes asap and gives her the socialization she deserves. Haven is one of the sweetest puppies we have ever met and we cannot wait until she finds her forever family that will love and take care of her for all the wonderful years to come!