We at PDR firmly believe in the importance of obedience training, regardless of breed or size of dog, and have a clause in our adoption contract requiring adopters to attend and complete a basic obedience course at a facility of their choosing. Only in certain circumstances will we waive this clause so please be prepared to attend dog school should you wish to apply for a dog through our program.
All Pound Dog Rescue dogs are spayed/neutered, vaccinated, heartworm tested, dewormed (if required), and microchipped prior to adoption. The adoption donation of $400 is applied to assist in the costs of veterinary care and the overall care of the dog.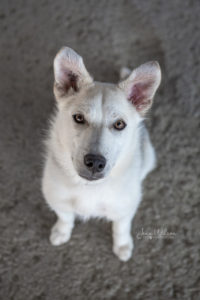 We are pleased to introduce Hayden! Hayden is an eight-month-old Husky/Shepherd cross weighing in at 30lbs. Hayden was found as an abandoned stray in northern Manitoba, and due to malnutrition and hard living conditions, his growth has been stunted. He will not grow taller than his current height (knee height), but this hasn't stopped him from enjoying every aspect of his life now. Everything he does is with a smile on his face and with a spirit of pure joy. Even when he is doing something he's not supposed to, you can't help but laugh. This may be because he looks like a mini wolf, but it probably has more to do with his love to play. Hayden is not only a joy to have around but is super chill and easy to love. Everyone falls in love with him as soon as they meet him.
Every morning Hayden loves to do his ritual yoga practice as soon as he gets out of his crate. His favorite pose is downward dog followed by either upward dog or corpse pose (so he can get belly rubs). If you think that's adorable just wait till you hear the sounds he makes while doing them.
Speaking of which, Hayden is a fairly quiet dog. He will make some play growls when in a tugging match. He'll also make his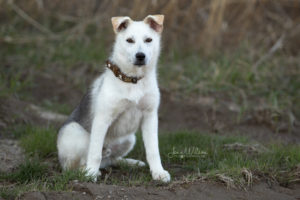 morning sounds which are hard to describe – think of old man groans and that would be the closest description. The only other times he makes any noises are when he decides he wants to play with a dog that's out of reach or when he really wants your attention. In fact, we call him our little ninja wolf as he sneaks around so well. The first night we got him his nails were short and one moment he would be beside us and then the next he was gone. He's so ninja that when he rolls off the couch he always lands on his feet. Being the ninja he is, he likes to periodically check our apartment to make sure there's nothing new or out of place. That or he's just really curious. Which we also know he is!
Hayden's curiosity is adorable and frustrating all at the same time. When he's outside he is in his bliss. He could sit outside watching the birds and squirrels for hours on end. But he'd prefer to explore and smell all the smells. He has a deep desire to stop and smell everything! Which, when you're on a walk gets a little tedious. He is learning to walk better and also learning that he doesn't need to stop every few minutes. He still has a bit of a stubborn streak when he finds something particularly interesting. However, rather than fighting you on it he prefers to silently protest by laying down on the ground. Hayden is learning that when he's on a walk, it's walk time, so by using treats (he is very treat motivated), gentle collar tugs, and voice corrections, he is getting much better!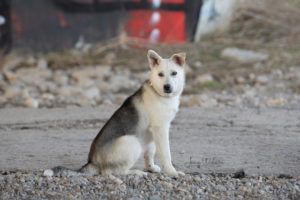 Hayden is fully crate trained and will now go into his crate when he sees his Kong filled with peanut butter and you say "in your crate". He hasn't had any accidents in his crate and can be left up to 6+ hours alone. He is still a puppy though and so lots of time outside of his crate to play and stretch are still very needed. His crate is in a separate room and he doesn't seem to have any issue with that. Hayden also does really well in the car. He either lays down to sleep or sits and stares out the window pondering the vastness of the world he's experienced so far (we assume).
Hayden does really well with everyone. He plays well with other dogs, whether it involves a game of tag, tug-of-war, or wrestling. He also does really well with children. He is still a little 'nippy' when he gets carried away playing so still keep an eye on him. But he does respond to correction well. He's still learning to 'give kisses' instead of open mouth affection.
Which brings us to Hayden's favorite past time, chewing. He absolutely LOVES to chew and is pretty good at knowing what he can and can't chew (the blanket in his crate had to be removed). But having a good chew toy is critical to his happiness. His Kong is probably his favourite toy as it bounces and rolls all over the place. Even under the couch … over and over again. Also,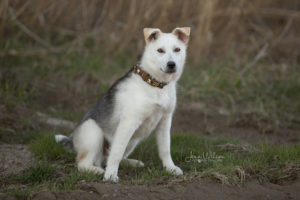 don't be surprised if he tries to 'bury' his chew toys in the crevasses of the couch. He has a habit of shoving his chews or other treats between the cushions and then using his nose to 'push dirt' over the place he 'buried' it. But don't fret as he is very smart and always remembers where he's put it so he can come back to it later.
The only thing Hayden might love more than chewing is belly rubs. Whether it's your hand or the brush (which is needed due to his thick fur), he loves it all. Sometimes he'll just lay down and look up at you and wait for you to notice.
We live in an apartment and he does very well here. He has no issues with stairs or elevators and will wait to go outside. However, with his passion for the outdoors and his puppy energy levels, Hayden would probably do better having a fenced backyard. If his new home is in an apartment, then long walks will be essential. He easily goes for hour and a half long walks and still has energy to spare when we get home. We're sure he would love an older brother or sister to play with but he does very well at occupying his time by himself. His favorite game is to roll the Kong under the couch and then try to get it.
Hayden has some of the most character we've ever seen in a dog and for one as young as he is there can only be more to discover as he grows and flourishes. Hayden is truly amazing and would make any home that loves to play all the more full.