We at PDR believe in the benefits of post-adoption training for our dogs and their families. This allows for continued socialization, learning and helps to create a well-mannered and balanced dog. Post-adoption training is a requirement in our adoption process. For more information on our process and requirements, visit our website at https://pounddog.ca/adoption-info/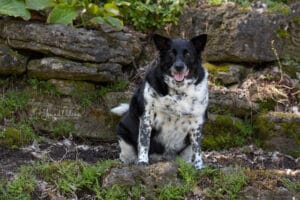 Kelly is a 5-year-old Border Collie /Lab cross who will simply melt your heart as soon as you meet her. We are so grateful to have had Kelly waddle into our lives. When we first met her, Kelly's anxiety was high after having just been separated from her previous owners.   Kelly was a cherished pet of an elderly couple, but had to be rehomed when they had to move into a care facility.  Kelly had lived a sheltered life on a farm, with little exercise, but plenty of love and treats.   We noticed almost immediately that she was a super happy and very positive dog, but she was also obese and in dire need of a diet and exercise plan.  Thankfully, Kelly was on board with this plan as well!  She has settled in nicely to her new life in her foster home and is on the road to regaining a healthy weight and activity level.
Kelly's main passion is walking. She loves being outside with her people and having a goal in front of her. When walking, she pretty much ignores everything, including other humans and animals. Her focus on the path ahead is only outdone by her joy of movement. She does pant a lot when walking but don't let her weight deceive you. We've taken her on a couple decently long walks (6.5km) and she tackled them like they were nothing. Water at the local river? She doesn't need it.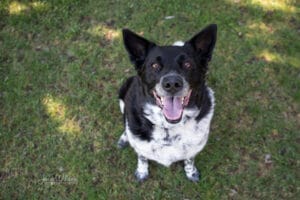 She'll rest when she gets home. Kelly loves walking and loves a clearly defined trail. Stray into an open field and she doesn't know where to go. True to her Border Collie breed, she is task oriented and wants to get the job done! We think she may have a little OCD…
Kelly is not crate trained but that hasn't been an issue at all. In fact, she has settled in quite nicely and assumes all spaces are her domain (aside from furniture) … including the bathroom! Privacy is only attainable if the door is firmly shut. Not sure if the door is shut? Well you will probably have a visitor giving you confirmation. Kelly is fully house trained and comfortable with elevators too. No chewing or accidents have been had even when left alone. Kelly does get a little sad when left at home alone, which she communicates vocally with some whining and barking. She won't enjoy being left alone for a full long work day and would prefer a home where she is only left for a few hours at a time.  She generally settles down soon after departure to wait for her people patiently. Upon your return she is the epitome of a happy dog as she greets you at the front door. If she needs to go outside to relieve herself, she usually lets you know by seeking attention until you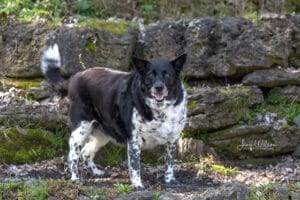 acknowledge her desire. She's usually a very quiet dog. Which is why, when she does communicate vocally, it may come as a bit of a shock. Her bark and play growl sound a little vicious. But don't let that deceive you. She is as kind as kind can be and simply doesn't have an "inside voice." She has two stuffed Lambchops that she loves to play tug and fetch with. This is when you'll probably hear her communicate the loudest. When it comes to balls… well she loves the idea of chasing a ball… but will most likely not even touch it when she gets to it. So, the game 'Monkey in the Middle' or 'Kelly in the Middle' might be helpful. Kelly travels well and can handle long car rides. Just like her excitement with walking she loves car rides as well. Whether the trip is short or long she will take a little bit to settle down as it can be hard for her to contain her joy.
Kelly is a big girl coming in at 98lbs when last weighed (April 30th) so she has been on a fat burning regime. Her ideal weight should be more along the lines of 40 to 50lbs so she has a way to go still.  Her new family will need to commit to continuing the weight loss program we have started with her.  Her regime includes going for walks for 1.5-2.5 hours a day, eating a top quality diet food, and limiting her treat intake. Her agility and stamina have vastly improved since she first blessed our lives. She eats about a cup of food twice a day (her choice) and drinks 3-4 litres of water a day. Kelly is looking forward to a family who is willing to continue her weight loss journey with, and for, her. We have found her to be a great motivator to get outside and be active!
While Kelly gets along with pretty much everyone she meets, she does like her personal space. Other dogs are a small annoyance and she simply doesn't have time for them. Occasionally, when walking with or around other dogs, she may growl to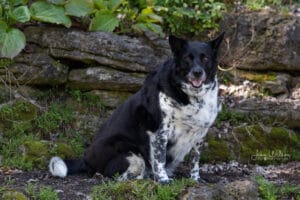 let them know she wants some space. We believe Kelly would do best as the solo dog of the family. Kelly can also be hesitant about her paws and chest being touched and we are working to provide positive reinforcement when drying her paws and belly after a walk. She is already becoming more and more comfortable with handling.  Kelly is so good- natured that we feel she would be a great family dog and would enjoy a home with children who are old enough to respect a dog and be gentle and kind to her.  She will not be a good fit for a home with babies or toddlers but children over 5yrs of age would be fine as long as the family has the time in their schedule to ensure she gets a few long walks every day.  Kelly has not been exposed to cats.
We could tell from the moment we met Kelly that she bonds deeply with her people. You will know when she really starts to trust you when she rolls on her back and invites you rub her belly. Kelly's happiness and love is contagious. You have been forewarned!
Click the button to download the Adoption Application Form in a Microsoft Word file format. Fill it in on the computer or by hand, and email it to us at pounddog.ca@gmail.com.
If you need a different file type, please email us at pounddog.ca@gmail.com.