We at PDR believe in the benefits of post-adoption training for our dogs and their families. This allows for continued socialization, learning and helps to create a well-mannered and balanced dog. Post-adoption training is a requirement in our adoption process. For more information on our process and requirements, visit our website at https://pounddog.ca/adoption-info/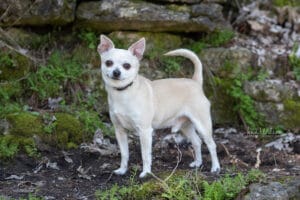 Meet the comical, affectionate and handsome Kevin! He is an almost 8 year old male Chihuahua that weighs just shy of 10 lbs. Don't let his age fool you, he has spunk, a love of life and he makes his foster Mom laugh every day…in fact, she'd keep him in a heartbeat if her home wasn't already full of so much dog love.
Kevin found himself homeless through no fault of his own. He was surrendered to a local pound after the breakdown of his previous family. He is a guy that loves his people deeply, so suddenly finding himself in an overwhelming and unknown place without them caused Kevin a lot of stress. His feisty side came out due to his fear, but Pound Dog Rescue saw past his behaviour and discovered the loving and sensitive guy that he truly is. Now Kevin gets to find his forever family, the ones that will never abandon him again.
Once you win Kevin over, the first thing you will discover is how affectionate he is. He loves to crawl up onto your chest, put a paw on each side of your neck and lay his cheek against your lips for some kisses. When he feels that cheek has been sufficiently loved upon, he turns his head so his other cheek doesn't feel left out. When it comes to him giving you kisses, he does it thoughtfully and tenderly, but not excessively. He is such a gentleman when it comes to showing his love and appreciation for you.
The second thing you will notice is how comical he is. He may be considered 'middle aged' or even borderline senior,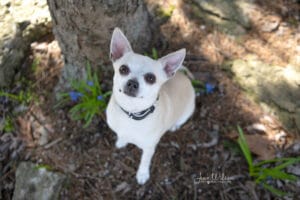 but he is playful and goofy and up for shenanigans whenever you are! He can keep up a good pace on a good long walk, tear around the house and backyard playing 'hide and seek' and he loves to wrestle with you…he gets so excited to just be sharing in joyful times with his people that he seems to smile non-stop.
Kevin is fully housebroken and learned to ring a bell on the door to let his foster Mom know he needs to go outside. He is quite the intelligent little guy and picks up on training quickly. Kevin has caused no damage if left unsupervised for short periods. He is also crate trained and rarely lets out a peep when he goes into it. He would be suitable for an apartment or detached home, as long as he gets the exercise and walks he needs every day. He enjoys toys, cuddle time under the blanket watching Netflix and will gladly share in whatever snacks you have, although this is done rarely as that waistline of his could use some shrinking. Kevin also doesn't feel you should be left unsupervised in the home, so he will follow you everywhere just to be sure you are behaving yourself…this includes the bathroom, so if you think you can get some privacy without closing the door, think again.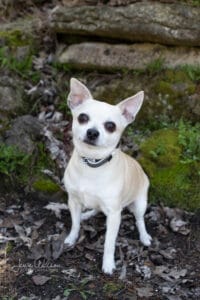 Kevin travels well in the car and gets excited when he knows a car ride is coming. Out and about in public, he can at times be a little insecure about new people. He prefers a few moments to check them out and to approach on his own terms. Having them offer him a few treats will win him over relatively quickly, but he will hold off on his really affectionate side until he gets to know them better. Young, loud children can be a bit much for him and he prefers to not engage with them. He has responded well to children a little older, so children 10+ that have good manners with dogs and know how to give him some space in the beginning will suit him just fine.
In his foster home, Kevin lives with dogs of different sizes and a cat. He LOVES the smaller dogs and can be found cuddling and playing with them frequently. As for larger dogs, he is not overly confident. He lives with a large, laid back and very mellow dog that he feels ok to be around, but another one with more energy he chooses to stay away from. He does the same thing on walks, so the best match for him in terms of another canine companion would be a social, well-mannered smaller dog that is up for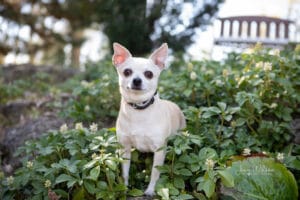 cuddling and not overly rambunctious wrestling. When it comes to the cat, it's 'game on!' for Kevin. The cat in his foster home is very dog savvy and has no issue telling Kevin to back off when a chase ensues, but a cat that doesn't have that benevolent confidence with dogs that Oliver does will likely find Kevin to be too much for them.
As for health, Kevin has a clean bill. He could stand to lose a bit of weight and is well on his way to achieving that. Eventually he will need a dental cleaning done as most small dogs do, but there are no dental concerns with him at the moment. He is not picky with food (as his waistline will indicate) and does not have any food allergies or aversions.
As far as his foster Mom is concerned, Kevin is such a lovely little Chihuahua and is a great example of his breed. He is just the right mix of sweet and sassy, he is extremely loyal and loving and is a great source of joy in her home. He is up for whatever adventures you have to offer and to lay down his head beside yours at the end of the day. If you think Kevin sounds like the guy for you, give us a shout and tell us all about you! We promise, he is worth the effort.
Click the button to download the Adoption Application Form in a Microsoft Word file format. Fill it in on the computer or by hand, and email it to us at pounddog.ca@gmail.com.
If you need a different file type, please email us at pounddog.ca@gmail.com.