We at PDR firmly believe in the importance of obedience training, regardless of breed or size of dog, and have a clause in our adoption contract requiring adopters to attend and complete a basic obedience course at a facility of their choosing. Only in certain circumstances will we waive this clause so please be prepared to attend dog school should you wish to apply for a dog through our program.
All Pound Dog Rescue dogs are spayed/neutered, vaccinated, heartworm tested, dewormed (if required), and microchipped prior to adoption. The adoption donation of $400 is applied to assist in the costs of veterinary care and the overall care of the dog.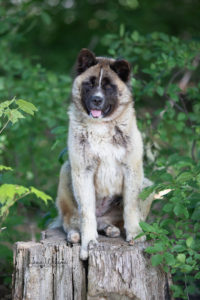 We thought Kuma had found her ideal home and were thrilled for her so were terribly surprised and disappointed when we were advised by the adoptive family that a situation beyond their control has resulted in them having to return the dog they already loved dearly. This is NO WAY was Kuma's fault and they only had wonderful things to say about this lovely dog. To respect their privacy we wont go into details publically but are very much assured that Kuma was loved by the family and if the situation didnt arise they would have kept her forever. So Kuma is looking for her true forever home now and some other lucky person or family has an opportunity at a really great dog.
This stunning dog is Kuma which means bear in Japanese. A perfectly fitting name for our Akita/Huksy mix girl who looks very much like a brown bear! The Husky in her is reflected in her tail set and slightly smaller size than a purebred Akita, but she is very much Akita in temperament and personality so will require someone familiar with this unique breed. Kuma is 10mths old. She came to us from the far north of Manitoba where she was found by a rescue group during a remote spay/neuter clinic. Kuma was one of the many dogs/puppies brought back to give them the chance at a great life. We then took her into our rescue to find her a loving forever home. She was very thin when we got her but has been steadily gaining weight on her top quality food and is approx. 60lbs with more to gain. Her ideal weight once filled out will be around 70lbs. She is a solid dog and has a plush coat. Anyone interested in Kuma will need to be well aware of the Akita breed and will need to have prior Akita or powerful breed experience. She will not be a suitable dog for a first time dog owner. But with a confident and experienced handler Kuma will be a devoted, loyal and loving best friend and companion.
Kuma was living an outdoor life and fending for herself when found. She is now well adapted to being a house dog and has settled right in. She likes the luxuries of a cozy dog bed, regular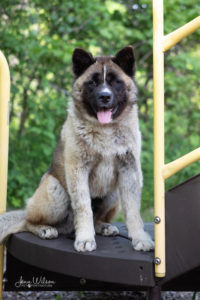 meals, and people to pet her and cuddle her. She is crate trained and is crated at night and whenever we aren't home. She is right in a chewing stage so can't be trusted to be left unattended in the home. Kuma has a preference for chewing pillows and anything stuffed so we have to keep an eye on her. Kuma is house trained and will go the bathroom outside when you let her out, but she doesn't know yet to let you know that she has to go so you have to supervise her at all times and if she wanders out of the room, go and let her out. Her new family will have to have patience with her and know that accidents will happen as she settles into her new home. But considering it's been a short time that she has been living in a house, she is doing quite well. Being from the far north, Kuma likes cooler temperatures and finds hot summer days tough. She doesn't like to have blankets in her crate, preferring the cool plastic bottom, and she LOVES her doggie pool outside. She is very much a water dog and is in her pool at every opportunity. She will put her whole snout under water to drink and likes to stand in the pool to drink as well. She also doesn't mind the rain at all and will expect to go out for her walks and yard time regardless of rain. So anyone considering Kuma will have to be an outdoorsy type who is ok with being out in the rain as well. We haven't had Kuma for winter weather but we know that this is when she is going to be at her best and will be her most active then. She is going to love the snow and cold and will certainly have a plush coat to keep her warm. So her new family will have to be all weather, year round, active people. Kuma is a moderate energy dog and yard play and a couple walks a day suit her nicely. She is an easy dog to live with and manage her energy level.
Kuma is living in a home with other dogs and does well with them. She is a rough player though so will need a suitable play partner if there are other dogs in the home. She prefers wrestling type play as opposed to a lot of running. She will need continued socialization to dogs in her forever home as Akita's can be selective with dogs as they mature if extra socialization isn't given. Akita's are not recommended to live with dogs of the same sex as they are a dominant breed. Ideally we are looking for a home for Kuma where there is a playful and larger neutered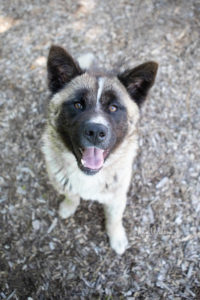 male dog to be her buddy. She loves dog play and benefits greatly from the interactions with her doggie buddies. If she were to be a lone dog she would need frequent play dates with boy dogs to be happy. We will not consider homes for Kuma with a female dog in it. Kuma is also living with cats in her foster home and does well with them…BUT, our cats are well used to dogs and don't fuss or run when new dogs come into the home. Kuma will definitely chase a cat that runs from her or reacts to her. Unless the cat in the home is very calm and already used to dogs it won't be a good fit. We will be looking for an adult only home for Kuma or one with children over 12yrs of age. Kuma is a large puppy and can be mouthy, and get over excited with the activity and noises of young children.
Kuma is excellent in the car and will settle nicely for the ride. We crate her in the back of our vehicle or secure her in the back seat and this works well for her. She will ride quietly in the back and doesn't get sick. Kuma is working on her basic obedience skills and is very food motivated so she really enjoys our positive reinforcement training methods. We are looking for a family or person for this lovely dog that has had a powerful breed of dog before and is dedicated to training and socializing her. The Akita breed is not an outgoing, social dog with strangers by nature so extra socialization while young is needed to bring out the best in their personalities. Kuma should be taken everywhere and introduced to as many people as possible. She is a very friendly and sociable dog right now and we want this to continue as she matures. She is not a suitable dog for someone looking for a backyard dog. Akita's are devoted family dogs and need to be members of the family. We will be expecting our adoptive families to attend at minimum, level 1 obedience school AND advanced obedience after. We want Kuma to be well socialized and trained and to have a family who understands the importance of advanced training to bring out the best in this gorgeous and loving dog. The more you can do with an Akita the better. You will have an impressive dog that will turn heads when you walk your properly trained beautiful bear around town. Kuma certainly attracts attention wherever she goes!!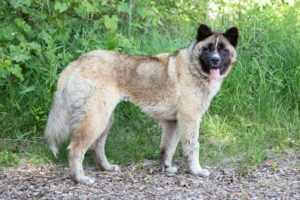 We expect anyone interest in Kuma will have researched the Akita and Husky breeds and will be very knowledgeable about them. They are not a dog suited for everyone, but in the right family, this is a loving and wonderful dog that will be loyal, devoted and a constant companion and guardian. Kuma is at a perfect age to join her forever family and start that lifelong bond. If you are outdoorsy, love activity, and can offer this dog the exercise, training and devotion she requires, this may just be the perfect dog for you. We know she is going to be very popular with Akita/ Husky lovers out there; we can't wait to hear from you!
Click the button to download the Adoption Application Form in a Microsoft Word file format. Fill it in on the computer or by hand, and email it to us at pounddog.ca@gmail.com.
If you need a different file type, please email us at pounddog.ca@gmail.com.