We at PDR believe in the benefits of post-adoption training for our dogs and their families. This allows for continued socialization, learning and helps to create a well-mannered and balanced dog. Post-adoption training is a requirement in our adoption process. For more information on our process and requirements, visit our website at https://pounddog.ca/adoption-inf0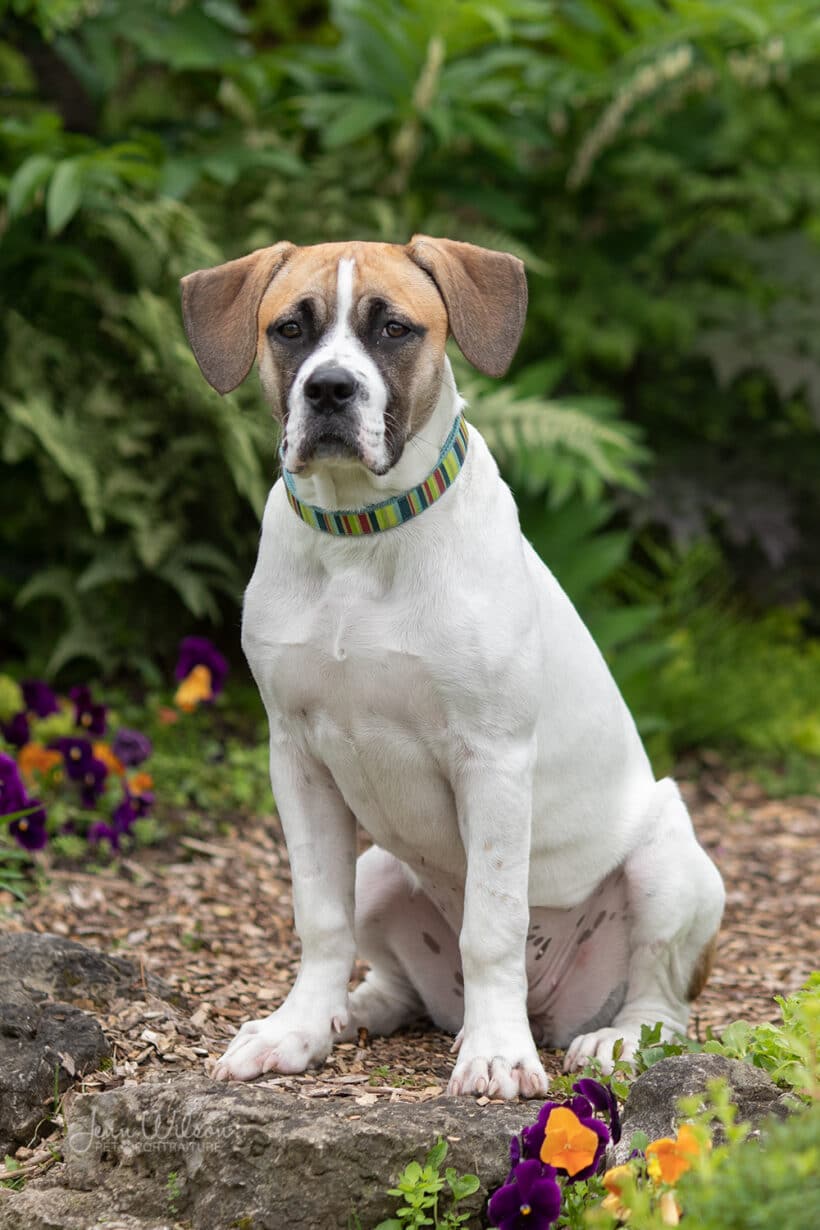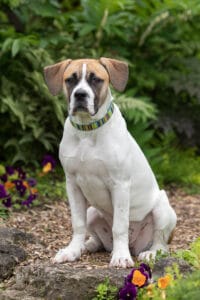 Hey everyone, my name is Laika and I would like to tell you a bit about myself and see if I can find my very own forever family.  First of all, let me get the boring stuff out of the way.  I'm about 8mths old and I am an American Bulldog mix with a touch of St Bernard in these dreamy eyes of mine. My foster mom always is commenting on how beautiful I am and I have to say, I can't argue! I know I'm a beauty, but I don't let it go to my head.  I weigh about 90lbs and will probably be 95 or 100lbs when I am done filling out.  But that won't be for a few years.  I ended up in my rescue because I was abandoned at a rural pound as an unclaimed stray.  My foster family says whoever had me before and gave up on me didn't deserve me; my foster family and friends think I'm just about perfect and they love having me in their home.  I am house trained and crate trained and am an "easy keeper" as my foster dog calls me. He says I am no trouble at all around the house.  But it's time for me to find my forever family so let me tell you what I think my ideal home would consist of.
First of all, I need space to run! I am a big puppy and love to roar around in my puppy bursts.  I need indoor and outdoor space to move!  Don't get me wrong, I am not a hyper or high energy dog, but I do have my moments of energy and need to be able to move.  I would like a large, fenced in yard to play ball in and run in.  I would also like nice big couch to cuddle up on with my people at the end of the day.  I am a huge snuggler and see nothing wrong with being a lap dog.
I would also ideally love a home with a sturdy and playful boy dog to be my playmate. I really, really love playing with my foster brothers and wrestling, running with them and playing tug of war are some of my favourite things to do.  My foster family says they would consider a home for me without another dog if it was perfect in every other way and I would have regular play dates with doggie friends or at a doggie daycare so I could get my love of play satisfied and keep up my socialization.  I have been exposed to a lot of dogs during my time in foster care so I am very dog social. I do get excited sometimes though when out on walks and other dogs start barking or bouncing so I need my person to remind me to keep my cool.  I am easily corrected and redirected if I have a confident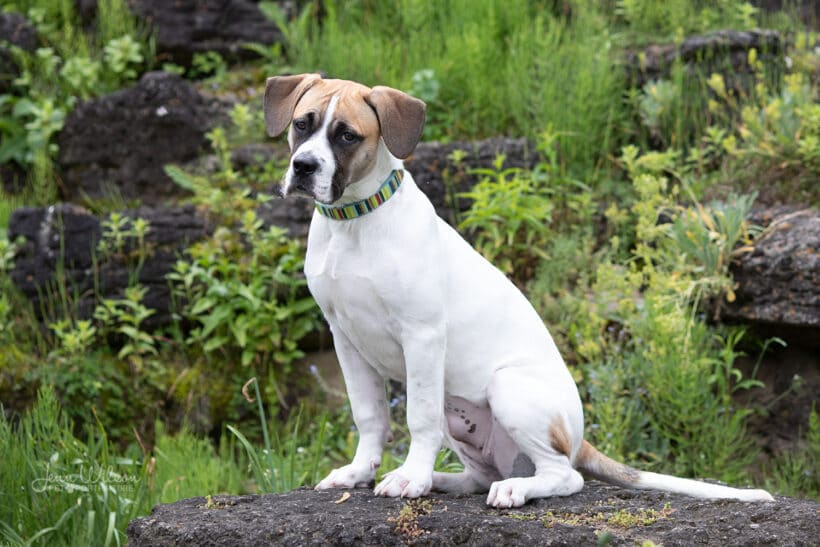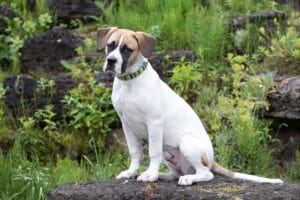 leader.
I am currently attending training classes and gotta say, I'm the smartest one in my class…not bragging, statement of fact! HA!  I love obedience school 'cuz I get to see all kinds of other dogs and I love the treats that come with learning.  I will do pretty much anything for a treat and praise so positive reinforcement training for me please! I want to go to class with my new family and I don't want to just do the basic stuff. I want a family that is going to take me to advanced levels of school 'cuz I enjoy it so much!
I am really devoted to my people as American Bulldogs are so I want my people to work with me and spend time with me. I am not, and I repeat, am NOT, a dog that will be happy being out in the yard all day.  I hate being out in the yard by myself.  I want to be with my family and be a part of the family.  I also would like a family where someone is home more than away.  I am good to be in my crate for a few hours in the day but being left alone for a whole 8 to 10hr work day is not going to work for me.  My foster parents work different shifts so someone is home a lot with me and I love that.  I would like something similar in my forever home.  I don't need someone home every hour of the day, but definitely home more than away would be my preference. I will follow my people around the house and "help" in whatever they are doing.  My foster mom says I get in the way a lot but I know she's kidding.  I'm super helpful!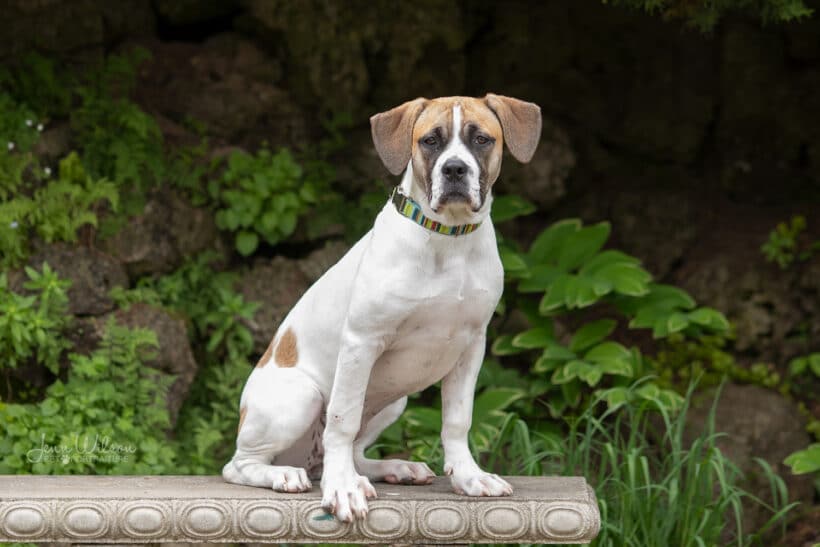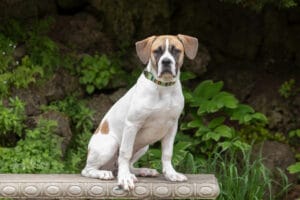 I live with other dogs, as mentioned, but am also living with cats right now.  My foster cats are cool and don't react to dogs so they are pretty much boring and I ignore them.  But if a cat would freak out and run from me I would so chase them! What fun!  My foster mom says that that isn't fun and I can't go to a home with a cat unless the cat is dog savvy…boo!  But if the cat knows to keep cool around dogs, I wouldn't mind sharing my home with them.  I also live on a hobby farm and am good with the horses and goats etc.  I don't get to play with them but I see them through the fence every day and we get to say hi to each other.  I don't have kids in my foster home so I don't know how I would do with them.  I like the kids I meet.  My foster mom has just reminded me that I am a huge kid myself and get the crazies every once in a while and I wouldn't do well in a home with young kids as I would easily knock them over.  But a home with teen kids or adults only would be great for me.
Some things I love are:
Trying to catch the water as it sprays out of a hose…this is so fun. I love hose water!
Car rides! I am always up for a new adventure
Going for walks. The more the better for me! I am a great walker and would love to go on hikes too
Playing tugs with a rope toy. So much fun!!
My food! I eat really good quality food and I do really well on it so need to stay on it for my health
Cuddles on the couch. I would prefer to lie right on your lap if possible
Sleeping on my foster parent's bed.They don't allow this and I sleep in my crate at night at their place but every chance I get I hop up on it and get in a quick nap.
Lastly my foster mom wants you to know that I need to have a person or family experienced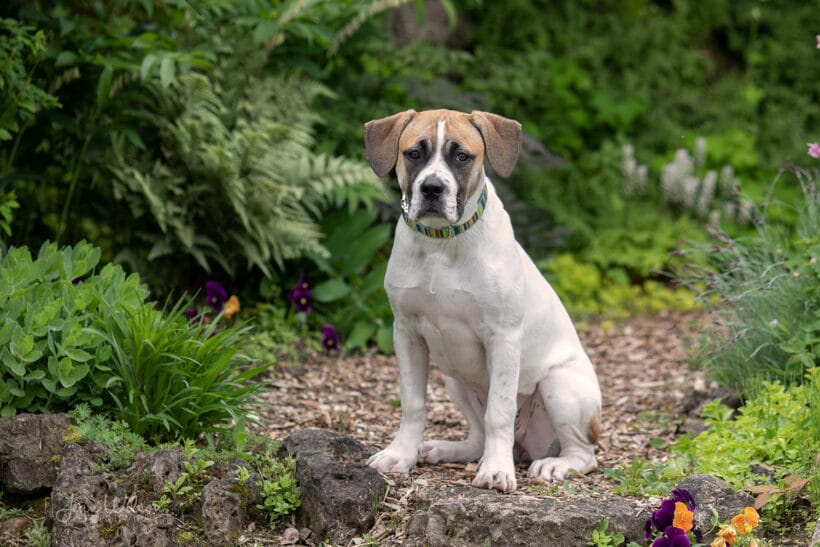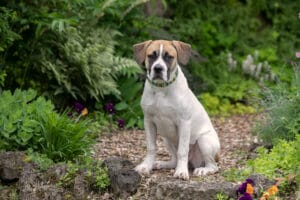 with large and powerful dogs.  I am not a dog suitable for a first time dog owner.  My breed is very powerful and athletic and I am a big girl.  I really respect authority and need my person to be a confident handler so that I will listen to you.  She reminds me to tell you that this in no way means a harsh or aggressive handler, I just need someone who can be firm and fair when need be and use lots of praise.  I really, really like praise…and treats!  I really want to please my people so if taught the rules I will follow them, I just need clear direction.  I will walk all over a timid or soft person though so please be sure that you have the capacity to lead my and train me and we will be the best partnership ever!  I am a loyal friend and will give you my whole heart. I am looking for the same loyalty and love from my forever person or family.  Send my people in an application and maybe you and I will get to meet.  You won't be disappointed!
Click the button to download the Adoption Application Form in a Microsoft Word file format. Fill it in on the computer or by hand, and email it to us at pounddog.ca@gmail.com.
If you need a different file type, please email us at pounddog.ca@gmail.com.