We at PDR believe in the benefits of post-adoption training for our dogs and their families. This allows for continued socialization, learning and helps to create a well-mannered and balanced dog. Post-adoption training is a requirement in our adoption process. For more information on our process and requirements, visit our website at https://pounddog.ca/adoption-info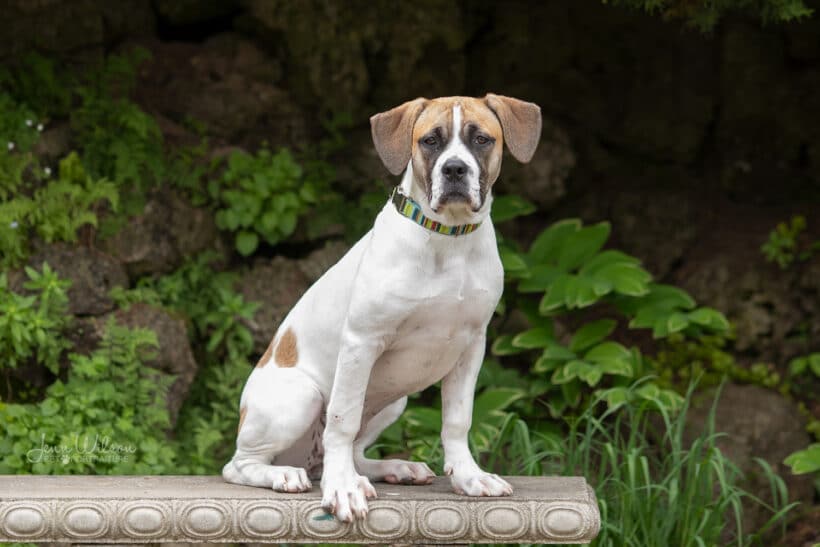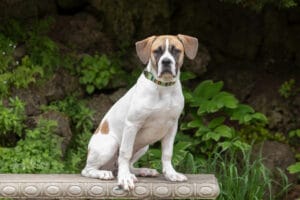 Laika is a beautiful and sweet 6 month old St. Bernard and American Bulldog mix who has lots of growing left to do. She has a white body with a few light brown/tan spots and the black, brown, tan colouring on her face is very reminiscent of her St. Bernard ancestry. She has the short haired coat of an American Bulldog. Laika was abandoned at a rural animal control facility and still struggles to remember that her humans are always going to come home to her. Laika is such a sweet and loving girl who deserves a family who is going to be just as sweet and loving in teaching her that her family will always come back for her.
Laika would do well in a home that has lots of space for her to grow and thrive inside and outside, and the time to train her properly. She has so much potential to be a loyal, loving side-kick for the right person/family. Because she is still learning the breadth of her strength and capacity, Laika will need a family who is willing to put in the work upfront to train her properly. She is a big girl with an even bigger heart and is eager to please and learn her commands for simple praise or treats. Because of her future size, Laika would probably do best with older children (over 12yrs) who could help enforce her training.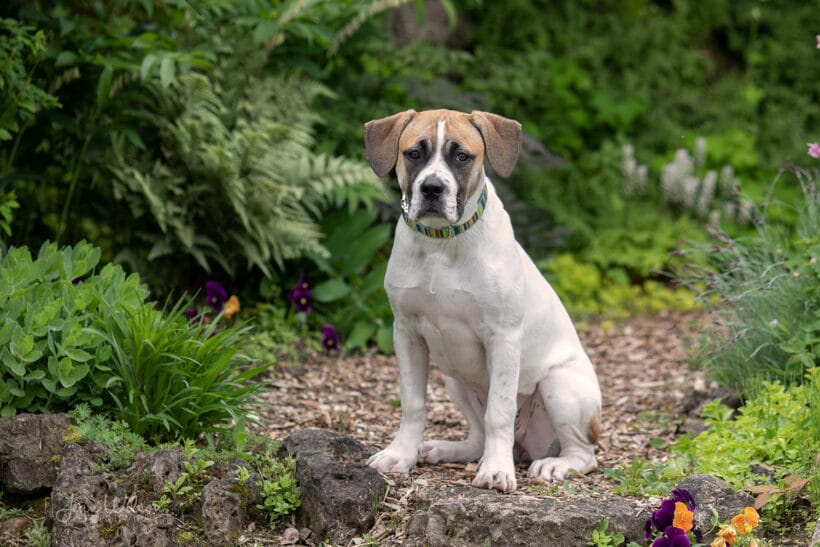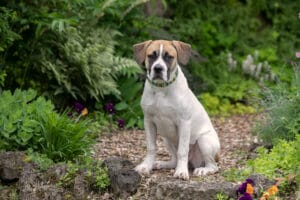 Because Laika is going to be a very large and powerful dog we expect that her future people will commit to multiple levels of training with her.  She will be adopted out on a contract that requires her family to take her to a minimum of a level 2 obedience school.  We just want the very best for Laika and want her to belong to a family that is just as devoted to bringing out the best in this wonderful pup as we are.  We also are looking for a person or family for her that is very experienced in large and powerful dogs and can be a confident leader to her.  Laika bonds very strongly to her people and takes direction well.  She's still adjusting to crate training but does perfectly fine as long as someone is in the room with her. She has learned basic commands like sit and down, though we are still working on following them all of the time, and is mostly house trained after just one week being with her fosters.
Laika is a sweet, loving dog and she isn't afraid to show it – when she's really happy her tail starts wagging and then her whole body starts swinging because even though she's big her body is too small to keep all the love and happy this girl has inside. While Laika is active outside, she is pretty calm inside. She loves to be close by and so will follow you around the house, but once you settle she is completely content to settle at your feet or curl up next to you. She does great in the car and her quiet pleasing disposition makes her a great companion for any dog-friendly work environments or homes.  Laika loves toys of all sorts and makes a habit of emptying her toy box daily, playing with everything for a few minutes before moving on to the next toy.  She is very good at entertaining herself with her toys.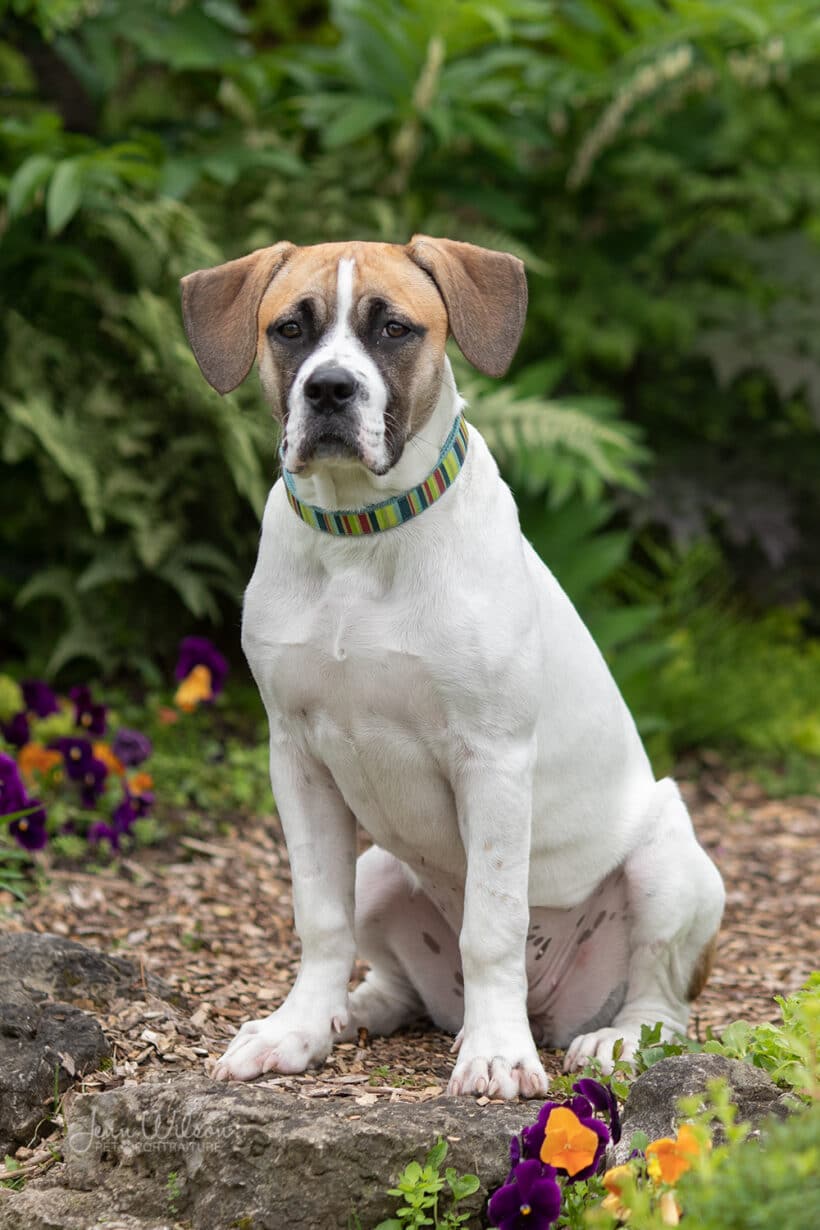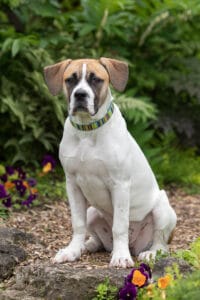 Laika is still young so will require daily activity – she loves to run and play soccer (catch a rolling ball). Squeaky toys, her Kong, and shaking toys all over are some of her favourite things. She will run and chase things until she is completely tuckered out! Laika loves long walks and being outside and sometimes just wants time to sit and watch the world around her. She is very eager to make dog friends and really enjoys romping and playing with other big dogs.  We are looking for a home for Laika that has another young and playful male dog as we have seen how much she benefits from a canine companion.  She really enjoys running, wrestling and playing tugs with other dogs and would like a friend with similar play interests.   We haven't seen any signs of aggression towards other animals, though she does seem to show some interest in chasing cats and rabbits.   We would only consider a home for Laika with a cat in it if the cat is very dog savvy and won't run or react to a large puppy.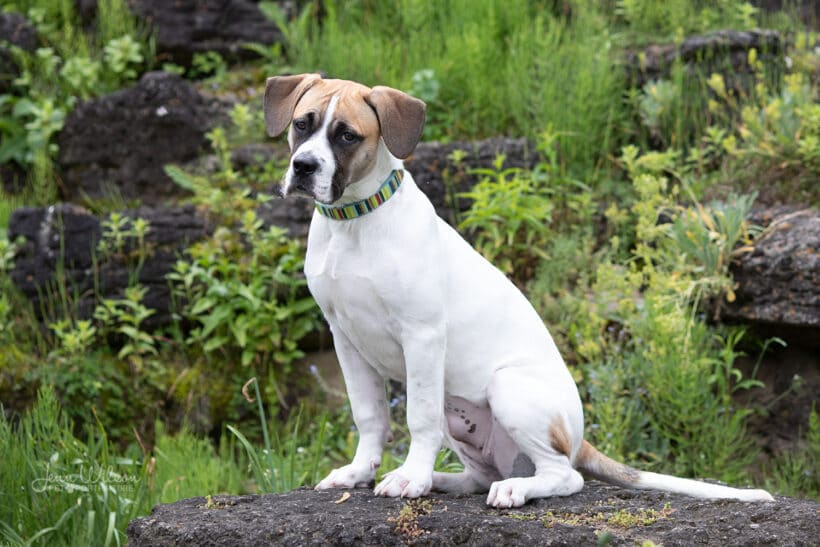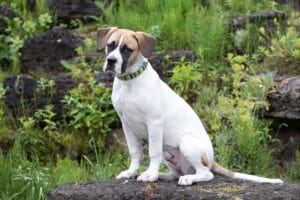 Laika is a beautiful hearted dog who wants to please the people around her.  She doesn't enjoy long separations from her family and won't be suitable for a home where someone is away from home for a full workday.  Laika is looking for a home where someone is home more than away and can spend quality time with her.  Puppies also require a lot of time and attention and devotion to training and socialization so anyone interested in Laika will need to be committed to working with her and bringing out the very best in this sweet pup.  She would make a great addition for the right family and will pay her way with all the love and pets in the world.
Click the button to download the Adoption Application Form in a Microsoft Word file format. Fill it in on the computer or by hand, and email it to us at pounddog.ca@gmail.com.
If you need a different file type, please email us at pounddog.ca@gmail.com.