All Pound Dog Rescue dogs are spayed/neutered, vaccinated, heartworm tested, dewormed (if required), and microchipped prior to adoption. The adoption donation of $400 is applied to assist in the costs of veterinary care and the overall care of the dog.
We at PDR firmly believe in the importance of obedience training, regardless of breed or size of dog, and have a clause in our adoption contract requiring adopters to attend and complete a basic obedience course at a facility of their choosing. Only in certain circumstances will we waive this clause so please be prepared to attend dog school should you wish to apply for a dog through our program.
For more information and adoption applications please consult our website at www.pounddog.ca.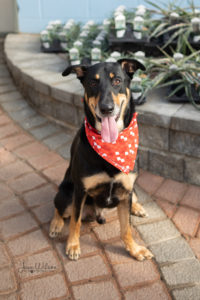 Let me introduce you to Lupin.  He is a 3 year old Doberman/German Shepherd mix.  Lupin is a large dog, who can live in any living arrangement but would benefit from a larger living space. He's pretty big, about 85lbs, but doesn't need too much space as he is usually pretty calm inside. He has the black and tan colouring, and coat length of a Shepherd with the floppy ears of Doberman. Lupin is a beautiful dog, who has so much to give.
Lupin is a very loyal dog who loves to be by your side.  He will be your best buddy forever.  Lupin does enjoy cuddling by himself on his dog bed from time to time though.
Lupin was surrendered to a rural animal control facility. How his previous owners could let him go is beyond comprehension.  It's for the best though because Lupin deserves a family who is as devoted to him as he will be to them.  Lupin needs a home where he won't have to be kenneled or left behind too often for long vacations as he has some separation issues, as would anyone in his shoes. He needs to belong in a home where he will not be allowed to roam free and get lost, and where he can be confident in that fact that he is home forever and will never be lost or abandoned again.
Lupin would do well in pretty much any home situation. He is calm and pretty quiet, he does get vocal from time to time, usually out of excitement. He would do well in an apartment setting as well as a condo or a house as he is so calm, but would really benefit from having a fenced in backyard to run around in. Lupin suits his name perfectly because when he is on walks he is looping around to get in all of the scents he can. He enjoys all forms of exercise offered him but he does need a fair amount of time to burn off some pent up energy.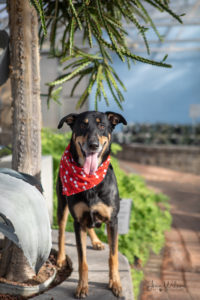 He is a medium-energy dog and does well with regular walks and playing in the yard.  But if it is pouring outside he can make do with quick trips out for potty breaks.  Lupin has been taken on walks about town and also on long walks in the wooded trails.  He loves both and is learning to love his gentle leader. Lupin does get very excited to see other people and animals on walks and needs someone who is able to work with him on proper socialization with others. We are working on his training and controlling his excitement while in foster care but his new family will need to continue his training.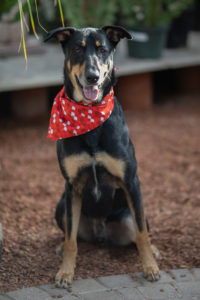 What Lupin loves best though is snuggles and walks; he does a little dance when it's time to go outside. Lupin is a big ball of affection! He is happiest when he's getting pets as he sits by your side or when he's getting belly rubs as he's lying at your feet.  He can't get enough love and affection, he loves giving kisses whenever people come home. We really think he didn't get a lot of attention or love in his previous home so he's going for all he can get now! Lupin loves riding in the back seat of the car with his snoot out the window sniffing all the different scents the world has to offer. Lupin also has been having a blast with the snow, loving to have little bites of fresh snow as we are walking along.  He also likes to be brushed and will lie still while you brush him for any length of time. Lupin has been such a good boy during his stay with us and to top it off has been perfectly housetrained, not a single accident. He is also crate trained and sleeps in his crate at night and stays in his crate when we are away from the house.  Lupin has made such a transformation since getting to his foster home, every day he opens up a little bit more.
Lupin has not been fostered with other dogs, although he does show excitement towards other dogs. We believe that he may not have been properly socialized with other dogs, and will need a handler who is willing to put the work in with this big boy to show him how to play with other dogs. We think that in the future Lupin would do well with another dog, however for now would succeed as the sole dog; getting all the attention to himself.  Lupin has not been in a foster home with cats, but we believe that he could do well with them, if introduced properly.  It would have to be a dog savvy cat though that won't react to a dog in the home.  Lupin is not being fostered in a home with children and we believe that he would do well with older children, over 12yrs of age, as sometimes he forgets how large he is. Lupin is a large dog with a gentle nature, but with a lot of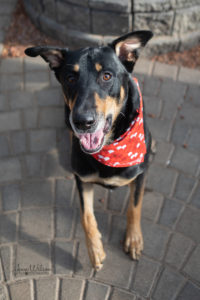 rowdiness around him, he will get quite excited and jump about.  Lupin would love attention from older, quieter children who will pet and love him.
Lupin is being taught basic obedience in his foster home and now knows "sit" and is working on sitting upon greeting people.  Lupin was not given the time or attention needed for a young pup from his previous homes and is need of a family experienced with larger dogs as he is quiet dominant. Lupin's new family should commit to continuing his obedience training to bring out the best in this smart dog.
Lupin has not let his past hold him back from loving life and being a happy, affectionate boy.  He is looking for a forever home to share his love.  Could this be yours?
Click the button to download the Adoption Application Form in a Microsoft Word file format. Fill it in on the computer or by hand, and email it to us at pounddog.ca@gmail.com.
If you need a different file type, please email us at pounddog.ca@gmail.com.