We at PDR firmly believe in the importance of obedience training, regardless of breed or size of dog, and have a clause in our adoption contract requiring adopters to attend and complete a basic obedience course at a facility of their choosing. Only in certain circumstances will we waive this clause so please be prepared to attend dog school should you wish to apply for a dog through our program.
All Pound Dog Rescue dogs are spayed/neutered, vaccinated, heartworm tested, dewormed (if required), and microchipped prior to adoption. The adoption donation of $400 is applied to assist in the costs of veterinary care and the overall care of the dog.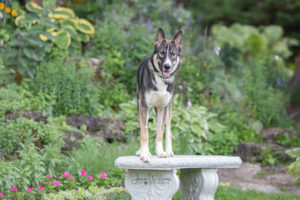 This is Nash and he is a very handsome 8 month old Husky X German Shepherd who is the sweetest boy ever. He's got the German Shepherd black and tan colouring, a Husky type coat and texture with the cutest white stripe on his nose. Nash is a large sized dog weighing about 50 pounds but he still has some growing to do as he is still a puppy. He has the most beautiful warm brown eyes and striking ears that are possibly the softest ever. Nash is certainly a dog that makes people stop and stare and everyone he's met comments on what a handsome and good boy he is.
The German Shepherd is known for being loyal and confident while the Husky is known for it's friendly and gentle nature which describes Nash perfectly. Nash is so puppyish and loves to play tug and run around with his long shepherd tounge hanging out. We felt like he needed a strong but cute name and Nash just stuck!
Nash was a stray at a rural animal control facility and was not claimed by his owner. How his previous owner didn't come for him is beyond comprehension. It's for the best though because Nash deserves a family who is as devoted to him as he will be to them. He needs to belong in a home where he will not be allowed to roam free and get lost, and where he can be confident in that fact that he is home forever and will never be lost or abandoned again.
Nash would do well in pretty much any detached home situation. He is calm and quiet indoors and will never leave your side. Nash would do best in a house with a fenced yard for regular romps and games of fetch. He enjoys all forms of exercise offered him but he is not a dog that requires excessive running or activity. He is not a high-energy dog and does well with regular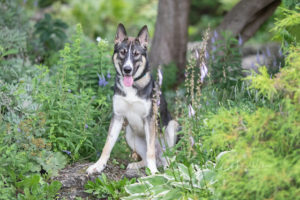 walks on his gentle-leader and playing in the yard. But if it is pouring outside he can make do with quick trips out for potty breaks on command.
Nash will melt in your arms and loves snuggles and pets. Nash is the biggest suck and will make typical Husky noises if you stop petting him to let you know not to stop, he's a big lover! He really can't get enough love and affection; he also likes to lean on you to ask for pets (he's actually doing this right now as I write this!). We really think that he didn't get a lot of attention or love in his previous home because he really can't get enough of it now! Nash likes to lay on the couch and rest his head on the pillow to get a good view of you making dinner, he will never be too far from you!
Nash has been such a good boy during his stay with us and has not attempted to chew anything inappropriately or destroy anything at all. Nash is crated when we are not home and initially wasn't a huge fan of his crate but now he goes in willingly as he knows a nasty treat is coming. We did play music for him the first week he was with us while he was crated and The Tragically Hip was his music of choice. He now sleeps throughout the entire night but if we hear him stirring he will instantly calm down with the sound of Gord Downies voice. He is very well behaved in the home and we're sure once he is settled into his forever home it won't be too long before he could be trusted to spend time out of his crate. He is best suited for a home though where he isn't crated for extensive times. A home where the family is away for a full workday won't be suitable for Nash. He will be better off in a situation where he is only crated for a couple hours at a time.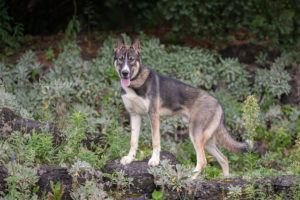 Nash lives in a foster home with a dog and a cat. He is amazing with our dog and would do well in a home with another well behaved, friendly dog, but this is not a necessity for him. He would do just fine being the only dog and getting all of the love and attention to himself. Nash is also really well behaved around our cat. When they first met he gently placed his paw on the cat and started to groom him – melted our hearts!! He does not chase or bark at the cat and all three of them can be in the room together relaxing. Our cat though is very accustomed to dogs and doesn't react. Nash, being a puppy, will want to chase a cat that reacts and runs from him so his suitability with cats will be totally dependent on the temperament of the cat in the home and this should be taken into consideration. Normally you will find Nash and our dog snuggling on the couch or spooning in the hallway while we wind down in the evening after a walk. Nash isn't being fostered in a home with children but we believe that with his calm, even temperate and love of affection he would do well with older/quieter kids who would love to pet him and play nicely in the yard.
Nash is being taught basic obedience in his foster home and has a pretty sit down pat and is being taught to sit upon greeting people. We don't believe that Nash got to go on many walks in his previous home as everything you would normally associate with a regular walk around town seems new to him. But he is adjusting to the newness quickly and gets very excited and happy when you grab the leash and head to the front door. We are currently walking him on a gentle leader head halter and he has shown a huge improvement in walking by your side over the last couple of weeks. Nash also does very well in the car and settles nicely. He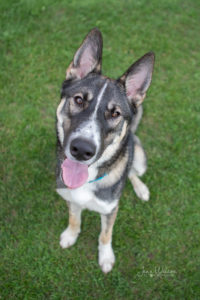 makes a few little noises but we honestly think that is more of him chatting with us… he will also sneak some ear kisses and licks making him a great travel companion. Nash's new family should commit to continuing his obedience training to bring out the best in this very smart dog.
If you are looking for a handsome, solidly built lovely Husky X German Shepherd who won't stop giving you love and affection, then Nash is the one for you. He needs a family committed to furthering his training and socialization and make sure that he gets exercised and loved every day. He will give you a lot of love back, and then some. Nash is a special boy who will make a loyal companion to his new family. He is such a joy, a goof and the best snuggler who will be the best dog who just needs the best family. Could this be you?
Click the button to download the Adoption Application Form in a Microsoft Word file format. Fill it in on the computer or by hand, and email it to us at pounddog.ca@gmail.com.
If you need a different file type, please email us at pounddog.ca@gmail.com.