We at PDR firmly believe in the importance of obedience training, regardless of breed or size of dog, and have a clause in our adoption contract requiring adopters to attend and complete a basic obedience course at a facility of their choosing. Only in certain circumstances will we waive this clause so please be prepared to attend dog school should you wish to apply for a dog through our program.
All Pound Dog Rescue dogs are spayed/neutered, vaccinated, heartworm tested, dewormed (if required), and microchipped prior to adoption. The adoption donation of $400 is applied to assist in the costs of veterinary care and the overall care of the dog.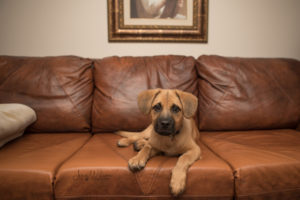 We would like to introduce O'Reilly!
O'Reilly is a 14-week-old German Shepherd/ Lab puppy that will steal your heart the minute you meet him. We aren't sure as to how large of a dog he will be but judging from his paws… he will definitely be a large dog. He has more of the Lab colouring with darker patches on his nose, ears, and tail. He still has puppy eyes that melt your soul. He also has very long eye whiskers and one long random white whisker that comes out from under his chin. O'Reilly is a very smart, extremely confident, and very chill puppy with bouts of happy energy when he's playing. He is friendly, very social, and very loving. He makes friends wherever he goes and people seem drawn to him…obviously because of his cuteness but also his perky confidence. We are committed to helping O'Reilly find a family that is excited to continue his training and give him a loving, active home.
One of O'Reilly's favorite things to do is go for long walks. Even as a puppy he doesn't seem to get tired from nice long walks. He loves chasing the leaves blowing in the wind, meeting new people along the way, and most importantly… sticks! He has a habit of grabbing one stick and then seeing a completely different stick and wanting that one instead. Right now, he walks great during the daylight hours but nighttime is a bit of a different story. The different sounds and lights spook him so it's a little more difficult to walk him. This is all a matter of puppy confidence and experience and he is gaining in confidence every day. The other day he refused to move because he could hear a duck but didn't know where it was. He is very curious of the world around him. He also struggles with puddles. He's fine if he can go around it but no amount of coaxing will get him through it. He definitely doesn't take after his water dog Lab heritage when it comes to puddles! He does have a bit of a stubborn side to him. However, he is good when getting a bath. He doesn't love it but he tolerates the experience.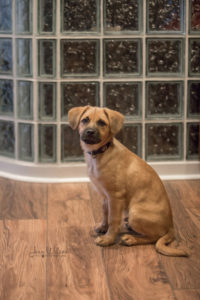 Like any puppy he still needs constant supervision. He mostly sticks to chewing his own toys. He loves his squeaker fox. He is mostly house trained. There have been a few accidents but for the most part he knows to sit by the door to let us know he needs to go out. He is pretty easy to keep an eye on though as where ever you move to he will move there as well. Line of sight seems to be his preference. He does love to cuddle but only for a short time as he gets warm quickly. While his favorite place to sleep is his bed, he always ends up on the colder wood floors.
O'Reilly sleeps very well in his crate at night (7-8 hours), as long as he is in the same room as his people. He is very quiet in the morning and waits patiently for you to open his crate and take him outside. O'Reilly is still getting used to being in his crate when his people are not home and will sometimes whine and bark and have the occasional accident. Since he is a puppy he will need to be let out of his crate every 4 hours and taken for a walk. Anyone considering O'Reilly will have to have a schedule that can accommodate a puppy's need to be let out after approx. 4hrs of crate time. He will not be suitable for a person or family that has a full workday outside of the home.
O'Reilly is currently living on the fifth floor of an apartment building and is comfortable going both up and down the stairs.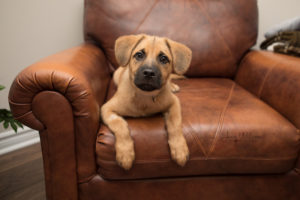 He also loves elevator rides and will usually sit patiently and wait for the door to open so he can go outside for his walk. An apartment setting will not be ideal for O'Reilly for his forever home though. He is going to get bigger and much more active and needs a home with space for him and a yard. As O'Reilly gets bigger having a fenced backyard to play in will definitely be needed as he already loves to play fetch and soon an indoor apartment won't be big enough! We are looking for a home for him that will have a big yard suitable for games of fetch.
O'Reilly has started attending puppy training school and is catching on quickly! He is a very smart, confident puppy and will need someone who has experience training confident dogs so that he grows up to be a proud, respectful dog. O'Reilly is an assertive and confident puppy befitting his German Shepherd genes and requires confident and assertive leaders. He is not a good choice for a first time dog owner. We are looking for a family or person for O'Reilly who is dedicated to training at an advanced level and who will teach this lovely pup rules and discipline and ensure that he is a well-mannered and well-loved dog. At puppy class O'Reilly LOVES getting a chance to play with the other puppies and would benefit from having an older doggie brother or sister that can be a mentor of good behaviour as well as a best friend. Keeping in mind, if he doesn't have another dog to play with in the home, he will expect his people to be his daily playmates. He will remind you that he wants and needs to play. It will be up to you to ensure that he is fully exercised and tired out so he is a happy, fulfilled pup.
Because O'Reilly is going to be a large and energetic dog we are looking for an adult home for him or one with children over the age of 12yrs. He is still going to go through his teething, chewing and boisterous stages and will be too much pup for younger children.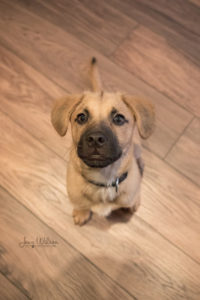 O'Reilly is an adorable blank slate for the perfect family or person to mold and train and help him grow into a wonderful, happy dog. We are looking for people for O'Reilly that have experience with training confident dogs as he will try and challenge the leadership in the home as he matures. We need to ensure he goes to a family that can handle this and give him proper correction when needed and a whole lot of praise when he's making good choices. He will be extremely loyal, loving, and devoted to his family, and he is looking for that love and devotion back. Big dog lovers, this may just be the puppy for you! Puppies aren't for everyone. They take a lot of your time and are a LOT of work. But if you have a big yard, a schedule to suit a puppy, and are willing to put the time and effort in to train and socialize him extremely well, then this gem of a puppy may be the perfect fit.