We at PDR firmly believe in the importance of obedience training, regardless of breed or size of dog, and have a clause in our adoption contract requiring adopters to attend and complete a basic obedience course at a facility of their choosing. Only in certain circumstances will we waive this clause so please be prepared to attend dog school should you wish to apply for a dog through our program.
All Pound Dog Rescue dogs are spayed/neutered, vaccinated, heartworm tested, dewormed (if required), and microchipped prior to adoption. The adoption donation of $400 is applied to assist in the costs of veterinary care and the overall care of the dog.
This handsome young man is Owen, a 9 month old Lab cross that is looking for a loving family.
It's hard to believe such a loving puppy could end up in a county pound, but we can assure you it is not due to any fault of his own. Owen still has lots of playful puppy habits and antics that bring joy to the people he meets. Weighing in at approximately 60 pounds, Owen is a large dog of a typical Lab size with a typical Lab temperament. He is gregarious and up for anything. Owen is always looking for fun to be had and will be a great companion for an active person or people who are outdoorsy and enjoy daily activity.
Owen is an energetic puppy that will require daily walks and lots of play with his people. He is currently walked thirty minutes in the morning and a minimum of an hour in the evening. He also gets lots of play time with his foster dog sister. When walking with Owen we use a gentle leader which he responds to very well. Without the gentle leader, Owen has the tendency to pull on the leash trying to smell all the smells. Owen is definitely not a lay by the fire type Lab; he is very energetic and needs an active person/family to ensure he gets his energy needs met. Owen will be a great dog for hikes, runs, and his foster mom has just started introducing biking with him and he is doing very well. Owen is game for anything!
Owen is crated when he is left alone but he isn't left home alone very often. We are still working on his crate training, as he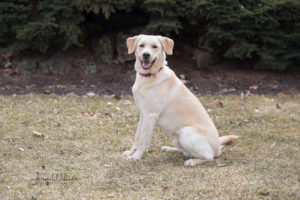 does bark when initially left. For this reason, a condo, apartment or townhome would not be the best fit for Owen. He will settle and become quiet after a few minutes and he is generally very quiet when at home with his people. When Owen does spend the day alone, his foster family comes home at lunch to give him a good play in the yard with his foster dog sister. Owen would not enjoy being left alone for 8plus hours a day. He does need a break in the middle of the day from his crate. He is just too young and active right now to go to a home where he would be left for a full work day.
Owen would do well with or without dog companions; he seems to love both people and dogs equally. He currently lives with his foster dog sister and they play and rest together and are great friends. Owen hasn't met any cats at his foster home and the best home for him will be a cat-free residence.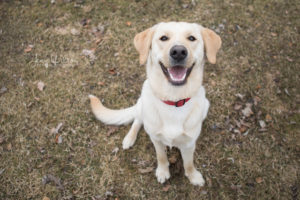 Owen's puppy antics are endlessly entertaining for his foster family. He likes to steal mittens and toss them in the air to get our attention. If that doesn't work, he'll look around for some lint from the dryer or a Kleenex to tease us with. Then it's his most favourite game of keep-away!
Beyond being a crazy puppy, he is a total love. He has the incredibly strong tail wag of a Lab. It's not unusual to hear the telltale sounds of Owen's tail wagging against the wall or the floor because someone is petting him. His tail also starts to go anytime he sees a person while on a walk. The world is just full of friends that Owen hasn't met yet.
Owen has been working on his basic obedience. When he arrived at his foster home he didn't know any commands. Since arriving he has learned 'sit' and 'down'. We think that he will do very well in obedience classes. He is a super agile little dude and would probably excel at agility classes as well. It takes some time for Owen to trust someone enough to listen, but once he does (and when you have treats) he aims to please.
Owen is not being fostered in a home with children but has been excellent with the children that he has met. Although he really likes children, he is still learning his manners, like not jumping on people. For this reason, it would be best for him to go to a home with children who are over the age of 12 to avoid any mishaps. If Owen will be joining a family with older children, it is imperative that his new family teaches him boundaries around the children and that the children know the appropriate way to treat and approach a dog.
One issue that we are working on with Owen is a bit of high prized treat possessiveness, like antlers and bones. We've learned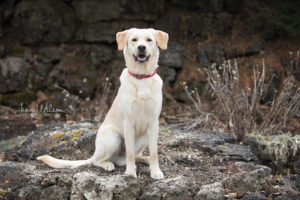 that he loves the bones and antlers so much that he doesn't want to give them up. He has strict antler time now, only receiving highly prized treats while in the crate. We're also teaching him to drop things when asked by trading off for a treat. This will need continued training in his forever home. He is not possessive of his food or regular toys though. We feel that he probably wasn't given the super good chew bones in his previous home so has never learned that he doesn't have to be possessive over them. He is doing quite well with his training in regards to this though.
Owen is always up for an adventure, happily jumping into the car and riding calmly wherever we are going. He is a joyful and fun member of the family who will do well in many different living situations. From wild adventurers to staying close to home, Owen just wants to be with you. Owen is looking for someone or a family who will be devoted to him and give him the security of a forever home. Owen has been abandoned once already, he really needs commitment from his next family. Owen will be a loyal companion to whoever cares for him and loves him, he just asks for that loyalty to be returned. If you are familiar with the Lab breed and understand that they are active and busy for the first many years before they settle into that calm wonderful family dog we all love about Labs, and have the patience and time to commit to training him and exercising him during these formative younger years, he may just be the perfect dog for you!