We at PDR believe in the benefits of post-adoption training for our dogs and their families. This allows for continued socialization, learning and helps to create a well-mannered and balanced dog. Post-adoption training is a requirement in our adoption process. For more information on our process and requirements, visit our website at https://pounddog.ca/adoption-info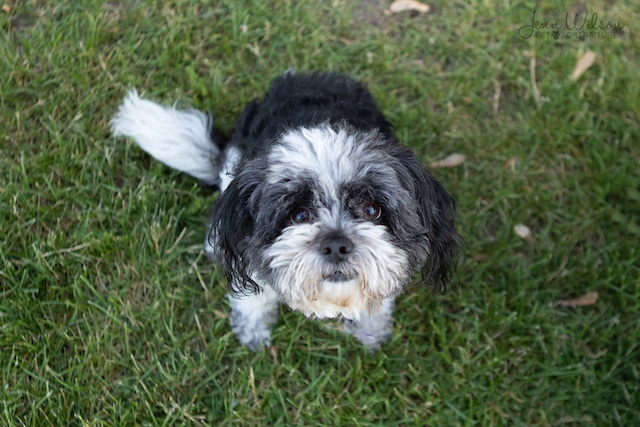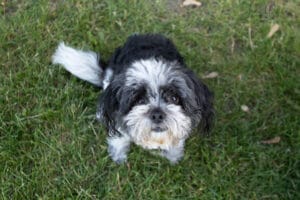 This little sweetheart is Panda. She is an 8-year old, black and white Shih Tzu, petite even for her breed, but with a heart fit for a Great Dane! Weighing in at 13 lbs, she is literally designed to be a lapdog – and she knows it! Slightly scraggly in the most charming way, there's nothing this girl loves more than a cuddle and if she sees an open lap, she will quickly jump up and make herself at home.
Panda is sweet and devoted and her big brown eyes follow her humans around waiting until they sit so she can cuddle – or maybe they're on their way to get her a treat! Calm when cuddling but easily roused into play, she is the perfect pal to hang out with.
Panda was dropped off at the pound to be euthanized when her previous owners decided that the bladder stones she had developed weren't worth fixing. To think this sweet little thing gave so much love and was then completely given up on is heartbreaking. Thankfully, the good people at the pound recognized that this dog was not ready to be put down, and they put a plan into action to save her! Panda's gratitude shines through in the love that she gives. She is absolutely devoted, adoring and utterly sweet!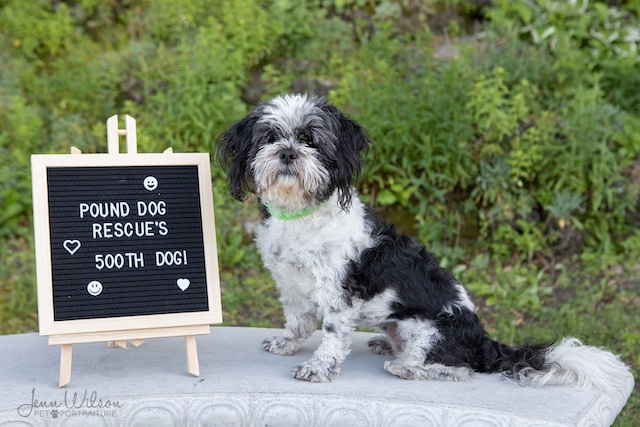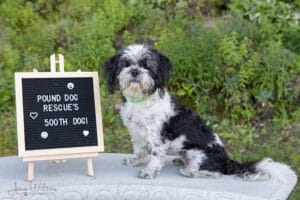 Her easy personality and small size make her a great fit for many living situations. Though she is small and loves cuddling, a good walk is not to be taken for granted! She loves being outside, exploring new smells, and is happy to lounge in the yard, making sure those pesky squirrels come nowhere nearby. She is not a barky dog but will announce visitors to the house, squirrels in the yard, and bicycles on walks. She learns quickly and is beginning to understand that bicycles are not the enemy – she reacts well to commands and corrections and is never incessantly noisy.
In the house, Panda is crate trained and as long as she has a comfy pillow and her favourite stuffy, she is content to go in when the humans have to leave the house to do "human things." That said, she is far too mature to spend her time being naughty and has never been destructive or shown interest in anything that didn't belong to her. All-in-all, she is an excellent mannered and deeply devoted little pooch!
Panda loves cuddles, belly rubs, treats and walks. She is open and loving and earns plenty of smiles and pets with everyone she meets. Her sweet nature is truly infectious and her funny little mannerisms are incredibly charming. Panda is great with kids and absolutely loves her fur-sister Baby, she's even willing to try Baby's favourite game – wrestling – which is no small feat considering Baby outweighs her many times over. For a wee little thing, she is very brave and surprisingly strong.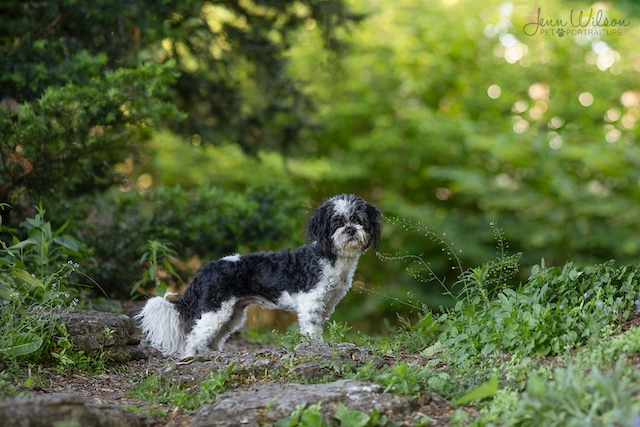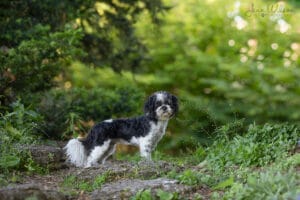 Panda's least favourite thing is the vet. Even with her humble stature, she can put up a big fight – and does – when she doesn't want to be handled. Though she's completely docile at home and has no problem whatsoever being fake-vetted (looking in her ears, her eyes, touching her paws, checking her teeth), she is incredibly defensive as soon as anyone in smocks tries to look at or touch her. She will need an understanding vet team who is willing to gain her trust and an owner who has the patience to support her. With several successful, pain-free and stress-free visits, we believe Panda will learn that good people wear smocks too.
With children, Panda is patient and kind. Since she looks a bit like a stuffy herself, kids are naturally drawn to her and she has no problem being petted, hugged and kissed by little people. She follows them patiently around, a soft, understanding smile on her scraggly little face.
Panda is very obedient and eager to please. She knows all of the base commands but sometimes gets a little too excited when the treats come out so she'll try everything at once to get a tasty morsel. She listens very well, comes quickly when called, and yes, she will get off of furniture if you don't want her on it, but she's also determined and hopeful that if she tries and tries again, maybe this time she'll be able to stay up.
While Panda's bladder stones were surgically removed, her new family will need to maintain her good health, ensuring proper nutrition which is easily done through urinary care dog food which is readily available at the vet.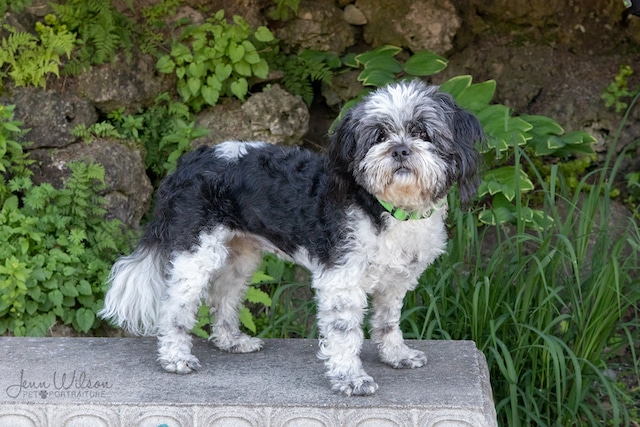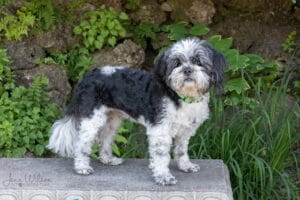 On a sad note, Panda has been diagnosed with Lyme disease.  His previous owner obviously didn't have her on the preventative which would have ensured she was protected from this disease.   It just doesn't seem that our sweet girl was well cared for in her prior home.   That has changed now!!  Lyme disease is a totally preventable disease that is spread by ticks.  This disease is in Southern Ontario and we are seeing more and more of it as each year passes.  We are a rescue that Lyme tests all of the dogs we take in for exactly this reason. The good news is that Panda is completely free of symptoms and is an otherwise healthy dog.  Panda has no idea she has this disease and is in every way a happy dog.  She has been cleared to be adopted as there is no reason to hold her back.   She is on medicine now to lower her Lyme level and she is doing well on it. She takes her pills wonderfully if you hide them in food!!  She won't need to be on meds long term which is great. Her adoptive family just needs to be aware of his Lyme status and advise their vet of it and understand that she will test positive for Lyme's every time she has her heartworm/lyme tests done.   Lyme disease cannot be cured, but it is managed quite effectively.   Panda is so deserving of a family that will give her the care and love that she lacked in her prior home.
We really can't say enough good things about Panda – everyone who meets her instantly falls in love! She is charming and sweet and absolutely adorable in her own special way. We are so grateful that she was given a second chance at life, and it's clear that she is as well. Panda's tiny heart has a lot of love to give and she's looking for the right home to settle down in. She is looking for a cuddler who enjoys walks and spending time together. Does this sweet little thing sound like the right fit for you? Come meet Panda!
Click the button to download the Adoption Application Form in a Microsoft Word file format. Fill it in on the computer or by hand, and email it to us at pounddog.ca@gmail.com.
If you need a different file type, please email us at pounddog.ca@gmail.com.