We at PDR believe in the benefits of post-adoption training for our dogs and their families. This allows for continued socialization, learning and helps to create a well-mannered and balanced dog. Post-adoption training is a requirement in our adoption process. For more information on our process and requirements, visit our website at https://pounddog.ca/adoption-info
Hi everyone, My name is Peggy the Pug but you can call me Peggy. I am an 8 year old Pug/Boston Terrier mix and I weigh in at a whopping 6.2KG (13 lbs). Now you have to understand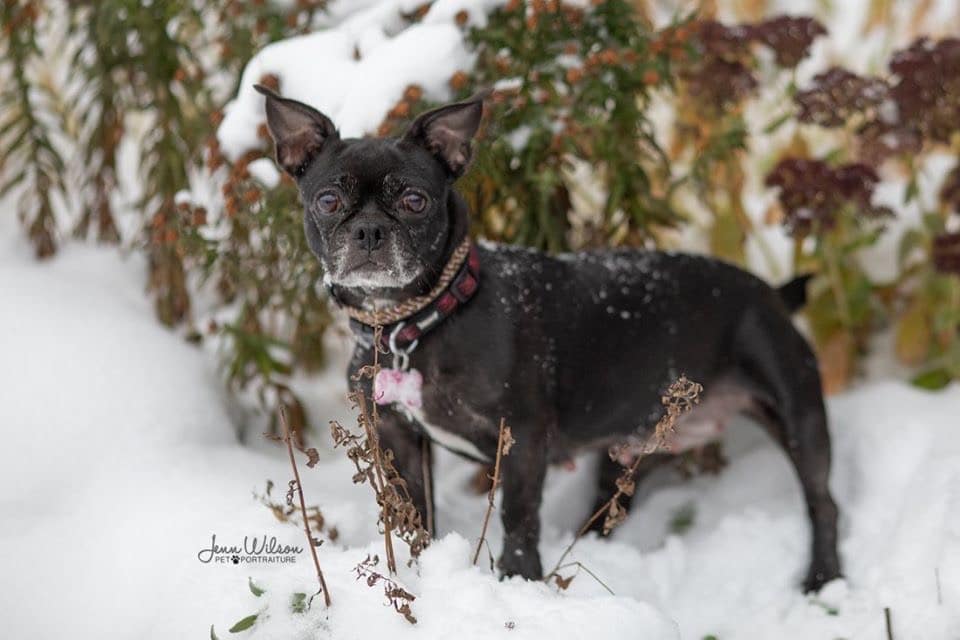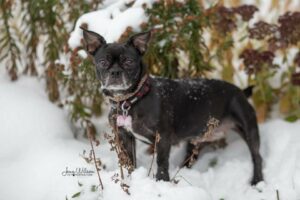 that age is just a number and I don't let my age slow me down at all. I love to play fetch; I could do that for hours if my Foster Dad (FD) would let me. He says he has to work during the day but I think that is just an excuse to not throw my ball.
My FD has a cat… I wouldn't say we are friends but she no longer doubles in size when I walk by so I think that's progress. I really don't bother with her unless she is horning in on my FD, then I have to get up and see what's going on.
I have so much love to give. I just want to crawl up on your lap and snuggle in all nice and warm. I can lay there for hours just snoring away…yeah I snore but my FD says it's adorable OK. I love to give kisses; ears are my absolute favourite but I'll generally take anyplace on your face I can get and in a pinch, I will even lick clothes or any exposed skin. I just love people so much I have to let them know. I'm a good at letting you know there is someone at the door but once you open it and I see them then I am just super excited to see them and can't wait to get a pet and give a sniff. My whole-body wiggles and my FD says I have the cutest little but shake but I'll just have to take his word on that.
I have a bit of a jealous streak when other animals are getting some love'n from my person. Normally I'll just butt in however I have been known to give a bark or 2 to chase them away so I would probably be happiest where I am your only family pet. It's not an issue I just think we would have more fun that way. I haven't been around any children so I am not sure how I would react. I am fine with being picked up and carried and generally pretty submissive so I wouldn't completely rule it out I just don't know for sure. I do enjoy going for rides in the car but I'm too small to stick my head out the window without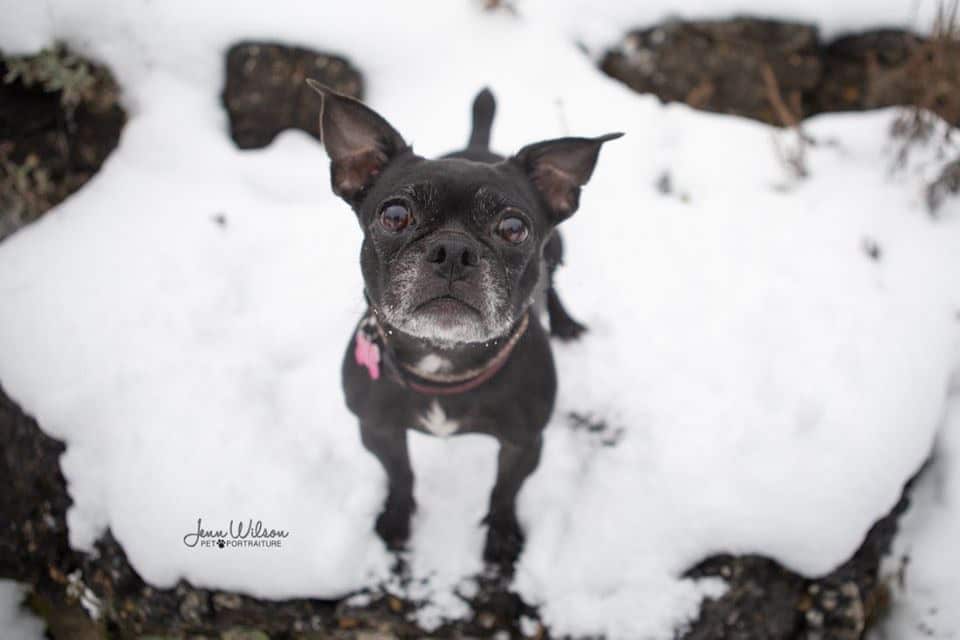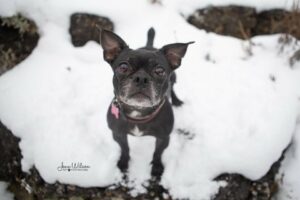 being held. I also prefer to sit on someone's lap in the car. When I have to sit in the front on my own, I am constantly trying to make my way over to my FD lap. Some how he always sees me and stops me but I'm not giving up, I will crack this one day. However, if I sit in the back I tend to just go back and forth from window to window looking around. My FD thinks it's better for me to ride in the back when he's alone but I still want to figure out how to get in his lap…
Right now I have a fenced in back yard but I already figured out there is a few spots where it didn't quite make it to the ground and I can shimmy my way through so if you have a fence like that you may want to keep an eye out cause I do have an inquisitive nature and will go under if I can. That being said I did learn here that the outside is where I 'Go' and not on the carpet. In my old life that never seemed to matter but I much prefer this new way of living.
We are working on some standard commands now although I am not quite sure why my FD always asks me to sit. My butt is 2 inches off the ground. I am practically sitting all the time. Oh well maybe when you take me home, we can continue to learn in obedience school. It's part of the Pound Dog adoption requirements and besides that I think it will be fun and a great way for us to really get to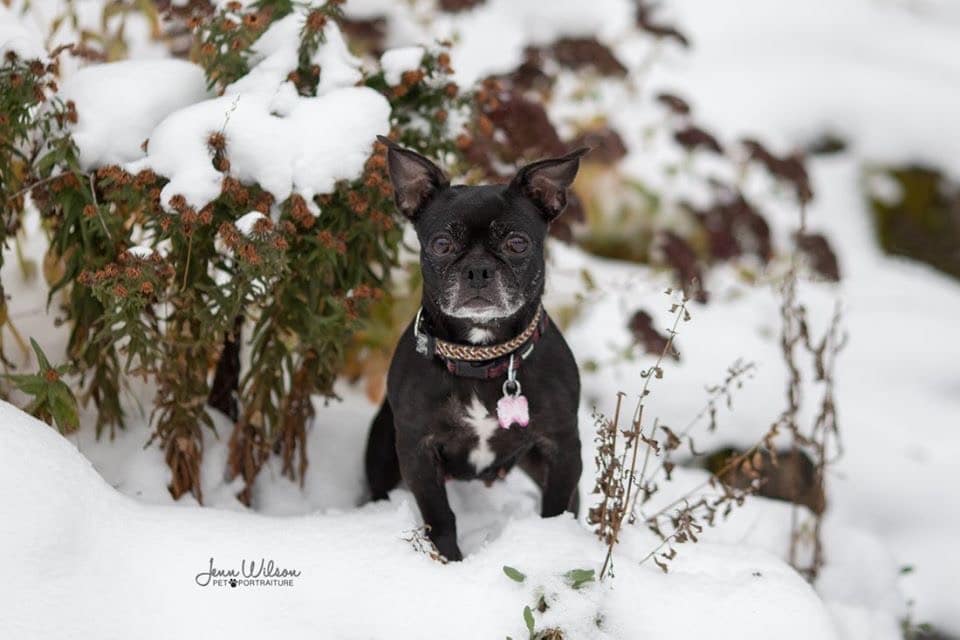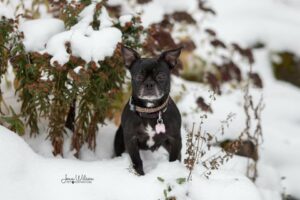 know and understand each other. He hasn't given up though he's still working on Sit, Down and Come. I do love the treats that come along with it when I get it right. He also showed me Drop It but he said that was more for his fingers then for me but I almost got the hang of that one and it means more fetch so everyone wins!  I am a pretty smart dog if I do say so myself. My FD gave me this puzzle where you hide the treats and you have to open separate doors to get them. I figured out of you just nudge it a bit it spins so you can make all the treats appear in the first door. Easy Peasy. He says its too easy now so he doesn't use it anymore, I agree, bring on more challenges!!
One of my other favourite things to do is go for walks. I have little boots to keep my paws warm and salt free. It takes a bit to get them on but I can walk in them fine. No crazy dog walking in boots YouTube videos here. I also have my reflective vest that helps keep me warm and safe. I am not a big fan of rain or cold. On those days I'd rather just pop out to the backyard then go for a big walk. When it is dry and warmer though I really enjoy my walks. We usually go out for 45 min and cover up to 5KM. There is only a couple of quirks when walking that I like to do. For no visible reason I will just stop and lay down. After a little tug on the leash I'm good to go but it's something I do like doing every now and again to keep you on your toes. When we are walking, I pretty much just focus on walking and don't really pay any attention to any other dogs that we may come across, I'd rather just keep walking with you. Overall, I love walks and I also love coming home and curling up on your lap to rest up. After all we both deserve it. On the days where I don't get my walk, I do have some extra energy
and will want you to play with me to help burn it off. Fetch or tug of war are good fun and it usually take about the same 45 min to an hour before I am ready for that nap.
I do well in my crate and tend to use it as a toy cupboard as well. That way I know where it all is when I am ready to play with it. My FD keeps taking it all out but I have a system so I put it all back in my crate. When I first got here I was sleeping in my crate in my FD bedroom but after I got the housetraining down he let me sleep in his bed and while I don't mind the crate I definitely like sleeping with in the bed better. I told you how smart I am already but here's proof, I am able to tell time! Without fail every morning about 15 min before his alarm goes off I slowly crawl up the bed and give him good morning kisses. My FD much prefers my kisses to his alarm.
My FD wanted to say something in closing so here he is. Hey all my name is Greg and Peggy is my first foster dog and boy did I hit the jackpot. She is so affectionate and so smart. She immediately takes to everyone she meets and is so cute my teeth are sore from gritting them. She will bring so much joy to the right family. If you think that is you then maybe you can hit the jackpot too!
Click the button to download the Adoption Application Form in a Microsoft Word file format. Fill it in on the computer or by hand, and email it to us at pounddog.ca@gmail.com.
If you need a different file type, please email us at pounddog.ca@gmail.com.