We at PDR firmly believe in the importance of obedience training, regardless of breed or size of dog, and have a clause in our adoption contract requiring adopters to attend and complete a basic obedience course at a facility of their choosing. Only in certain circumstances will we waive this clause so please be prepared to attend dog school should you wish to apply for a dog through our program.
All Pound Dog Rescue dogs are spayed/neutered, vaccinated, heartworm tested, dewormed (if required), and microchipped prior to adoption. The adoption donation of $400 is applied to assist in the costs of veterinary care and the overall care of the dog.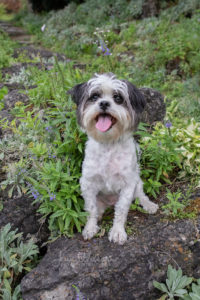 Pepper – A sweet, gentle and cuddly girl looking for a human lap to call her own.
Introducing Pepper! Pepper is a very sweet Lhasa Apso girl, approximately 3 years old. She is full of energy and love, and gets so excited about her humans that she doesn't know how to contain her glee. When greeting you, Pepper often ends up standing on her hind legs and pawing the air, essentially doing a little dance to express her excitement.
Pepper is looking for someone who would like her to serve and protect from the front lines – she is sure that her role is to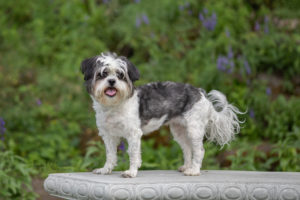 tell you if someone is coming, although once said person gets there the rest is up to you! As Pepper is expressive, she likely isn't suited for apartments.
Pepper was named for her colouring; she is white and grey, with sprinkles of both colours on her face. She has beautiful brown eyes, and very soft hair. She uses both to convince you to pet her.
Pepper was rescued from a rural pound after being picked up as a stray. She is house trained, and very friendly, although doesn't seem to have any past training. Pepper is learning to play, and is very excited about toys. With that said, nothing compares to socks. This little lady can find your lost socks for you, and will bring them to you to show off her finding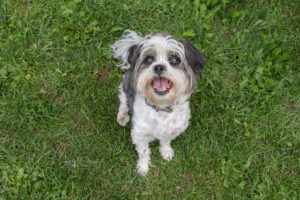 skills. This is great if you can't find matching pairs – she will find them! Socks are her favourite items so far, although she is very happy to trade for a treat. Pepper doesn't guard food, but loves it very much. She will likely be easy to train based on her food drive alone. Pepper will require patience and training, as she doesn't yet know any commands. In her foster home, she has learned confidence, how to walk on a leash, play with humans, and is getting better all the time at listening. She is coming along nicely, and her confidence has grown leaps and bounds.
Pepper likes other dogs, although she isn't quite up to playing with them yet. She shows interest and sometimes tries to initiate play, but gets nervous fairly quickly and seeks out a human instead. Pepper would be happy to be the only dog in the house, but will also coexist well with another dog if the dog is not aggressive. Once confident enough, she might even play.
Pepper loves to roll around in the grass, and play fetch. She is so cute when she runs over the lawn to find a spot to do her business, often bouncing a little on her way. She's a very happy girl, and desperate to love any human that will let her on their lap. She has yet to meet someone she doesn't like, although they have to be confirmed as okay by her parent first.
Pepper loves kids, and is very gentle. She has met lots of people and children of all ages while in foster care, and has been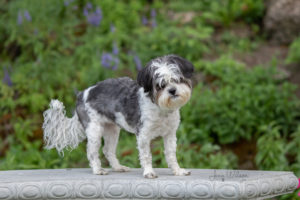 very gentle with everyone. Although Pepper is high energy, she does settle nicely and curls up with blankets, on the back of the couch, or in your lap. If allowed to sleep with you, she will curl up against your back and sleep soundly.
Pepper will require a family committed to taking her to obedience school so she can continue her learning and benefit from the socialization a class setting offers. She is very intelligent and will be very keen to learn.
If you're looking for a companion that is soft, gentle and cuddly, this could be the girl for you! She would love to find her furever home and start the rest of her life with her new family.
Click the button to download the Adoption Application Form in a Microsoft Word file format. Fill it in on the computer or by hand, and email it to us at pounddog.ca@gmail.com.
If you need a different file type, please email us at pounddog.ca@gmail.com.