We at PDR firmly believe in the importance of obedience training, regardless of breed or size of dog, and have a clause in our adoption contract requiring adopters to attend and complete a basic obedience course at a facility of their choosing. Only in certain circumstances will we waive this clause so please be prepared to attend dog school should you wish to apply for a dog through our program.
All Pound Dog Rescue dogs are spayed/neutered, vaccinated, heartworm tested, dewormed (if required), and microchipped prior to adoption. The adoption donation of $400 is applied to assist in the costs of veterinary care and the overall care of the dog.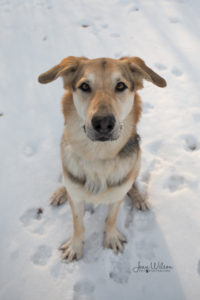 This big, handsome guy is Randall, a 2 year old German Shepherd/Malamute cross that is looking for a loving family.
We don't know why life brought Randy to a county pound but we can assure you it is not due to any fault in his character. Randy has a kind and goofy personality that has won over the hearts of everyone he has met. Weighing in at approximately 75 pounds, Randy is a very tall and thin with enormous paws. And he loves giving a paw to all the new friends he makes. Randy still needs to fill out so he will gain weight as he does so and will probably be closer to 80-84lbs when full grown.
Randall has earned the nickname Randude because he has the manners of a teenage boy. He loves to collect all the toys in the house for his own personal use and he always lets out a big belch after dinner.
Randy is an energetic and clever boy that will require an active lifestyle, especially as he gets through his teen years. Randy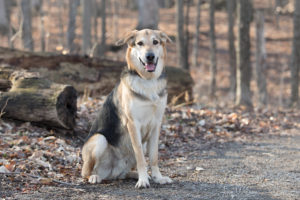 is currently walked for thirty minutes in the morning and a minimum of an hour in the evening. He also gets lots of play time with his foster dog sister. Randy is still getting used to his gentle leader and often tries to rub his very long nose on you during the walk in an effort to get out of the leader, which is pretty adorable but we are still working on correcting the behavior.
Randall is crate trained but he isn't left home alone very often. It is imperative that if Randy is going to be home alone, that he is crated and exercised prior to your leaving. Because he is a smart dog, Randy can get up to trouble if he hasn't been properly stimulated before being left in the crate. When Randy does spend the day alone, his foster family comes home at lunch to give him a good play in the yard with his foster dog sister. Randy does cry and bark periodically in the crate, for that reason a condo or townhouse would not be a good fit for him. When his family is home, Randy is a very quiet guy and rarely barks. Randy is not a dog that would be ok being left alone for an 8hr work day. He needs a home where he isn't left for overly long times.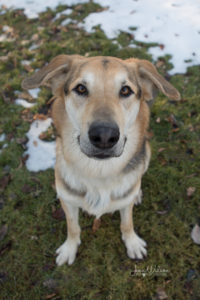 Randy would do well with or without animal companions but because of his energy level it would be beneficial for him to have a canine sibling to call his own. He currently lives with his foster dog sister. He eats and sleeps with her and has never once had an issue with food or toys. He does, however, love to steal her toys and push his way to any humans who are giving out pets. It would be best if Randy's potential new sibling weren't possessive and was happy to play roughly with this big boy. Randy hasn't met any cats at his foster home but his foster family thinks he would be happy to meet a dog-savvy cat. He wouldn't be recommended for a home with a cat that isn't totally comfortable with dogs though. Randy is a young dog and would gladly chase a cat that ran from him.
Randy can be a total goof, but he is also quite smart. He is participating in training classes and he is holding his own with the advanced class. He is very food motivated and loves the affection he receives when he performs a task correctly. The main command we are working on is 'focus'. Because Randy can be a bit pushy, 'focus' is a good command to improve his patience. He knows 'sit', 'down', and he is working on 'stay'. He loves his people and doesn't have any trouble coming when called. Randy has some puppy mouthing habits and sometimes requires a stern correction when he decides to hold your hand or arm in his mouth. Randy would benefit from a family with previous dog experience and will be required to attend, at minimum, a basic obedience course with him to help continue his training and to build the bond that is essential for him to flourish in his new home.
Randall is not being fostered in a home with children but has been excellent with the children that he has met. Although he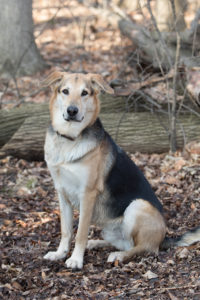 really likes children, he doesn't understand his size and strength and could easily knock a child down accidentally. Because he thinks nothing of throwing his paw on you when looking for attention or gnawing on limbs when he is excited, it will be best for Randy to go to a home with children who are over the age of 12 to avoid any misunderstandings. If Randy will be joining a family with older children, it is imperative that his new family teach him boundaries around the children and that the children know the appropriate way to treat and approach a dog.
Overall, Randy has been a joy to foster. He is gentle, kind and smart – always wanting to be a part of any family activities. If you are seeking a dog who will be your constant companion, can comfortably rest his head on your kitchen table, and who has the longest snoot you'll ever see, then Randy is definitely the dog for you.