We at PDR firmly believe in the importance of obedience training, regardless of breed or size of dog, and have a clause in our adoption contract requiring adopters to attend and complete a basic obedience course at a facility of their choosing. Only in certain circumstances will we waive this clause so please be prepared to attend dog school should you wish to apply for a dog through our program.
All Pound Dog Rescue dogs are spayed/neutered, vaccinated, heartworm tested, dewormed (if required), and microchipped prior to adoption. The adoption donation of $400 is applied to assist in the costs of veterinary care and the overall care of the dog.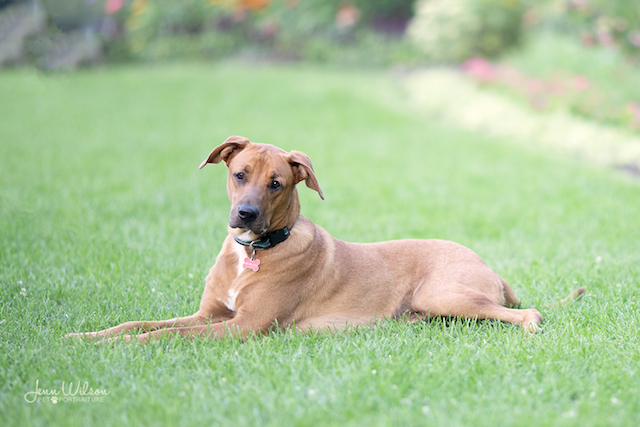 This handsome, young man is Reuben, a 9 month old Lab/Hound cross that is looking for a loving family.
It's hard to believe such a loving puppy could end up in a county pound, but we can assure you it is not due to any fault of his own. Reuben still has lots of playful puppy habits and antics that bring joy to the people he meets. Weighing in at approximately 60 pounds, Reuben is a large dog. He has received a clean bill of health from the vet. Since joining PDR he has been neutered and received all his vaccinations.
Reuben is an energetic puppy that will require daily long walks and lots of play with his people. He is currently walked thirty minutes in the morning and a minimum of an hour in the evening. He also gets lots of play time with his foster dog sister. The more exercise you can give Reuben, the happier he will be. When walking him we use a Gentle Leader which he responds to very well. Without the Gentle Leader, Reuben has the tendency to pull on the leash trying to smell all the smells.
Reuben is crated when he is left alone but he isn't left home alone very often. He cries from time to time while crated but is calm throughout most of the day. He seems to be quite familiar with the routine of having down time during work hours and play time in the morning and evening. When Reuben does spend the day alone, his foster family comes home at lunch to give him a good play in the yard with his foster dog sister.   Reuben would not be happy in a home where the family is gone for a whole work day.
Reuben would do well with or without animal companions; it is important that he receives proper introductions to new dogs as he is slightly uneasy around new dogs. He will often bark when he sees another dog but with a proper introduction and more socialization we feel he will only become more comfortable around other dogs. Once he is familiar with another dog he quite enjoys playing.  Reuben hasn't met any cats at his foster home and the best home for him might be a cat-free residence.
Reuben's puppy antics are endlessly entertaining for his foster family. When he gets really excited he has been known to chase his tail! He likes to pounce on toys and throw balls for himself, which is incredibly adorable to sit and watch. Although, he would much prefer if you participate because for Reuben, there is nothing better than attention from his people.
Beyond being a crazy puppy, he is a total love. It's rare to see him without a wagging tail and he'll even perform the windmill tail wag for you on special occasions. It's not unusual to hear the telltale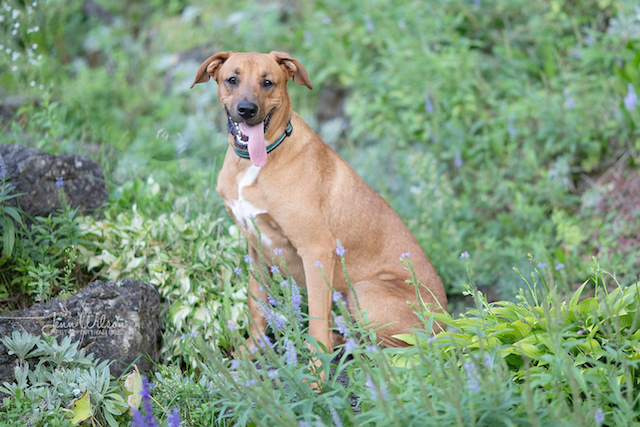 sounds of Reuben's tail wagging against the wall or the floor because someone is petting him. He also gives the best dog hugs! He is constantly trying to get close to his people and nestle his big nose into our necks.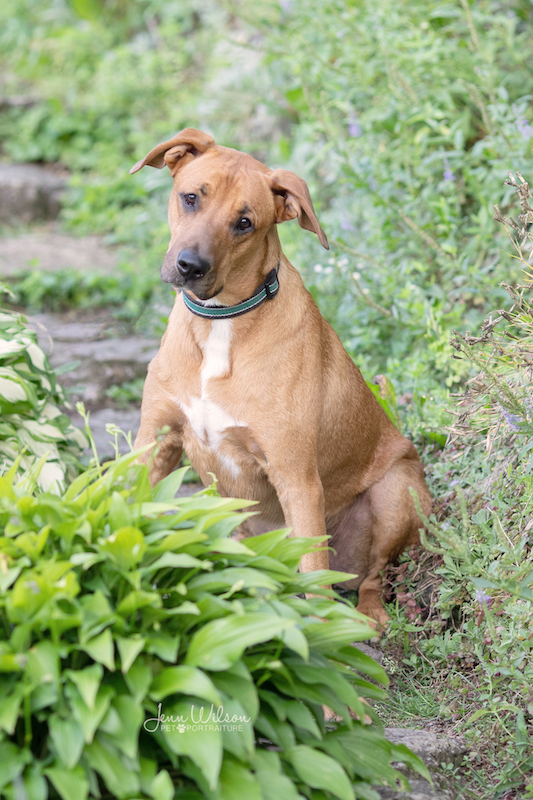 Reuben has been working on his basic obedience. When he arrived at his foster home he didn't know any commands. Since arriving he has learned 'sit' and 'down'. Our other main focus with Reu has been his leash manners. He has a very good nose and would love to follow smells as far as he can. Regular walks and consistent training methods have helped control his urges and have improved his manners. We think that he will do very well in obedience classes.
Reuben is not being fostered in a home with children but he is a young and rambunctious dog. He is still learning that mouthing is impolite and jumping on people is unacceptable. For these reasons, it would be best for him to go to a home with children who are over the age of 12 to avoid any mishaps. If Reuben will be joining a family with children, it is imperative that his new family teach him boundaries around the children and that the children know the appropriate way to treat and approach a dog.
One issue that we are working on with Reuben is a bit of possessiveness. Before joining our household he hadn't had much exposure to the concept of sharing things like toys and the water dish. He has come a long way but his new family will need to keep a close eye on him as he settles in.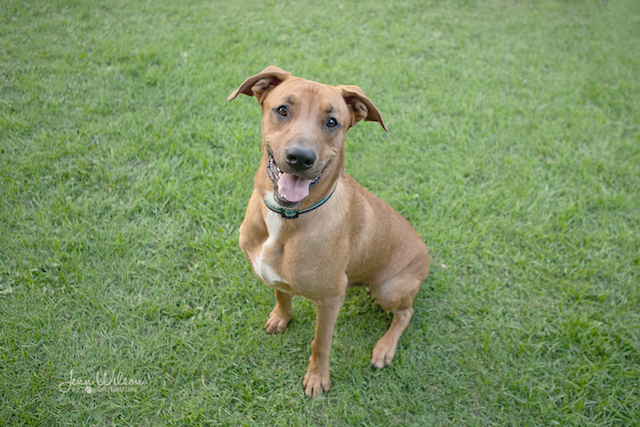 Reuben is always up for an adventure, but prefers to stay close to home. It can be challenging to convince Reu to go for a car ride, so it will be important for his new family to ensure that car rides are a positive experience by sitting with him in the back seat feeding lots of treats and giving pets and praise. Reuben is a joyful and fun member of the family who will do well in many different living situations. This puppy has a lot of love to give to his family and we know he is excited to finally settle in his forever home.
Click the button to download the Adoption Application Form in a Microsoft Word file format. Fill it in on the computer or by hand, and email it to us at pounddog.ca@gmail.com.
If you need a different file type, please email us at pounddog.ca@gmail.com.