We at PDR believe in the benefits of post-adoption training for our dogs and their families. This allows for continued socialization, learning and helps to create a well-mannered and balanced dog. Post-adoption training is a requirement in our adoption process. For more information on our process and requirements, visit our website at https://pounddog.ca/adoption-info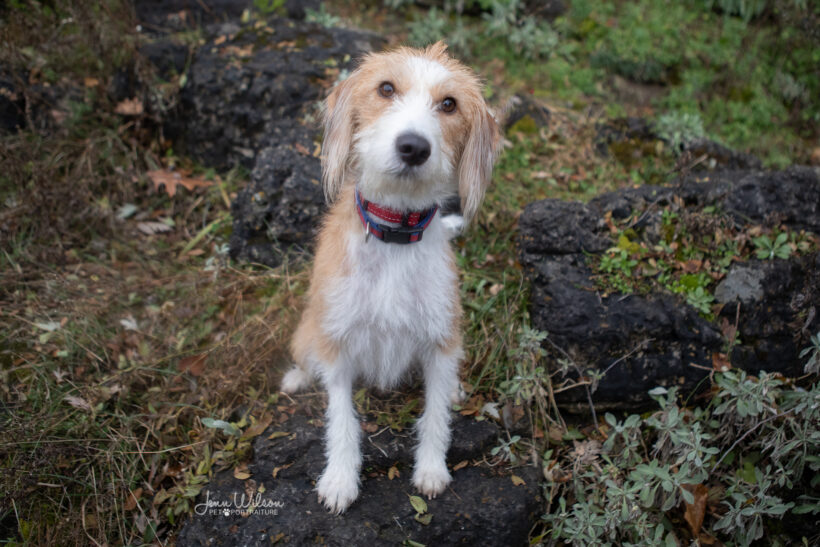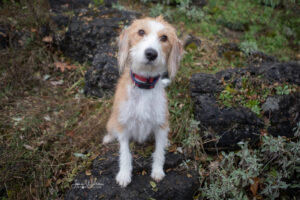 Hi!  My name is Taffy and I'm a young Portuguese Podengo. Oh, you've never heard of my breed?  Well, I'm a hound through and through!  Please research my breed so you will know totally what to expect with me. I've got a touch of Beagle in me as well so my ears flop and add to my cuteness!   I'm only just over a year old and I am full of beans!  I am a super happy and friendly dog looking for a forever home!
I'm about 20 pounds and won't grow much more.  I have a lot of energy and need a large fenced yard.  I love to chase squirrels and birds in the backyard.  I also love to run in circles like crazy and show off to the humans and my foster brother.  I am so fast and quite proud of myself.  Being a hound, I smell every single inch of the backyard.  I need to know where the squirrels have been.
I was surrendered to the pound because my previous home didn't properly research my breed and didn't properly exercise me, train me or expose me to much at all.  Being a high energy dog, I need a lot of exercise and somewhere to run as I'm training for the Olympics (kidding!).  I need training and rules and all of that stuff. I didn't get any of that in my previous home so they got mad at me and brought me to the pound.  That's ok, because I am now ready to find my forever home that is willing to put the work into me that I deserve.  But I need my next home to commit to my training and exercise so that it can be my forever home!  Only energetic, active and outdoorsy people need apply! HA!
I need to learn to meet dogs properly, as I see one and go Oh My Look At the DOG!!  And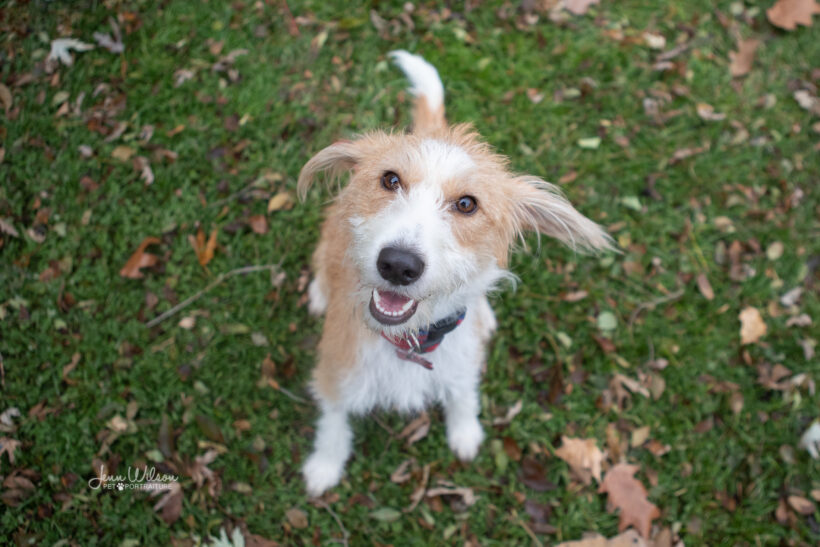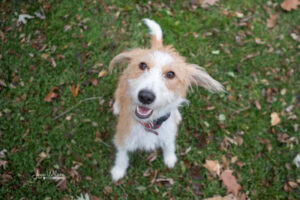 I jump around all excited.  My current foster home is teaching me how to meet dogs properly.  I'm learning a lot in my foster home.  I need to be walked every single day for at least half an hour twice a day.  I love walks! What's better than walks though? RUNS!!  I would love to have a person that would run with me! I'm learning how to walk on a leash and not pull.  I just want to smell everything!  And I get all excited when I see another person or a dog. And I'm learning to behave.
I'm learning about rules in the house, too.  Because I wasn't taught much in my former home, I act like a 4-month old puppy.  Oh, another thing you need to know about me is that this girl loves shoes.  Oh yes I do!  Shoes and boots!  What girl doesn't love shoes?  I go into the human's closet and take out the nice shoes and run around the house and chew them!  I am not allowed to do that, unfortunately.  And the humans watch me all of the time to make sure I don't get their shoes, but sometimes they get busy doing something and I seize the opportunity!  Then the shoes get taken away from me and I get a dog toy to chew on instead.  It's a fine replacement, but I really prefer shoes.
I love going for walks!  I don't love having my paws wiped when we get back. Ok, full confession: I am a very happy and sweet dog but when I get touched in ways that makes me uncomfortable, like when my paws are held, or the vet wants to look into my ears or at my teeth, I get really upset.  I have what is called restraint anxiety.  My people feel that this is from rough handling in my previous home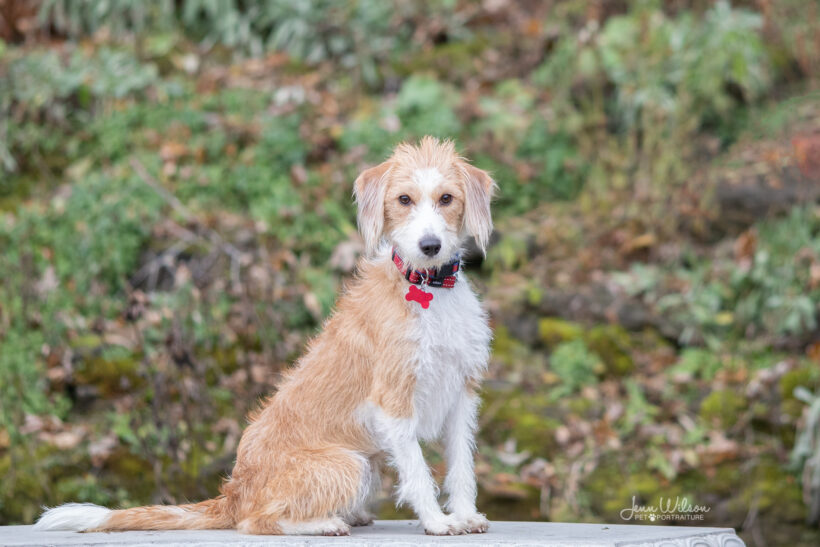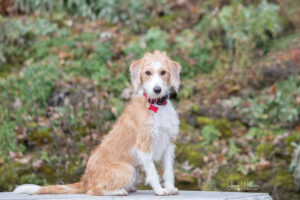 but I'm not going to talk about that, I've put it behind me!  I am not aggressive at all, but really afraid and I react. For this reason, I am not suited for children under 12 years old. And you'll need to have a very patient vet!  General pets and cuddles are fine and I love these, I just hate being restrained tightly or held down.  I need a caring and patient family who understand that and will ensure their vet understands this too.
I love people.  I love being petted.  I love to curl up with the humans and if they are not petting me, I'll take their hand with my paw and show them how to pet me.  It's pretty clear to my foster family that I didn't get much affection in my former home and I really
want love.  I will love you back!
I'm being fostered with a small dog and 2 cats.  The small dog is a little older and does not appreciate my energy and desire to play all
of the time.  But I don't care!  I try to play with him all of the time!  I would do really well in a home with a young playful dog.  We
could train for the Olympics together!  I am a good girl who doesn't guard my food or my toys.  I just want to play and run.  Especially
after cats!  Oh, cats.  Well, I like to try to play with them, too. They are even more hostile than the cranky old dog I live with.  So if
you have cats, they need to be dog-savvy and not mind a young playful hound trying to get them to play.
I am pretty good in the car.  I'm a little anxious as I look out of the windows.  I'm quiet in the car but it's still new to me so I pant
and don't lie down.  I just want to look out the windows and see what's happening.  I'll settle more and more as I get used to the car. I'm good in my crate, too!  When the humans are at work, I go into my crate.  I get a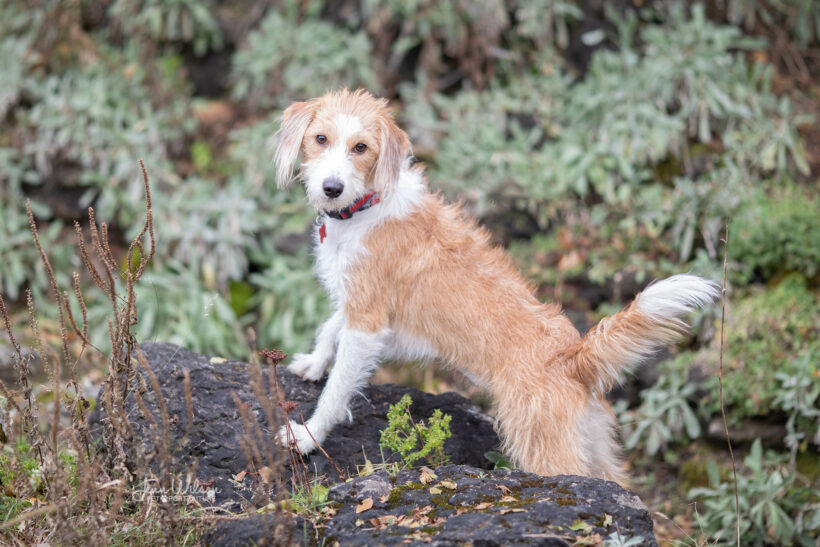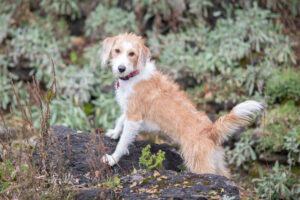 kong stuffed with peanut butter so I'm very happy.  At night, I go right in my crate next to the human's bed.  I am very quiet.  I'll spend all night in my crate and am quiet when the humans let me out in the morning.
If you adopt me, you will need to keep your closets with your shoes closed.  And you'll need to get dog beds because I am a princess and like to lie in beds. I like to me around the humans too.  And I need to walk and run in the yard.  And chase squirrels.  You'll definitely need to take me to training because I haven't had much experience with proper training.  And we'll need to walk every single day and I'll need to run like crazy in the backyard.  But in return, I will shower you with love and affection!  I don't shed much either!  Bonus!! If you think we would be a good match, then apply for me!  I can't wait to meet you!
Click the button to download the Adoption Application Form in a Microsoft Word file format. Fill it in on the computer or by hand, and email it to us at pounddog.ca@gmail.com.
If you need a different file type, please email us at pounddog.ca@gmail.com.