We at PDR believe in the benefits of post-adoption training for our dogs and their families. This allows for continued socialization, learning and helps to create a well-mannered and balanced dog. Post-adoption training is a requirement in our adoption process. For more information on our process and requirements, visit our website at https://pounddog.ca/adoption-info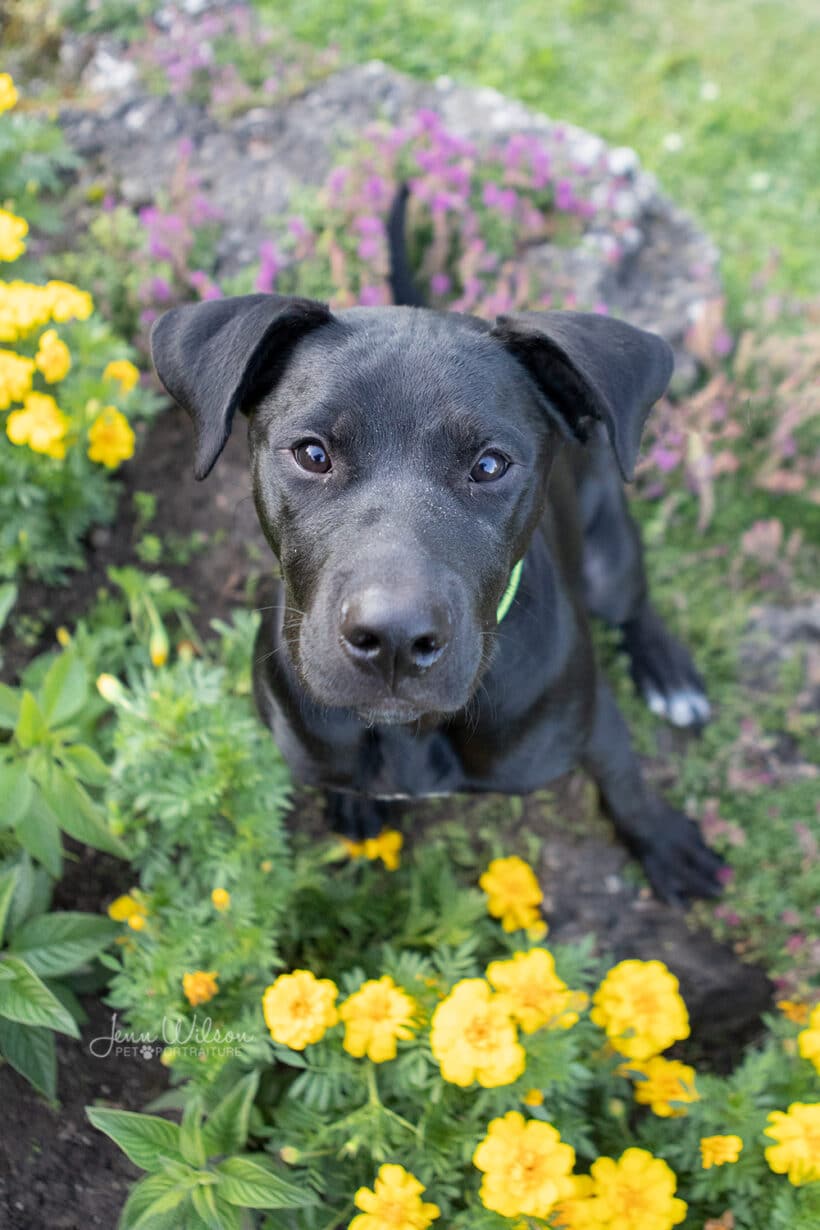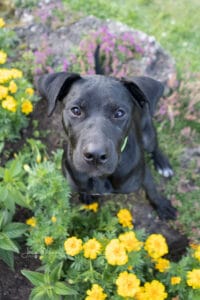 Take a look at her! Whimsy is a beautiful Lab/Boxer cross 19 week old puppy. She has very inquisitive and beautiful eyes, matched by expressive eyebrows and adorable floppy ears. She is almost solid black with just a splash of white on her chest and toes! Whimsy is a big girl at about 38 pounds and about knee height to her shoulder, and growing. She has a long playful tail that sometimes curls up and sometimes clears tables. She has double rear dewclaws, which proves she is a unique Whimsy!
Whimsy was named for her whimsical nature. She's quirky and energetic and clumsy as she grows into those big paws and anything short, she likes to firmly greet with her forehead (tables, chairs, and anything she can't crawl under anymore). She is a loveable pup with a love of cuddling, whether it's resting her head on your knee while watching TV, laying down and watching a movie with you or saddling up to her foster sister and enjoying a mid-day snooze. Whimsy and her foster sister are great playmates, they play chase and keep away and sometimes get a little rough but are easily re-directed into a game of tug! Whimsy is a confident gal who loves to meet anyone and everything she can.
Whimsy is on what seems the last bit of her teething and her nipping has come to a halt; with that being said loves her chews and frozen treats, pumpkin, watermelon and more! Whimsy knows: sit, down, wait, okay and 'ahh ahh'for 'stop that.' She's been attending training classes and loves it and is learning so much. We are working through her house training and progressing well, we are also working on 'OFF' – she wants to give everyone a hug, but that's just poor manners. Whimsy loves to play and then sleep. She's crate trained and will settle quickly and sleep through the night (or mid days naps)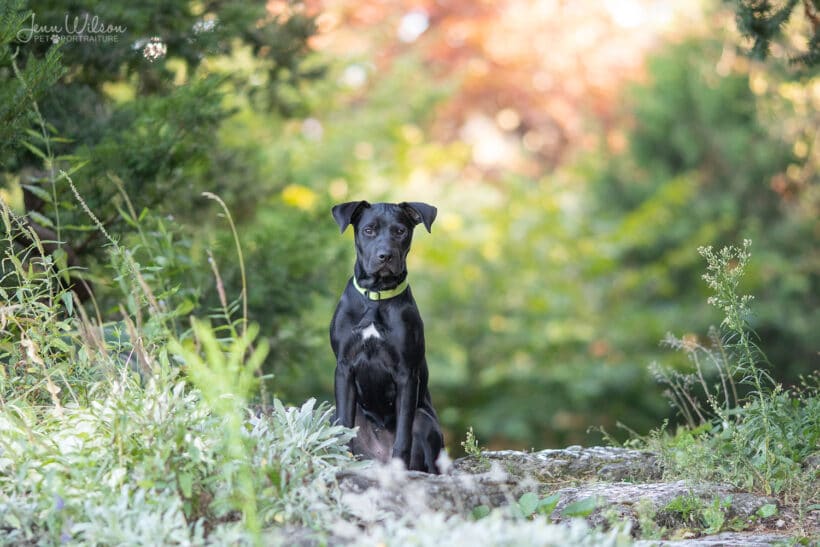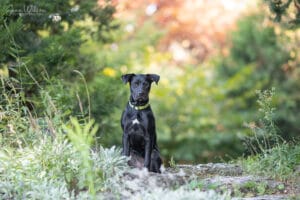 without a fuss. We will only consider homes for this pup where someone is home or has the capabilities to come home throughout the day. Puppies need to be taken outside for bathroom breaks very regularly when they are small and will not be able to hold it for an 8hr workday. We are also looking for families that are fully aware of the time commitment of a puppy and the work involved. Puppies are a total joy and bring so much love and happiness into a home, but you cannot underestimate the work and time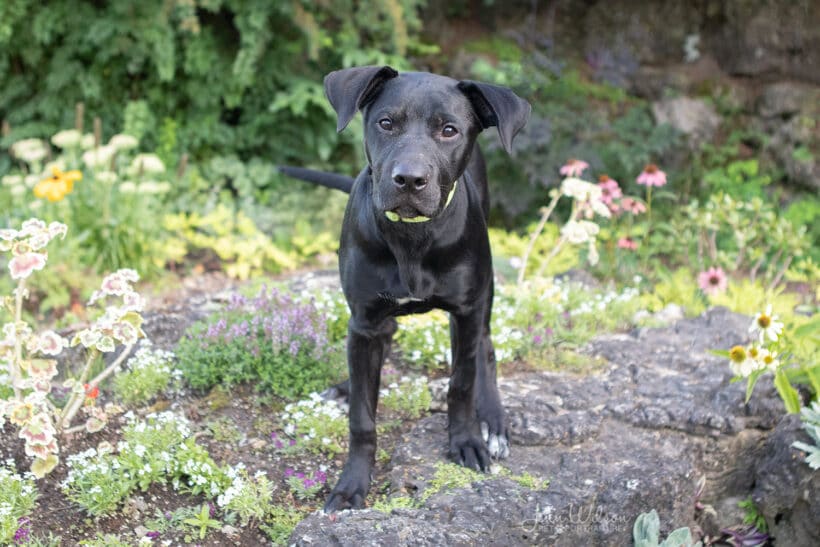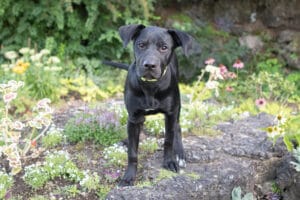 involved in raising a puppy properly. They need constant supervision while young to expedite the house-training stage and to ensure they aren't chewing on anything inappropriate – and she will find something if you're not paying attention!
As said before, Whimsy is a confident girl who is head strong and looks for adventure each day! She is walking well with her gentle leader as she loves to pull without it and her muscles are developing faster than mine! Occasional re-direction/distraction is needed when walking. She is also learning 'business!' as her cue to use the outdoors facilities either in the backyard or out on walks, regardless of the looks from the neighbours. We will expect that her adoptive family will attend and fully engage in training with her, training is a life-long journey and you can really develop a strong bond with your new best gal pal. We have not been able to expose Whimsy to domesticated birds or cats or kids, but she does well with her medium sized foster dog sister.  We feel that with her size and energy level as she grows, Whimsy will not be a suitable puppy for a home with small children at this time.  We would be looking for an adult home or one with kids over 12yrs of age.  With the proper training and socialization she would be suitable for a family looking to bring children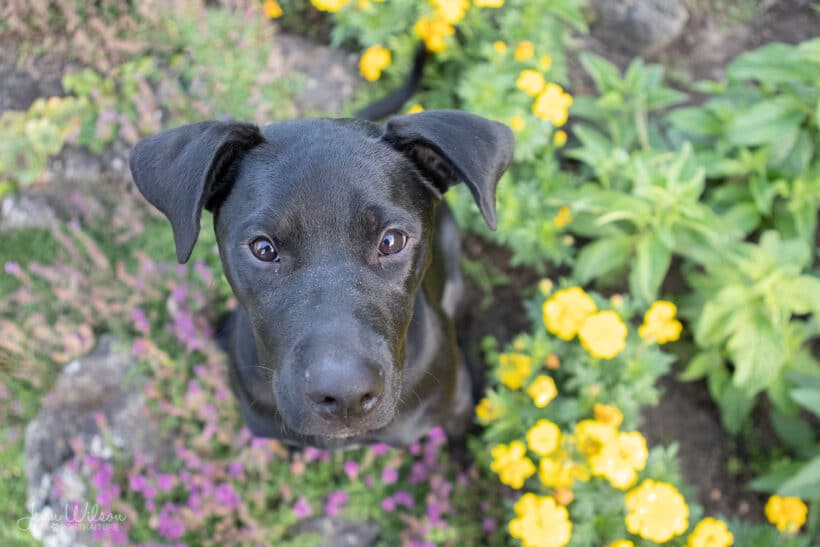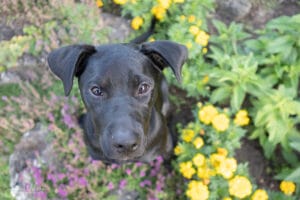 into the family in a few years, once Whimsy is past the puppy stage and more settled.
Whimsy is bright and will need lots of cuddles, walks, and stimulation. She loves to play, especially tug and rooting through her Kong for the best treats! Her adoptive family should be aware of the big breed requirements and how to keep her mind engaged. They should know the life-long commitment to her size of body and heart.
Whimsy has been such a delight and absolute treasure to have here, we are in love with this girl and know she will bury her way into your heart like she will your armpit to cuddle. We won't compromise on anything less than a great fit for her. For this girl, it isn't on a whim – it's all or nothing.
Click the button to download the Adoption Application Form in a Microsoft Word file format. Fill it in on the computer or by hand, and email it to us at pounddog.ca@gmail.com.
If you need a different file type, please email us at pounddog.ca@gmail.com.