We at PDR firmly believe in the importance of obedience training, regardless of breed or size of dog, and have a clause in our adoption contract requiring adopters to attend and complete a basic obedience course at a facility of their choosing. Only in certain circumstances will we waive this clause so please be prepared to attend dog school should you wish to apply for a dog through our program.
All Pound Dog Rescue dogs are spayed/neutered, vaccinated, heartworm tested, dewormed (if required), and microchipped prior to adoption. The adoption donation of $400 is applied to assist in the costs of veterinary care and the overall care of the dog.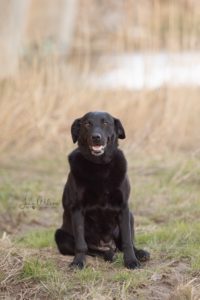 Let me introduce you to Willow. She is a 4 year old Labrador Retriever. Willow is a great size dog for any living situation. She's not overly big, about 65lbs, but is big enough to handle anything you want to do with her. She is an all black dog with tiny little white markings on her face, she has a Lab's classic sleek coat. Willow is a very beautiful dog with a high energy level, and the best of intentions.
Willow gives you all the loving you could ever want and has been bright light our life throughout the mid-April winter ice storm. She is a very energetic dog, but loves to lay by your side when she isn't playing fetch or tug-o-war. Willow definitely loves human attention whenever she can get it.
Willow was a stray at a rural animal control facility and was not claimed by her owner. Willow needs a family who will love her just as much as she will love you. She needs to belong in a home where she will not be allowed to roam free and get lost, and where she can be confident in that fact that this is her home forever and will never be lost or abandoned again.
Willow would benefit greatly from a home with a fenced yard where she can run about and explore without the freedom of wandering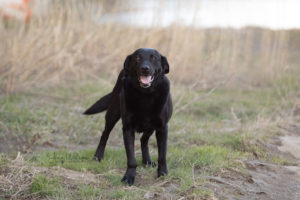 off on her own. Apartment or condo living is okay as well, she will just have to be taken for longer walks, as she loves to be outside and about trotting around. Willow can be left alone all day while you are at work. She is crate trained, although can also be left out to roam free in for short periods of time. Willow is house trained and won't get on any furniture unless given permission. She is a free spirit and will occasionally bark at squirrels outside. When meeting new people she is very interested but doesn't get too overly excited, she is working on not jumping up when saying hello to people. Willow is not very interested in other dogs, and will require training to be introduced to other dogs. She can sometimes be reactive to other reactive dogs so this is something we are working with her on.
What Willow loves best is playing with her toys and belly/head rubs. She is happiest when she's getting pets as she sits by your side or when she's getting belly rubs as she's lying at your feet. She can't get enough love and affection. Willow is working towards learning commands, and is proving to be a very fast learner. Willow has been such a good girl during her stay with us. She is also crate trained and sleeps in her crate at night and stays in her crate when we are away from the house. She has been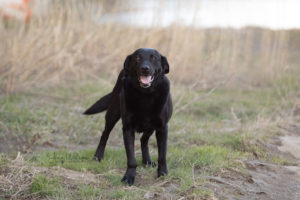 a fairly easy dog to foster and an even easier dog to love. Outrageous that she was allowed to become an unclaimed stray.
Willow is not very comfortable with other dogs and would not benefit from having another dog in the house at this point in time. Willow would love being the only dog and getting all the attention to herself. Willow is not being fostered in a home with children but we believe with her loving nature, she would do fine with older children (over 9yrs of age) that she could run after. Willow is a wonderful dog, with a large amount of energy, and would benefit from an active family to keep her busy. She is not the laze about type of Lab; she is active and requires daily exercise and play to be happy.
Willow is being taught basic obedience in her foster home and now knows "sit", "stay" and has been working on sitting upon greeting people. Willow's new family should commit to continuing her obedience training to bring out the best in this smart dog.
As a final note, we are sad to say that Willow has arthritis in her front right paw. There is a lump on her paw. It has been examined by our vet and determined to be arthritis. However, this doesn't seem to deter her too much from wanting to play. After very long walks she will favor the paw slightly, and just needs a bit of rest time to feel better. Though rest usually
helps, there are times where that is not enough for her and will need a pill to help her relieve the pain. She doesn't seem to be bothered by it and lives an active life even with arthritis.
Willow is looking for a home that will take care of her, love her, and be there for her. She will be a devoted companion and loyal friend and is looking for that in return. Is that you?