ADOPTION PENDING
Please read our dog bios carefully to be sure that the dog you are applying for suits your family and lifestyle.
We at PDR believe in the benefits of post-adoption training for our dogs and their families. This allows for continued socialization, learning and helps to create a well-mannered and balanced dog. Post-adoption training is a requirement in our adoption process.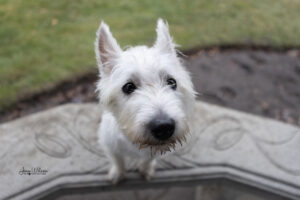 This little darling is Duffy and she is a 7mth old West Highland White Terrier.  She weighs 12lbs and has a bit more growing to do.  As appealing as she is we ask that you read her bio in detail if interested as Duffy has very specific requirements of her forever home and she will not be the ideal fit for everyone…but for that special someone, she is going to be your next best dog ever!!!
Duffy came to us from a puppy mill where she was an unsold puppy.  Duffy was due to be put down because she has a hereditary condition and was deemed unsellable.  Thankfully rescue workers stepped in and her little life was saved.  See, Duffy has a rare condition called Craniomandibular osteopathy, or commonly called Westie jaw.  This is as a result of poor breeding practices and "breeders" breeding only to make money as opposed to breeding to better the breed.  This condition is so rare that all the vets consulted abo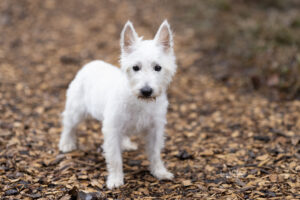 ut it hadn't heard of it and had to research this. Anyone interested in Duffy must research this as well but essentially her jaw area has swelling and bone formations that cause a pup pain and in severe cases they can't eat. Duffy's mouth has limited movement at this point, but she can eat. We have also figured out a pain management plan for her that is working well.  Duffy is a happy, fun loving, friendly puppy now that she is on her pain meds.  The interesting fact about this disease is that it is self-limiting and once the dog has stopped growing, around 1yr of age for a Westie, the condition often regresses and in some cases goes away entirely!!! At 7ths of age, Duffy is already past the halfway mark of this.  She hasn't worsened in our care and she has been given the all clear by our vet to be adopted as it is expected that she is past the worst of it.   BUT….she can only go to a home with super responsible people who are fully invested in her well-being, are able to give liquid medications confidently and 3 times a day…breakfast, dinner and bedtime, and will ensure that Duffy is monitored, cared for, and loved.  Her person or family needs to be very knowledgeable of her condition and know exactly what they are wanting to take on.  It isn't hard to manage her, but you have to be committed to it…she has to get her pain meds as mentioned, she has limitations of her jaw and so can only have treats, toys and chews that are small enough for her to be able to grab onto.  The pain meds probably won't be a lifelong requirement as it is expected that her jaw formations will regress, but we need her family to commit to a life time of pain meds should she be a rare case that doesn't get better at maturity.  Her medications are not overly expensive, Medicam and Gabapentin, but her family needs to be able to comfortably take this on.  We can confidently say, that if Duffy never gets better from the point she is at right now…she will still have a fun filled, happy life. She is a happy puppy who loves to play, adores cuddles, and is so clownish in her behavior; she is a fun puppy!! She doesn't know that she is any different from any other dog and doesn't act any differently.   She has a great quality of life ahead of her regardless of whether her condition improves or not.  We have just had a dental done on her as her rear baby teeth weren't able to fall out and were causing growth issues with her adult teeth and causing a buildup of food to get stuck back there.  This made a great difference in her oral health and happiness.
Another interesting aspect of Duffy's condition is that she can't safely be spayed until she is full grown at a year of age.  She will need to be returned to be spayed, in a few months, which needs to be done our veterinarian in Cambridge and is already paid for by her rescue.  Anyone interested in adopting Duffy needs to live within a 45min radius of Cambridge and be able to drop her off the morning of her spay and then pick her back up later that evening.   She will be adopted out on a contract that enforces this mandatory spay return.  We just feel that it's time for Duffy to find her forever home and waiting an extra few months in foster care until she can be safely spayed will only delay her happily ever after.  She is at a prime age now to bond with her forever family and holding her in foster care until she is a year of age will keep her from finding that strong bond with her forever people.  We feel that it is better for her to find her family, form that strong bond, go to dog training classes, learn all the skills a teenage pup should learn and then come back to be spayed when she is grown.
Duffy lives with other dogs in her foster home and quite likes the dogs.  She is a sassy female terrier pup so likes to be bossy at times, but that is consistent of all terriers.  She would love to share her home with a male dog that is looking for a fun playmate, but would like to be the only female dog in the home.  Duffy should go to a home where the other dog is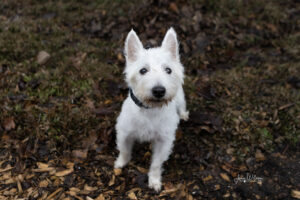 mature and not too rough and tumble.  She shouldn't be wrestling or rough housing as this will hurt her jaw, but gentle play and sharing toys and enjoying walks together will be a lot of fun for her.  She could also be the only dog in the home and get all of the attention.  Duffy also lives with cats and for the most part, ignores them. There is the occasional wanting to chase but she really isn't a bother to the cats.  Duffy should go to an adult only home or one with children over the age of 12yrs.  Her jaw is painful and rough handling or accidental hard bumping of it will cause her pain.  She needs gentle handling around her face and jaw area.
Duffy is crate trained and is on her way to being housetrained.  She needs to be fully supervised like all puppies when she isn't in her crate and taken out quite a bit.  She came to us with no concept of housetraining having been living in a barn, so we are playing catch up.  You also have to go out with her to ensure she goes to the bathroom when let out as she easily gets distracted and will forget….squirrel!!!  Duffy is generally quiet in her crate and will be suitable for any type of home.  She would love a fenced in yard to play in but it isn't a necessity.  She will do well going out on leash and going for walks too.  She just won't enjoy big city living and would like a quieter area to live in. She hasn't been exposed to much traffic noises and living in a city center will be too much for her.
Duffy adores the snow and her favourite thing to do out in the snow is roll around in it and drag her belly across the snow. Its so cute to watch!! She loves being outdoors but doesn't love being out there all by herself.  She also loves cuddle time and is very much a lap dog.  She wants to sit with you when you are on the couch or chair and she loves pets and cuddles and will often nap while on your lap.  She is a very friendly little pup who loves any attention she can get.  She is just the sweetest little thing.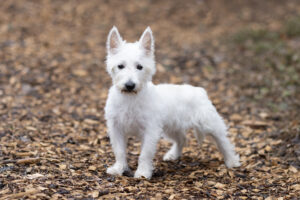 We know that Duffy has a condition that will turn many people off. We know that not everyone is wanting to have to give a dog medication multiple times a day, or manage a condition.  But we know that there is a special person out there who is capable of managing this, and is looking for a super special dog to love.  Duffy is an easy dog for us to manage in her foster home and we have a routine down and she knows when we say "time for meds" what that means. She is easy for us to medicate and all it takes is practice and confidence in doing it.  It's just squirting the liquid into her mouth.  We also know from research and from hearing from people who had a dog with this condition that in most cases it regresses quite a bit and often even goes away entirely.  We can't make any promises, but are hopeful that this will be the case for her. But even if she stays just as she is, she has a great life and is such an easy dog to love.  We have thoroughly enjoyed out time fostering Duffy but now is the time for her to find her happily ever after.  Anyone who loves Westies will surely fall in love with this little darling just like we have!!!