ADOPTED
Please read our dog bios carefully to be sure that the dog you are applying for suits your family and lifestyle. At Pound Dog Rescue, we believe in the benefits of post-adoption training for our dogs and their families. This allows for continued socialization, and learning and helps to create a well-mannered and balanced dog. Post-adoption training is a requirement in our adoption process.
Hi, I'm Gemi. If you're looking for a patient, loyal. intelligent companion, with the most awesome temperament and personality to boot — that's ME!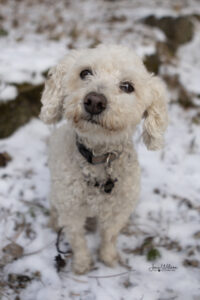 I hear my foster mom telling all her friends that, so I know it's true. Just now, I'm laying in my dog bed, on my favourite blanket as she sells you on how wonderful I am. Ever so often I lift my head and she talks to me like I'm a real person. Most times I like to be close to her. Sure wish she'd go on the chesterfield so I could cuddle up and put my head on her lap. But I will let her have the floor to tell you about me. I know you'll want me to be your BESTIE!
Gemi is an 8-year-old Poodle X, neutered male, cream in colour, curly coat with a dark tan piece on his lower spine. He weighs in at approximately, 10-11 lbs, and has the most adorable brown eyes that actually talk to you. He has all his shots and can be a spunky-doodle, if encouraged. If you are looking for a small, affectionate cuddle-bunny with a personality to match, you need to read further to learn everything there is to know about this bundle of joy.
Up until a couple months ago, Gemi lived happily with a senior citizen who no longer could look after him and had to surrender him to a Shelter. His whole world changed. Sadly, Gemi's new home wasn't what he had been used to until Dog Pound Rescue came to save his precious life. With the love he requires and willingly gives, Gemi would not have done well in a Shelter. When I saw his picture, I was drawn to his big brown talking eyes and extended paw. It was clear he was pleading for a FUREVER home. He is now fostered by an active senior in a quiet home. He would do well in a home where he would feel love and enjoy his daily walks.
Every day Gemi is learning that not all households are the same. Initially, he didn't know any English commands (coming from Quebec), but he picked up English commands quickly. He was a bit nervous in the beginning, not knowing what was going on with his living situation, but still cuddled that first night, and hasn't stopped since. After a few days he became more and more confident and soon wanted to share my favourite chair, every minute he could. He can be a real couch potato if you play the role for him. He will make you giggle at times too when you least expect it. For example, he now has to be on the chair first, and he squishes his body way to the left, making room for the "somebody's body" to fit there right beside him. At this point, be prepared for loving and affection, while you and your little fella watch Netflix together. He will nudge you with his little paw periodically and raise his head up, stretching his neck to look at you with those big musical eyes. . Just be prepared when a little dog comes on the the screen, calm changes. Gemi can't quite figure out why his furry friends are on TV and they are not coming to say hi to him.! He'll jump from a peaceful belly rub onto the floor, and then to the TV and bark at the screen trying to get their attention. That's his way of saying "hey, look at me". After he gets that out of his system, he runs right back to the position he left a minute ago and all is calm. Gemi will bark occasionally out of the blue at a noise in the house that nobody else hears, but he calms down quickly.
Gemi's table manners are impeccable! He is so well mannered around human meal times, and never begs; Gemi will wander round the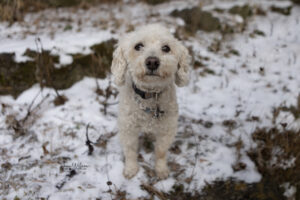 area, until he finds that perfect place to lay. He does like to be in the same room as humans. It's a two-fold situation, as Gemi also likes you to be in the same room as him when he eats. He will lift his head periodically to make sure you are still in the room. Gemi is a very well-behaved little gentleman. He loves people and gets so excited when somebody comes to the door. Initially, when he hears the knock, he will bark, but that is short lived once he sees its a real person. He is such a social butterfly. Although, he has not been around small children in my care, I feel safe saying that he would fit in with children who were a little older, over 10yrs of age. Being such a small, mature dog, he will feel intimidated by toddlers and wont like the noise and energy of young children. But bring on big people, this social butterfly goes from one to another, in search greeting with his cute little nubby tail wagging along the way.
Gemi is a little exercise guru when it comes to walking. Over the course of the day, he will trek anywhere from 4-6 kms. (sometimes in wooded trails, and other times on city streets, depending on the weather). Cold winter days walking will be shorter to protect his little paws. He usually sets the pace and walks quickly. At times when he's sniffing the ground, he will pull. If the area is familiar to him, he prances like a little prince. He is so flexible when it comes to walks – long walks, short walks, or anything in between makes him happy.
Surprisingly, Gemi shows such patience when a walk is in the works. He calmly waits for his leash and coat to be fastened and stands in that position until his foster has dressed for the weather too. He is still not familiar with the word "walk" but the word "outside" rings a bell. He will look up with those big brown eyes, and wait for the command "Okay". He likes to go out the door first, but on our return the foster has to enter first. Gemi's rules! He will sit on the mat and wait for his paws to be wiped, lifting them up ever so gently, And even waits for his coat and leash to be removed before he moves on. Then on the command of "Ok", he is off, but watching behind to make sure his walking partner is coming too. This is the best time to have play time to stimulate him. He is learning how much fun it is to play with toys. At this point, he needs encouragement from humans and he will enjoy the chase. This is all new to him.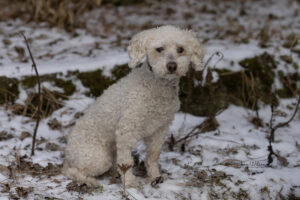 Initially, when Gemi was brand new here, his barking at other dogs was an issue. It took a little time for him to delete the habit of barking from his walk, but once again, it was no surprise when he finally stopped barking at dogs. It was discovered through accident, it wasn't because he was afraid; it was more a case of wanting to say "hi"; A friendly nose sniff, and he's happy and then continues on his walk. He will still pull when he sees a dog, but once the dog passes. Gemi is back to walking like the good boy he is. If this occurs, I stand in front of him so he can't see the dog — Out of sight, out of mind strategy. He seems fonder of larger dogs.
We have had some toilet mishaps even though Gemi is housebroken. I believe it could be from losing his long time owner, shelter life and then the adjustment of a new home; or even the pain he was in with his teeth. Since his dental surgery, we have experienced only one accident. He is also teaching his foster something just newly started: if he nudges your leg, he either has to go out, wants to eat, or cuddle. It will be up to you to figure this out .
We don't believe he was ever crate- trained, but he loves his crate at night now. He will sleep the whole night soundly. On the command of "Bedtime", he goes directly to his crate. Since getting used to his crate he has been an old sleepy head. No more 5:30 wake-up calls. He is sleeping til 8:00 and comes out of his crate stretching, happy and ready to face the glorious day ahead. Daytime crating, he is not fond of. But he will go in reluctantly if you say "Bedtime".
Gemi is not a fan of bath time, but if he is gently talked to while lifting him in the tub, he will stand patiently while he is being bathed. He won't try and jump out at all. He loves the towel wrapped around him, fluffing up his coat; It's like a burst of pure joy once he is released from the towel, and runs around the house. Gemi adores a little combing of his curly coat and will lay or sit patiently while you take care to do this.. He is okay with a brush but prefers the dog grooming comb.
Gemi has a gentle temperament and being a social dog has shown signs of distress when left alone. This is short-lived now that he is used to his surroundings. He will settle down and go to sleep. Making departures and returns low-key has made the transition easier for him; of course, he's full of excitement when you return.
Gemi's Favourite things to do:
Walks and more walks
Being as close to possible to a human body, touching if possible
Being the Centre of Attention
Laying in the Sun listening to calm music/tv
Sleeping
The cutest of all Gemi's traits is his way of communicating for a treat. If you hold the bag of treats, he will make a complete circle and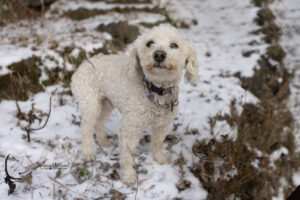 once you bring the treat out of the bag, will stand on his hind legs like a human and take it in his mouth. We haven't managed the "sit" command without a lot of coaxing but then he will sit when you least expect it. Just recently, he is circling when he knows food is coming or we are going outside! He surprises us every day.
Looking beyond Gemi's many outstanding traits and especially his loving eyes, he does have medical issues that are manageable. On his initial checkup to the Vet, a heart murmur was discovered as well as a mouthful of very bad teeth. When he first came to Pound Dog Rescue, he had terrible teeth and was unable to eat without pain. His world has changed so much and he is eating kibble now. Having said that, he does like a change-up once in a while with the addition of a small bit of wet food. Gemi is a new dog since his surgery. He must be amazed in himself that he can now eat without pain and is able to enjoy his food. The heart murmur doesn't seem to slow him down. He likes plenty of outside exercise. He's happy with long and short walks. Under surgery, he lost a lot of teeth but kept his canines. His upper chewing tooth on the right side has considerable gum recession but is hanging on. He still has his lower right chewing tooth and some smaller teeth. Brushing of that upper right cheek tooth will be important in the future to extend the life of his tooth.
Be prepared to enjoy a very special relationship of unconditional love and companionship, if you take the leap to adopt Gemi. Gemi is a "Gem". He will light up your life. He would be best in a quiet snuggling household. This little house guest has been a joy to foster, such a great companion, as he will be with anybody who adopts him. Gemi is waiting to meet you!