ADOPTED
Please read our dog bios carefully to be sure that the dog you are applying for suits your family and lifestyle. At Pound Dog Rescue, we believe in the benefits of post-adoption training for our dogs and their families. This allows for continued socialization, and learning and helps to create a well-mannered and balanced dog. Post-adoption training is a requirement in our adoption process.
Lionel is an affectionate and well-mannered 8 month old, 11.5 lbs (and growing)  Shih Tzu who has seamlessly integrated into his foster family.  A "leftover" puppy from a puppy mill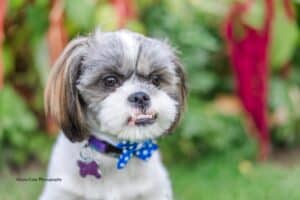 that went unsold adds a touching dimension to his story.This sweet boy may be small in stature, but has a big heart and a charming underbite that adds to his unique character. He is quite the gentleman.
Lionel is beginning to understand basic commands and has learned how to "sit". His love for liver treats and positive reinforcement has become a motivating factor in his training. He is a quick learner! 
Lionel is crate trained. He finds comfort in his crate and sees it as his safe space. He will happily eat meals in his crate and enter willingly when being left alone or when going to bed. He currently sleeps in his crate in his foster parents' bedroom. He likes to know they are close by. During the day when his foster humans are at work, Lionel patiently awaits their return for up to 6-8 hours. 
Lionel is mostly house trained with a few accidents in the beginning, when he arrived. It was discovered Lionel has a preferred routine for his bathroom breaks. He  will use the backyard to urinate, but feels most comfortable doing his other business on a short walk for that purpose. He enjoys walking to the front lawn in the morning to do his business and takes longer afternoon walks. In the evening, he follows the same pattern. This consistent schedule has helped him feel comfortable and secure in his environment. With some continued patience and dedicated training, Lionel will become more confident in his washroom practices.
Lionel is currently in the process of learning to walk confidently on a leash. He prefers the company of his foster brother while on walk and sometimes appears a bit unsure wh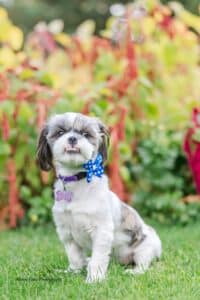 en he's walking alone.  On evening walks, some outside noises and lights startle him. His confidence in this area has also been improving significantly as he adjusts to his surroundings in the city. Positive reinforcement and leash training has done wonders for Lionel thus far. Lionel's behavior on a leash is equally positive, as he does not display aggression towards other dogs or bark at them or people. 
Since Lionel is nervous of new noises and new surroundings and needs time to adjust, the same would be expected when meeting new people. He could adapt to any location, the country or city and to any type of housing, given time and patience.  Being right in the heart of a busy city center won't be suitable for him though as this will be too much noise and activity for a boy still learning what life outside is all about.  This is typical of dogs coming from his background. He is currently living in a detached home with a big fenced-inbackyard, but that doesn't mean he couldn't live his best life in a smaller home. He doesn't seem too interested in being far from his foster humans now when in the backyard, so having a large yard or one at all may not be necessary. As long as he gets his walks and some sunbathing, he is happy. He has great indoor behaviours and only seems to bark when he sees his foster humans wake up in the morning and he wants to come out of his crate to greet them. The same upon coming home to him after a day's work. He has also adapted to common noises around the home. He used to hide from the vacuum but is slowly getting used to it! Now he just moves away from it…quickly. Lionel does well in a car, but takes some time to settle emotionally. He will settle physically (lie down) and display his discomfort by panting. Overall, consistency, patience and routine will have him adjusted in no time to any location or situation. This world is new to him and he has graciously been adapting with ease every day.
Lionel has transformed into a toy enthusiast. When he first entered his foster family's  household, he was unsure of what to do with toys, but now, he has discovered the joy of play and entertainment. He adores running with toys, playing tug-of-war, and quietly chewing on them. Lionel is the perfect balance between being an energetic playmate and a snuggly lap dog. He has a strong love for tummy scratches and rubs.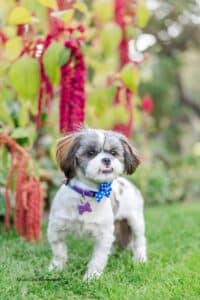 Lionel's ability to adapt and be a part of family life makes him an excellent family dog. His easy going nature and affectionate personality create a positive and loving atmosphere. He is great with his human foster brothers (four of them ages 7-12). He plays and cuddles with them and has shown zero aggression or nervous behaviour when they are around. Since he has enjoyed his human foster brothers so much, he would do well with older children in a home If the child(ren) are understanding of Lionel's past (some cautious behaviours) and are dog educated. For that purpose, Lionel would do well with children ages 7 and older because of the initial patience required for adaptation. Lionel is particularly comfortable with his f
oster brother, a small Bichon/Poodle mix (15 lbs). Their companionship has been instrumental in his journey to recovery and adjustment as he has learned a lot from him. He has also not triggered any allergic reactions in his foster family as they are allergic to dogs. Shih tzu's are considered hypoallergenic, but everyone can react differently.
Lionel has recently been neutered and is up-to-date on his vaccinations. He is at the perfect weight! He eats kibble two times a day. Right now he is eating Acana- Puppy- Chicken. While Lionel has a charming underbite that sets him apart, it's worth noting that he has some tartar buildup on his teeth. The vet has recommended regular teeth brushing as part of his ongoing care. 
Lionel's successful integration into his foster family, his friendly and non-aggressive nature, his increasing positive leash behavior, and his ability to bring joy through play and cuddles are a testament to the positive impact he could bring to your life. Lionel is truly a gem. His charming underbite just adds to his appeal.