ADOPTION PENDING
Please read our dog bios carefully to be sure that the dog you are applying for suits your family and lifestyle. At Pound Dog Rescue, we believe in the benefits of post-adoption training for our dogs and their families. This allows for continued socialization, and learning and helps to create a well-mannered and balanced dog. Post-adoption training is a requirement in our adoption process.
Riri is a 2 year old tan and white Jack Russell terrier, named after Ironheart, to inspire her to be brave, original and true! She is about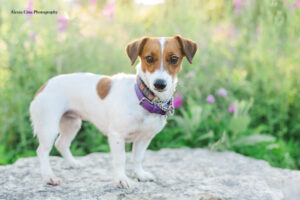 14 pounds, with a sweet pointed face, short stature and muscular build.
Riri came into rescue from a breeding-for-profit puppy mill, and as a result lacks some confidence. While she isn't outright afraid of people or strangers, she does not know what they expect from her or why they want to interact with her. She will give them a quick sniff if she notices they want her attention, then continues on her way. She will occasionally take treats from strangers, but is still somewhat confused by strangers asking for her attention. With time and patience, Riri does start to figure out how to interact with new people, and is most successful at this in areas where she is already familiar with her surroundings. She has had new visitors to our home and learned how to interact with them with about 30 mins of interaction at floor level with treats as positive reinforcement. Riri is food motivated when she is not too overwhelmed, but is also praise, physical affection and attention motivated.
Coming from a rural living situation where she did not see the outside world, Riri does tend to be stunned and surprised by the wider world. She tends to scan around with her eyes and just seems to be taking it all in. Riri will take time to continue to build her confidence in new areas. She is usually in a hurry on walks, and if there is a sudden noise outside in the backyard her reaction is to want to run back to the safety of indoors.  Riri does well with gentle words of encouragement and positive reinforcement to help calm her in these moments. While she does immediately enter flight mode, she is relatively easy to calm. As she continues to grow in confidence, her need to flee has lessened, but is still present at this time. It will be important for her to be leashed outside at all times as she is considered a flight risk. Riri will need a quiet home environment; rural area, small town or quieter subdivision.  She will not do well in a busy city center or living along a busy road or area with a lot of traffic and people. 
While she is generally more comfortable indoors, Riri did take some time to be comfortable in the different areas of the house. In the beginning, she preferred to stay close to her crate, and would softly cry for you to come to spend time with her in her room of safety. With time, patience and positive reinforcement, she now readily comes out of her safe room. Sudden sharp noises like a dropped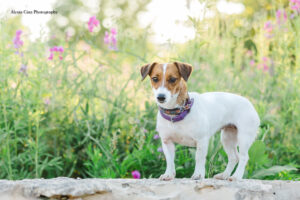 remote or fire alarm (understandably!) tend to make Riri jump and scurry away to safety. She recovers very quickly and as her confidence has grown she does not run away as much anymore, but a home with younger children who are likely to make sudden sounds will be too scary for Riri. She would appreciate living in a home with teens and adults only.  She needs her home to be a quiet and calm refuge; a home with few large gatherings, visiting children, or loud noises will be what we are wanting for her. 
Being a Jack Russell, Riri tends to run, not walk! She loves to march around very quickly on her small little legs, and when she is excited to see you she bounces in the air and darts around the house in excitement. On walks, she still requires guidance as she tends to march in one determined direction, whether that is diagonal or not! With continued practice she will grow to enjoy her walks, but she currently goes for shorter walks as we continue to expand her bubble of safety outside the bounds of the front door and backyard. She is currently a medium level energy dog, but will likely enjoy longer walks and higher intensity activities as she learns more about what it means to be a companion dog rather than a puppy mill mom. Her lower confidence is holding her back from unleashing her true form and energy level!
Once Riri knows you and understands you, she absolutely loves physical affection. If you sit on the couch she will rush into your lap and start rolling over in attempts to have belly rubs, ear rubs or head pats. Unlike some other puppy mill dogs, she is not afraid of hands, and knows what petting is, and loves it! Once she feels satisfied with the amount of petting, she will snuggle into you as close as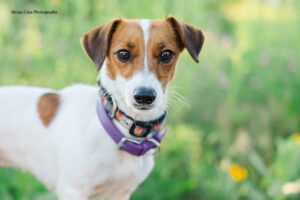 possible in a little bun shape for hours, napping contentedly. She will sit with you happily through your favourite movie, TV show or book.
Riri is doing very well in her independence training as well. Riri is very quiet in her kennel, and is usually crated for a 8 hour period a few times during the week. She enters her kennel willingly and loves to rustle in her blankets. She sleeps soundly through the night. If you return home and she is in her crate she will whine softly, but she has yet to vocally protest crating. Riri also does well for shorter kennel periods. We have still not heard her bark. She does not bark or show signs of reactivity to dogs on walks outside. Being a Jack Russell terrier, she has breed traits that tend towards a high prey drive, but at this time Riri observes wildlife with interest but not a zeroed-in prey drive focus. Riri may develop more of an interest in wildlife as her confidence grows. 
Riri has just started playing with toys, and likes to squeak plush toys. She is not destructive with toys at this time. She is very mindful of things in the house and does not pick up shoes or try to bite furniture. She is not interested in chew toys at this time, but does like consumable dental chews. 
In terms of her compatibility with other animals, Riri is currently fostered with another smaller dog, two medium dogs, and two cats. She is cat friendly in our home, but does like to gently sniff the cats back when they come to see her. Any cats in her new home should be tolerant of this behaviour and know how to interact well with dogs. Riri does not react when our cats jump or play around her, and is calm in her interactions with them. Riri is also very respectful of our other dogs, and does like to participate if she sees other dogs doing things like snuggling on the couch. We do not think it is necessary for Riri to live with another dog, but she would also integrate well with most other dogs. She does not play with our other dogs yet, despite their efforts!
Housetraining has been coming along fairly well. As long as she is given opportunities when she is not crated to be taken outside, she does not have accidents, but if she is not watched she has had some accidents on carpets or door mats, especially early on. Riri has not had any accidents in her crate. She does seem to understand going outside to use the washroom, but does also tend to get startled by sudden noises outside as already mentioned (an unseen voice, a dropped object, etc) so it is important to guide her through those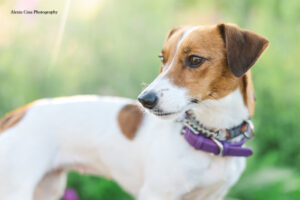 uncomfortable moments rather than let her flee indoors, as this is often when she would have accidents inside.
In regards to car travel, Riri is not a fan. While she travels quietly and co-operatively in a crate, she gets car sick quickly almost every time, even if she has not eaten. We have limited car travel as much as possible. Riri will not be a good road trip companion at this time. Ongoing conditioning and possibly anti-emetic medication with help of your veterinarian may be needed in the future for her comfort. Unfortunately, we have noticed little improvement in her car sickness during her foster time. Upon arrival at her destination, Riri does recover quickly from her nausea and usually feels better almost immediately after her clean up.
Riri is fairly amenable to handling, and while she is unused to her feet being touched, tolerates nail trims quite well. We have not had issues bathing her, or touching various parts of her body as needed. We have not had any issues with resource guarding.
Riri will do well with a single person or family dedicated to her confidence building, with some experience growing confidence in undersocialized dogs. She has so much potential and already has a great start. Will you help Riri fly? Please apply if you think she is a good fit for you. Thanks for reading!