ADOPTION PENDING
Please read our dog bios carefully to be sure that the dog you are applying for suits your family and lifestyle.
We at PDR believe in the benefits of post-adoption training for our dogs and their families. This allows for continued socialization, learning and helps to create a well-mannered and balanced dog. Post-adoption training is a requirement in our adoption process.
Introducing Taz! Taz is a 10 week old Australian Shepherd mixed breed puppy that landed in our rescue from a puppy mill. Taz will grow to be an e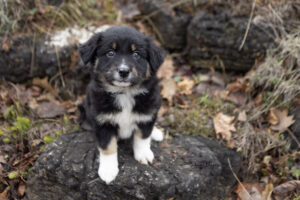 stimated 50lbs with lots of Aussie energy! Even though Taz is only 10 weeks old, he already has energy like the energizer bunny. He can play and run all day long while stopping only a few times for some short naps. He is a vocal pup in the cutest way possible and lets you know when he needs something. We always say he is "talking" because of the growls that he makes when he wants your attention. Taz will bark at the backdoor to go outside to do his business, but potty training is still a work in progress as he is so young still. Before we started crate training, Taz learned very quickly that the newspaper was the pee spot and hardly ever missed it. This goes to show how smart he is so he will need a home where his people enjoy keeping him physically active and mentally stimulated. Taz would be wonderful in obedience training and would be a star student. Taz has beautiful fluffy fur, he is mostly black with some white and brown markings and he has the softest puppy fur. He loves to give kisses and is always at my feet looking for attention. He loves to play and will chase toys around the room and explore all the different types of toys that we have. He also loves a good chew bone and will spend quite a bit of time on his doggy bed chewing away.
We will only consider homes for the Taz where someone is home or has the capabilities to come home throughout the day.  Puppies need to be taken outside for bathroom breaks very regularly when they are small and will not be able to hold it for an 8hr work day.  We are also looking for families that are fully aware of the time commitment of a puppy and the work involved.  Puppies are a total joy and bring so much love and happiness into a home, but you cannot underestimate the work and time involved in raising a puppy properly.  They need constant supervision while young to expedite the house-training stage and to ensure they aren't chewing on anything inappropriate.  We are also looking for a family that will crate train Taz as we fully believe that this is the best for pups and offers them a quiet and secure "den" to call their own.  A crate trained pup is a blessing as it offers a safe place to put them when you can't be watching them all the time.
We will consider a home for Taz with children over 8yrs of age.  He has his terrible nippy/jumpy/bitey stage coming up and will be too much for younger children. If there will be young children in the home (8rs to 11yrs) then we would need the family to be experienced dog owners who are fully aware of how to manage a young, excitable puppy with young, excitable children.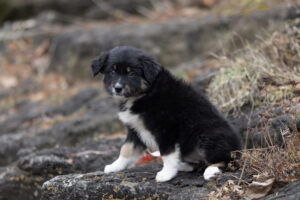 Supervision is key and the adults in the home would need to ensure that puppy/children management is a task they wish to take on. Any family considering Taz needs to take obedience training and socialization seriously and have the time to dedicate in the 1st year especially of the dog's life to this.  The more that is done with these pups in their 1st year, the better dogs they will be!  A home with or without other dogs is just fine. A home with a cat would be fine as well keeping in mind that proper training and supervision is key around a cat.  Taz won't be suitable for high-rise apartment living but would be suitable for townhouse, ground floor condo, semi or single detached homes.  Keeping in mind of course that while he is settling in, a crying puppy in thecrate when no one is home is to be expected so if an attached living situation, there must be good noise barriers to avoid neighbor complaints.  Taz's family need to be active and outdoorsy as Taz has lots of energy to offer and will get into mischief if his energy isn't channeled properly. Taz would need lots of walks and playtime along with mentally stimulating his mind with obedience training. He is the kind of dog that needs a good couple walks a day in all weather. A home with a good sized fenced in yard would be ideal and convenient for potty training but is not mandatory.  He would just need easy and quick access to a grassy spot outside for the million trips out for potty training a young puppy needs.
Taz is too little to be neutered before adoption so potentional adopters must live within a reasonable distance (within an hour) of Cambridge as he mus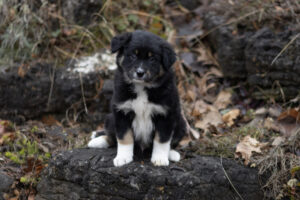 t be returned to our vet at 6 months of age to be neutered (included in adoption cost). Adopters must be able to drop him off in the morning and pick up later that day for this surgery.  Adopters will be responsible for the continuation of puppy vaccinations and all other required vet care at their veterinarian of choice. He will have had everything medically that a puppy his age should have and have been microchipped as well. The forever family must also not have any holidays away planned for months coming up after adoption or be planning to move in the near future. Stability is key in months after adoption.
We will be expecting Taz's adoptive family to attend puppy socialization class immediately upon adoption, along with, at minimum, level 1 obedience school after. The guidance and lessons learned in puppy classes are very important to getting him off to a good start We also are looking for a family that want the dog that he will grow to become, not just the little bundle of furry cuteness that he is.  If you have been thinking about adding a large breed puppy to your family and have the time and patience to properly raise a pup then Taz may just be perfect for you.  We know you will fall in love with him as deeply as we have when you meet him.  He is simply adorable.