AVAILABLE
Please read our dog bios carefully to be sure that the dog you are applying for suits your family and lifestyle. We at PDR believe in the benefits of post-adoption training for our dogs and their families. This allows for continued socialization, learning and helps to create a well-mannered and balanced dog. Post-adoption training is a requirement in our adoption process.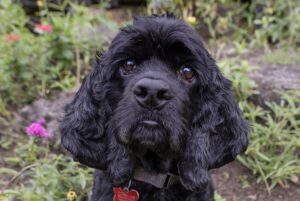 Meet Allonzo, a 6-year-old English Cocker Spaniel. Allonzo was found as a stray in Quebec so we don't really know anything about his past. He was in a pound that needed to free up kennel space and so reached out to rescue to help him.  We couldn't resist this happy little guy and so he made the trip to our rescue.
Unlike some smaller American Cocker Spaniels, he is taller at about 16 inches at the shoulder and he weighs about 30lbs.  Allonzo has a wonderful mix of a lot of energy and excitement as well as just a happy snooze at your feet. He is affectionate at times, sleepy at times, and highly energetic at times, the perfect mix of all dogs.
Allonzo is generally unafraid of everything. Day or night, he is ready for an outdoor adventure. He can be reactive to some other dogs while on a leash, but really good with people. Allonzo is responding well to training while on his leash and is learning to listen to his humans.  His adoptive family will need to continue his training while leashed.  He does not like cats, and he's even met a giant possum while staying with us. That sent us into hysterics as he wasn't sure what to do about it.  There should be no smaller animals in Allonzo's forever home as his spaniel hunting instinct is strong.
Allonzo is great in the car, as it means another adventure awaits! He can get a little too excited in the car at the beginning, so a seatbelt is recommended so that he doesn't assist with driving. He settles well on longer trips, and as long as he is with his humans, he is sure that great fun awaits ahead.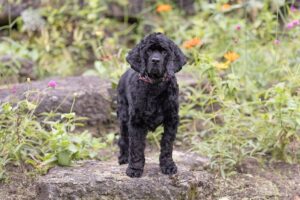 He loves to play! Of all the things he is looking for from his human companions it's play time. Balls are great fun and we have had many games of fetch. Sometimes we just play on the floor and nose the ball back and forth with a human. Other times we tear around an empty room after the ball drops it at the throwers feet. In an enclosed back yard, he will be thrilled with this activity. With a bit more practice we will have this game mastered. Squeaky toys are fun too. We encourage having a toy bin filled with hard balls and solid toys. He will destroy stuffies when given the chance. Allonzo can be trained very quickly, he's an extremely smart dog.  If you want, he can be trained to clean up his toys if asked.
Toys in general are great fun, and he enjoys a treat ball. He is extremely food motivated and learned how to sit and lie down within 48 hours of arrival at his foster home. Shake a paw took 2 sessions of 5 minutes. Training commands will be fairly easy as all he needs is kibble to be motivated. Puzzles may work really well for him as well, as he will enjoy the challenge and the food. He could easily learn dog push buttons if there was interest. He will ring the bells at the back door whenever he has to pee.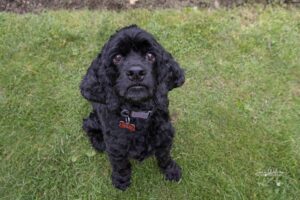 He is extremely curious about everything, and just big enough to inspect absolutely everything. If it's possible to inspect, he will inspect it. When he stands on his back legs, his nose can get to almost everywhere, so tempting treats need to be put away and not left on the counter or table… or he will permanently inspect them . He understands he isn't supposed to jump on the furniture without permission too, but he will test his limits. He never means to get into trouble, he just wants to understand what everything is.
Food in general is interesting with Alonzo. As he spent some time as a stray, food means a lot. He will happily enjoy any human food left out of eye sight for more than 2 seconds. Food on a counter is also within reach. Every meal time he will give you the most woeful eyes that he needs to share some of your food. As a stray, this was probably a survival tactic, so while it is important to have empathy for his past, never give in.  He will toss his empty food bowl and water bowl around the room to remind you of meals times.   Allonzo will happily share his food with other dogs and even go hungry if needed.  If there are other dogs in the house, we recommend staying in the room while they eat to ensure he gets his full meal.
Allonzo did really well at his first grooming until it was time to get his nails done. That was really stressful for him and challenging for his groomer. It had been a busy week with a lot of changes, so his anxiety was high, but his new family will need to be prepared to take extra care and training to achieve getting his nails trimmed. We strongly encourage a professional for this activity, especially his front paws. .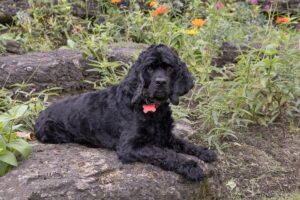 We are working with crate training, and he is improving. Before bed he needs a really good walk to help tire him out. Without a walk, he will be quite grumpy about bedtime, and let you know directly. If the weather is terrible, an alternative is a good 45 minutes of playtime with a human which he will be absolutely delighted for. That said, the weather doesn't seem to bother him, so be prepared to bundle up for long winter walks.  Allonzo is fully house trained and can be left alone in the house confined into a smaller space for safety.
Allonzo is working on his leash manners. On arrival he had absolutely no understanding of a leash, and from his perspective when outside the purpose was to pull his human as hard as he could in whatever direction he felt like. This is starting to improve, but he will need significant work on this task. Typically, the first part of the walk now is still an abundantly exuberant pull, but once he realizes there is no rush, he will calm down. He also reacts when he sees other dogs. For the most part, he just doesn't know what to do, and his time as a stray lead to some of his defensive manners. Leash manners are important for every dog, and with more training he will turn into a great walking companion.
Allonzo came to us in a terribly neglected state. It was apparent that he hadn't been cared for in a long time.  The sweet guy had been suffering from chronic ear infections (common for Cockers) and had "Cauliflower ears", an overgrowth of the skin due to chronic irritation and inflammation. His ears were treated and he gets regular cleaning to help maintain the ear's health.  His forever family will need to ensure that frequent ear cleaning is part of his regular care. His eyes have slight droopy eyelids- Ectropion -and were treated for infection. This was managed and there is no active infection at this time.  Our vet noticed two masses- one on the front chest area which is a benign "adenoma" and another mass that appears to be a fatty deposit located just behind the right forelimb.  Neither needs medical intervention.  More concerning though was that his foster family observed that Allonzo had a bit of a funny gait when walking. He still got around fine, but there seemed to be some hind-end weakness at times. We had this investigated and even had Allonzo examined by a neurology specialist at the Ontario Veterinary College.  It is believed that Allonzo has a mild case of Degenerative Myelopathy.  As his case is mild at this time monitoring and treatment with Gabapentin were advised.  Allonzo does very well on this medication and has been observed now for months and has shown improvement.  His forever family will need to keep him on his Gabapentin medication which has a monthly cost of $50 to $70.  Should his condition worsen in time he can go on steroids but this is not warranted at this time.   Anyone interested in Allonzo should familiarize themselves with his condition to ensure that they can manage this and do best by him.
Allonzo would do best as the only dog in a family that can dedicate play and adventure time to him. All Allonzo wants is people with a sense of adventure. Most of the time he is happily sleeping at his foster family's feet while they work. Two long walks a day and a big play and he is the happiest good boy you could imagine. He is a joyful, loving, fun dog that will be a great companion for all your adventures and the best friend you could ever imagine!