ADOPTION PENDING
Please read our dog bios carefully to be sure that the dog you are applying for suits your family and lifestyle. At Pound Dog Rescue, we believe in the benefits of post-adoption training for our dogs and their families. This allows for continued socialization, and learning and helps to create a well-mannered and balanced dog. Post-adoption training is a requirement in our adoption process.
Meet this little munchkin Cheeky.  Cheeky is a 12 week old Boston Terrier, she has the perfect white and blond markings, those big eyes that melt your heart Cheeky came to  Pound Dog Rescue from a puppy mill as they couldn't sell her due to her having a 'cherry eye'.  Sadly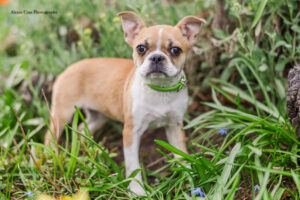 it was never fixed prior to coming to rescue.   It was as easy as taking her to the vet, and with no questions about it Pound Dog Rescue made the appointment right away and now she is 100%.  She is a confident girl, very cute, funny, full of spunk and gives the best cuddles and kisses.  She is determined to live her very best life at every moment possible.  Cheeky has the kind of energy that we all need in our lives; such a spirited pup. 
Please do your research on this breed if you are looking for a smaller dog to call your own. Boston Terrier's have some breed specific medical issues and needs and we want to ensure that anyone interested in adopting Cheeky is fully knowledgeable about the breed.  Cheeky's absolute favourite things in life are loving humans, being loved, and food and not necessarily in that order.  Cheeky is exactly what you would expect from a Boston Terrier puppy, she is adorably goofy, friendly, super playful, and so sweet.  She's a little spark ball who wants to be the center of attention.  She loves to be involved and often if I'm in the middle of something a little head will poke in just to check to see if I need any help and if you're sitting on the couch or chair she will situate herself right on or beside you.  Cheeky has three modes: asleep, awake but cute and affectionate, and pure playful puppy!   
Cheeky is a smart pup and a quick learner, she is doing a good job with house training, sleeping in her crate and some basic commands.  Though she is very young she is catching on to going to the door when she needs to go potty, loves knowing she will get a treat after.  Her new humans will need to be on top of her housetraining so she can continue with her progress.  She will have naps in her crate as well can sleep 4 hours without needing out to relieve herself.  She will need continued support as her ability to hold her bladder grows but we are very impressed with how quickly she is learning that she is supposed to only go to the bathroom outside.  We are working on the sit and come command, which she is putting together the fact that sitting politely gets her a treat or just praise.  She takes pride in the command "come", she comes so quick and seems very proud of herself.  Consistent work is needed on commands, so her new humans will need to dedicate time for this many times throughout the day.  Anyone interested in Cheeky will be required to take her to puppy training classes as well as level one basic obedience. 
Cheeky's perfect home will be one with humans who love her endlessly.  She will have a hard time if she is left alone for long.  Her ideal situation would be one where she isn't home alone for more than 4 hours during a day.  She would love a yard to run around and work on her basic training, she loves zipping around fast.  Walking will need to be a big part of her days, especially if the yard is little.  Cheeky would love a good long walk or a few small walks a day. We have exposed her to adventure trail walks and she LOVES them and has the confidence to tackle walking over logs, through water/mud puddles and through branches, she just follows your heels.  To be the best companion her physical as well as mental exercise will need to be met.  She loves playing with all toys.  If you have the outdoorsy lifestyle she would be a fantastic companion.
Cheeky has had a chance to be social with other dogs as we have two of our own, as well as another foster pup in the household, she does great.  She is still learning her boundaries and is growing fast so would likely do well with another well natured dog in the house.  It's hard to say how she would behave around a cat but likely she would be her playful self.  But, not knowing how to read the cats signals she would need to be taught appropriate behaviour around a cat.
Cheeky could happily go to a home with children age 6 or older.  She still hasn't totally learned how not to nip or chew and though her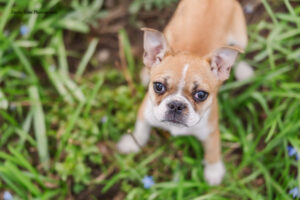 nibbles to us as adults are quite soft, for young children it could be painful, plus she tends to jump up still. That being said Cheeky would make a fantastic companion for a family with children as she is lots of fun and has a wonderful playful energy.
Cheeky has done well in her training so far, but as we all know she is just a puppy and will give your patience a workout when she gets into a goofy mood and inevitably breaks rules that she knows she's not supposed to break.  Cheeky's future family must be calm and diligent with correcting her behaviour and giving her lots of praise when she does the right thing.  Cheeky LOVES making her humans happy and loves being praised.  She learns fast but we want to remind potential adopters that she is very new to the world and so she needs guidance and support.  She is a good puppy, but a puppy none the less and puppies are tiring and need constant support while they grow and navigate the world.  Having previous puppy experience, or experience with a high energy dog would be a great asset for a potential adopter.
Cheeky is too little to be spayed  before adoption so potential adopters must live within a reasonable distance (within an hour) of Cambridge as she must be returned to our vet at 6 months of age to be spayed (included in adoption cost). Adopters must be able to drop her off in the morning and pick up later that day for this surgery.  Adopters will be responsible for the continuation of her vaccinations and all other required vet care at their veterinarian of choice.  She will have had everything medically that her their age should have and has been microchipped as well. Her forever family must also not have any holidays away planned for months coming up after adoption or be planning to move in the near future.  Stability is key in months after adoption.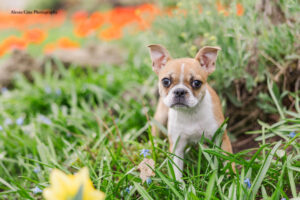 Overall Cheeky is the epitome of what you would expect of a Boston Terrier puppy.  She is clingy and curious and a companion animal through and through.  Cheeky is going to make a family VERY happy and will be a great addition to anyone with an active lifestyle who has a lot of time and love to give.  We cannot wait to see Cheeky in her forever home so that she can continue to give her whole heart to her people.