ADOPTION PENDING
Please read our dog bios carefully to be sure that the dog you are applying for suits your family and lifestyle. At Pound Dog Rescue, we believe in the benefits of post-adoption training for our dogs and their families. This allows for continued socialization, and learning and helps to create a well-mannered and balanced dog. Post-adoption training is a requirement in our adoption process.
Say hello to Garrett!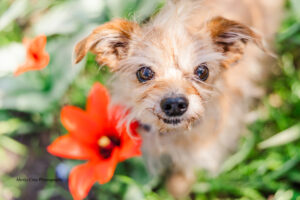 This stylish boy is a 13yr old Chihuahua mix who has a long body, short legs and a tail that won't quit. He has a tan coat that is part soft and part wiry and can we just talk about that mohawk for a minute? With his huge brown eyes and his toothless grin Garrett is a happy and adorable little man who wants nothing more than a couch to cozy up on and an arm to lick in his retirement years! He is an 8.5lb darling of a boy with lots of life to live and love to give.
Garrett was surrendered to a shelter after the death of his owner. Thankfully the shelter staff recognized that a hip old man like Garrett didn't belong in a shelter and arranged for him to be transferred to Pound Dog Rescue. He has adapted to life with us quite easily and clearly, he was a loved pet. Now he's looking for his very own forever family and you're going to love him! He's cute and sweet and very excited about his new life.
First things first – Garrett has no idea that he's a senior dog! He gets around pretty well for an old guy but he does have a grade 2 patella luxation in both back legs which is common for small dogs. This means he walks a bit wonky but it doesn't slow him down. He can go up and down a full flight of stairs but I stick close just in case he falters. As he ages he may start to have trouble with stairs so this just means Garrett's new family has to be comfortable carrying him up and down stairs if his new home requires it. Garrett has struggled a bit with some separation anxiety and although he tends to settle pretty quickly now he still needs to go to a home where this kind of noise will not pose a problem to neighbors or family members. Because of this Garrett is also requesting a home where his family is home more often than not – he does not want to be home alone all day while his family works. Once he has settled he will bond quickly to his people and they become his whole world. Garrett LOVES his walks. He gets the most adorable spring in his step when we are outside exploring and although he's not going to go very far he still looks forward to this time outside so his new family needs to be able to provide a few entertaining walks a day for him. He is also happy to just get outside and do his business if there is bad weather or a rush. Garrett is a sweet, sensitive boy who is looking for a quiet home where he can trust in a routine. He can startle quite easily at a loud noise or fast movement so extra care needs to be taken to create a calm retirement home for him. He wouldn't be suitable for busy city living and would like a quiet and calm environment inside his home and outside as well.   He has made a special request to be allowed on the couch and if there are blankets that's even better. Garrett's looking forward to cuddling his family all through his retirement!
If I were to list all of the things I like about Garrett this bio would become too long to read (if it isn't already) so I'll do my best to be succinct. Garrett is self-appointed foreman of his foster house. Nothing happens here without his involvement, no one sneezes without his approval, his is the final signature on all paperwork! That is, unless he's sounds asleep in a nest of couch blankets. When he's not napping Garrett loves to lean up against you on the couch and accept all of the love you have to give. He moves around the house with such determination that sometimes he forgets how long his body is and he may take out a water bowl or wipe out on a slipper. He is a constant source of joy and laughter and we have loved having him here. While staying with me he is in an exercise pen in my living room while I am at work. He has a dog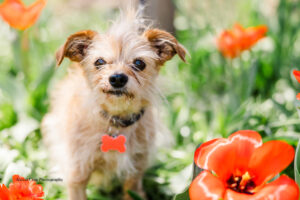 bed and a pee pad in there but he rarely has an accident (sometimes he doesn't realize he has to poop until it's happening – nobody's perfect!). He knows to go to the door to go outside and runs there enthusiastically multiple times a day. And wait until you see him run. He also sleeps in the exercise pen and sometimes takes a few minutes to settle but once he does he sleeps through the night. He has had a few car rides now and he finds them a bit nerve wracking although he does settle. He definitely needs to be secured with a seatbelt or in a crate but with more exposure he will feel better about the trips. Most recently he jumped into the car on his own so that's already a huge improvement. He definitely has the drama bug and made quite a stink at the vet about having blood drawn. They eventually got the job done but not before Garrett alerted the entire neighborhood to the atrocity going on. Then to add insult to injury they dared to trim his nails while we there. Going forward this will definitely be something to try to work on with him and at the very least it is a job for multiple people! I've been able to bathe and brush him with more success although he did hold a bit of a grudge for about 14 hours. All is forgiven now (or forgotten). Garrett has a coat that will require regular brushing and some minimal grooming so his new family needs to be ready for that responsibility. He promises to try his best to be co-operative.
Garrett has been a well-mannered boy with the 3 other small dogs in the house. The first night he came he was understandably stressed out but there has not been an issue since. Garrett lived with another dog when he was surrendered and although they are definitely fine together we do not believe that they are bonded. Garrett is therefore used to having another dog around and would benefit from another small dog of similar energy. He is not looking to wrestle or play rough but would be fine with a companion to show him the ropes. Garrett can be a little anxious with people at times although he is very friendly. His new family needs to be able to respect Garrett's wishes and give him some space if he's having a nervous day – that goes for humans AND dogs. This is also why Garrett needs a nice calm home where he knows what each day brings. We think he would also be fine being the only dog in the home and soaking up all of the love and attention. On solo walks Garrett does a great job but when he walks with his former house mate he can be reactive to other dogs if they bark at him. We suspect he just does not have a lot of exposure to other dogs so with time and management this can be rectified. He is MESMERIZED by any cats he sees and has a hard time breaking his gaze away from them. His new home could have a dog savvy cat as long as it had easy access to get away from Garrett while he learns to get over his cat-obsession. Garrett is convinced that every person he sees while out for a walk is there is meet him and would like to wait for them. All of them. Every time. So he needs to be encouraged to keep moving but he is easily redirected. He meets everyone with his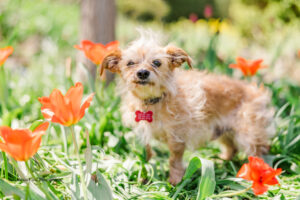 mohawk on point and his energy ready to love and be loved! That even goes for kids – ones who have been coached how to handle him and can be trusted to be slow and soft with him. Even kids who are afraid of dogs love a small old dog with no teeth so Garrett has become very popular in the neighborhood. While it's great that he can be trusted to meet people like this we are looking for a home with older kids who we know can be gentle with this tender little man. We will consider a home with children over 12.
Garrett knows to go into his pen when his foster mom shows him a treat and he can get on and off the couch at her request. Everything else is coincidence. Sometimes he sits when asked but any other command will need to be prioritized and worked on in order to see any changes. Garrett is a good boy by nature who just wants to be involved in the goings on of a home and make his people happy.
When Garrett was in the shelter he was neutered without incident and had his few remaining teeth extracted. He is healed from both and doing fine. He has no issues eating his food without teeth.  Our veterinarian noted the grade 2 patella luxation in both hind legs which may require pain medication at some point but for now he seems unaffected. 
Garrett is an easy-going boy who just wants a soft place to live out his retirement years. He doesn't ask for much, he just needs routine to help him with his anxiety and over time that may even fade. He brings nothing but sweet little kisses and lots of laughs as you watch him waddle with joy. He is looking for some adventure as long as it's not too far or too fast. He'd also be happy to sit outside and watch the cats go by – I mean cars. Are you looking for a sweet boy to warm up your heart and your couch? Are you home during the day and in need of some supervision? Do you have a dirty elbow that just needs to be licked for 20 minutes at a time? Maybe you're the perfect fit for Garrett/Gary/Gare-bear…