ADOPTED
Please read our dog bios carefully to be sure that the dog you are applying for suits your family and lifestyle. At Pound Dog Rescue, we believe in the benefits of post-adoption training for our dogs and their families. This allows for continued socialization, and learning and helps to create a well-mannered and balanced dog. Post-adoption training is a requirement in our adoption process.
This little guy will make your heart crumble.  He is an 8lb, 2-year-old Yorkshire terrier with a lot of energy, intelligence, and love to bring to his forever home. Unbelievably, Crumble was surrendered to a shelter by his owner because Crumble gets up too early in the morning and they didn't want him anymore.  We couldn't believe someone could surrender a dog for such a superficial reason; he really doesn't get up any earlier than any other young dog.  But best for him as Crumble deserves a family who will cherish this darling little boy and show him the devotion and love he will show his family.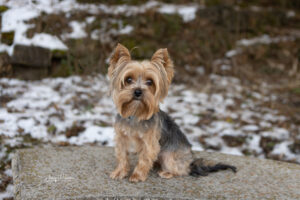 Crumble LOVES his walks!  He greets each morning with excitement and anticipation of a morning walk, which can be long or short so long as it happens. Crumbles has kept pace with his larger foster sister and brother, even leading the pack.  He is a fast little man and does not enjoy slow walking or taking time to sniff the roses.  He walks with the purpose of covering ground and has accomplished as much as 9 km in a day (no small feat for his little feet!) He has a luxating patella (kneecap) which is very common in little dogs.  This condition may never go away but will improve as he builds muscle in his legs. Anyone interested in Crumble needs to be familiar with this condition, even though it is not of issue to him, his new family will need to know how to manage this…and keeping him fit and lean is the best way to ensure it never causes him issue.  If you are prone to over feeding a dog or can't resist giving a dog too many treats, this won't be the dog for you.  Crumble needs his family to be very dedicated to keeping him at a lean and athletic build for his overall health and knee stability. 
Although Crumble would enjoy exploring a fenced yard, he would do best to always be on a leash while outside.  Crumble will investigate every hole in the fence and any potential "backyard" rodent, which may result in a stinky reception.
Crumble enjoys being around humans, but should be fully supervised when around young children.  If startled, Crumble will bark and growl at small children which can be frightening to the children.   He is unsure about the noises and quick movements of young children and as such should go to a home with teens or adults only.  
Crumble has enjoyed a few long-distance trail walks with his foster family, walks requiring a trip in the car before and after.  Generally Crumble enjoys his trips in the car, but he should be restrained or have a small travel kennel handy for long trips or if he is alone in the back seat. 
Crumble is very brave outside and not frightened by anything, a plus for his confidence but can be an issue around some bigger outdoor friends. Crumble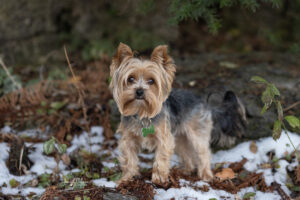 is good with other dogs, but is still learning some dog communication skills and will need to be introduced to any furry family members slowly.  Crumble LOVES people of any age and they are the only reason to stop and wait while on a walk. Crumble must meet everyone!  
Crumble enjoys his snuggle times on the couch, but would also happily explore the room on the hunt for toys or mice.  Yorkies were bred to be "ratters" and as such Crumble would not do well in a home that has rodent pets, however, you will not have a mouse problem!  He would benefit from having another young and small dog as a playmate and furry friend.  Crumble appears to be friendly to cats as well.  
Crumble does enjoy toys and will become more interested in play as he builds his confidence.  As a Yorkie, he likes to bark at ANYTHING that moves outside of the house (and somethings things within).  He would if he could spend all day watching out a window.  With time and patience, Crumble can be trained to "alarm" when appropriate.   Crumble will bark at the door when he needs to go out, if he wants a walk, or if he hears anything.  Although small, he would not make a good apartment dog as he is vocal.   This is typical of terriers.  Experience with terriers will be required for anyone interested in this young dog.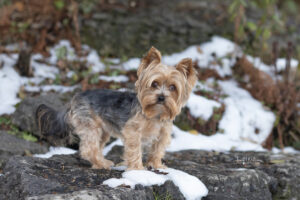 Crumble is a very affectionate little man who wants love and adventures with his family.  At only two years old, he should have many years of long walks, playtime, and snuggles ahead of him.   He would benefit from having another young and small dog as a playmate and furry friend but would also be fine as a lone dog as long as he has a social network of canine buddies.