ADOPTION PENDING
Please read our dog bios carefully to be sure that the dog you are applying for suits your family and lifestyle.
We at PDR believe in the benefits of post-adoption training for our dogs and their families. This allows for continued socialization, learning and helps to create a well-mannered and balanced dog. Post-adoption training is a requirement in our adoption process.
To apply for adoption and for more information on our process and requirements, visit our website at https://pounddog.ca/adoption-info/.
Introducing Waffles, one part of the infamous Breakfast Brothers, Benedict being the other.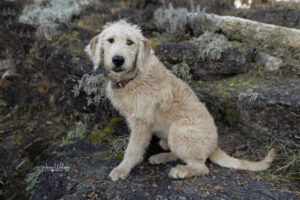 Waffles is an energetic, affectionate light coloured Golden Doodle, rescued from a puppy mill. When we first met Waffles he was scared and shaking, finding solace in his brother and being very nervous with us. The first few days Waffles was with us he would hide in the corner of the yard with his brother Benedict. He quickly warmed up to us and his big foster brother dog, soon he was coming to us for pets and snuggles and playing with our dog in the yard. When he meets new friends (human and canine) he shows little caution and is full of tail wags, once he knows they are trustworthy he absorbs the attention and keeps coming back for more.
Being around five months old, weighing in at fifty pounds, he is playful and excited to go outside to run around. He loves being outside where he can run around with our dog and wrestle. He will instigate tug of wars and games of chase around the yard. He likes to find affection as much as possible when the games settle down. He loves kisses, pets, cuddles, walks, or anything we do that involves him, even when he is scolded he is wagging his tail and trying to sneak in a kiss.
We would like to make very clear here that Waffles is NOT hypoallergenic. He is a "Goldendoodle" which means he is part Golden Retriever, a shedding dog. His fur is so soft and fluffy and it's impossible to not bury your face into him to give kisses. If you are allergic to dogs and expecting to do this without sneezing you are out of luck! He will not be a suitable dog for allergy sufferers, sorry! Benedict also requires regular brushing as his fur will easily mat up if not kept up. Regular trips to the groomer to keep him nicely trimmed will also be required. There is quite a bit of upkeep with this coat type and it can become a huge mess quickly so the time and energy to keep up this type of coat will have to be taken into consideration as well. This is quite the undertaking and not something everyone wants to take on or has the time or desire to do.
Doodles are mixed breed dogs and therefore exhibit a spectrum of behaviours that are present in the breeds of their parents, however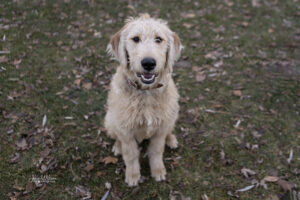 there are some behavioural characteristics that are very common that people should make note of. First, Doodles have a tendency to be very social dogs that do much better with their people around and engaged with them more than not. A Doodle that is left alone for long periods of time regularly can develop depression, anxiety, become obsessive about certain activities and these can result in other destructive behaviours. Doodles also have a tendency to be high energy dogs that need an abundance of mental and physical exercise, especially as they are growing into adulthood. These are not couch potato dogs that are content with a few short walks a day. If you have a more laid back lifestyle and are a homebody, a Doodle will not likely be a great match for you. They are very intelligent dogs who like to work, so taking them beyond basic training is highly recommended to help them live their best life. They like to push boundaries and challenge you and many Doodle owners have claimed their dogs are always two to three steps ahead of them…and this all pretty much sums up Waffles! If you are committed to advanced training, lots of physical exercise and exploring new walking/hiking spaces, if you have a goal of learning dog sports, then this pup just might be the right guy for you…you will need to be sure you can keep up with him because he is a young guy on a mission and he does not have the time to mosey along.
Waffles is relatively quiet inside the house, not being excited by too much going on around him. He is full of energy outside but he loves to snuggle with his brother or join us on the couch when watching TV or taking a nap. He hasn't obtained his full doodle adult energy yet so we are enjoying this more moderate energy pup right now. He is beginning to understand that outside is where he does his business, with fewer accidents in the house since he has been here. He has made his stance by the door a few times to show us that he needs to go out. He does not like loud sounding objects like vacuums or leaf blowers though, and will bark. Which he will need to get used to, because even though he is a doodle mix, he does shed so a vacuum will be necessary in his forever home.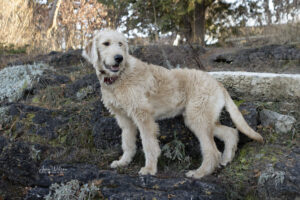 Waffles is always excited for dinner, and will go into his crate willingly when its time. He needs some extra encouragement to go in his crate at any other time. He is crate trained for over night and while we are out of the house and is quiet and sleeps well through the night. Even in the morning if one of us gets up before sunrise he will stay quiet in the crate. He will give us a quiet whine in the morning if we are sleeping longer than he'd like. He will require more leash training as he tends to pull and is curious on walks.
In our experience, getting Waffles into the car has been difficult, once on the road he settles down. The perfect family for Waffles would be one that will give him love and attention as he is very affectionate. He would be great in a home with kids over 5yrs of age or playful medium or large sized dogs, he hasn't met a cat, but hasn't shown any clear signs of prey drive. Waffles is an energetic puppy who will need regular exercise but a few good walks or a yard to play in will be sufficient.
All in all, Waffles has been an absolute pleasure to care for and have in our home. He is endlessly sweet and loving, a good mix of fun and energetic but will also nap with you on the couch.