AVAILABLE
Please read our dog bios carefully to be sure that the dog you are applying for suits your family and lifestyle. At Pound Dog Rescue, we believe in the benefits of post-adoption training for our dogs and their families. This allows for continued socialization, and learning and helps to create a well-mannered and balanced dog. Post-adoption training is a requirement in our adoption process.
I would like to introduce you to Farrah, a 1 ½-year-old, 47lb Golden Retriever/ Poodle mix. Farrah came to me as a recent puppy mill mamma.  She was filthy and extremely matted.  With daily brushing which she loved, I was able to get out the mats from her ears, tail, and back.  She was stoical as I'm sure it wasn't comfortable at times, but she seemed to realize I was trying to help.  The luxuriant fur was soft and a beautiful apricot. Unfortunately, she had to be closely groomed professionally to get out the larger mats.  Her short fur is velvety soft to the touch and is beginning to show her rich apricot colouring and waviness with the exception of a white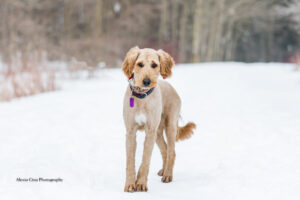 patch on her chest.  Farrah still enjoys brushing with a soft brush on her shorter coat.
Over the years, I've had the privilege of working with many rescues.  From the moment I met Farrah and brought her home with me I realized she was a once-in-a-lifetime exceptional dog considering from where she came.  Farrah was definitely not a shut-down fearful dog as many puppy mill dogs are.  Farrah walked into my home with quiet confidence, very curious to gently explore her new surroundings. She is an extremely affectionate dog and seeks out human touch and petting.  She does not, however, lick, preferring instead to press her head into your thigh if standing or your lap if sitting, waiting patiently to be stroked.
Farrah was underweight and needed to gain a few pounds.  She had difficulty keeping her food down and regurgitated after eating.  The vet took x-rays and determined she had a megaesophagus condition, which will require monitoring for the rest of her life. It will not bar her from having a long, happy, playful, energetic life.  More about this later.  I want you to become acquainted with this special dog first.
From our very first walk together, Farrah was easy on the leash and didn't pull.   An exception—those frisky squirrels and hopping bunnies.  Initially, she would pull to join them, but on later encounters, she simply stopped and stared at them until they disappeared and then continued her walk. Farrah doesn't react when cars or trucks pass by, but she was startled by a motorcycle that she had probably never heard of or seen before.   Farrah prances as she walks, much as Poodles do. Our walks are constantly halted by neighbours and strangers wanting to pet her.  Farrah will go up to a person and lean in with her head on their thigh and just languish in the petting she receives.  She is a magnet for people and adores the attention she receives.  Farrah has met successfully with many dogs, interacting in a friendly manner.  Recently my neighbour and his dog got locked out of his house, and both came into my home for a few hours until his wife returned.  The 2 dogs wandered around the house together, and then Farrah went to her bed, and Lacey stayed in the kitchen and watched me bake. Farrah would be okay with another dog as she shows no jealousy and willingly shares her space. She would only wish to share her home with a male dog though as she wishes to be the only female dog in the home.  Or she would be just as happy being the only dog in the home and getting all of the attention.   I've not had the opportunity to introduce her to cats.  She has met a few children on our outings, and one stands out to me.  A neighbour's 2-year-old grandson was afraid of dogs.  Farrah gently came up to him and sniffed and kept her face between the child and grandma, who petted her.  Grandma was amazed that her grandson showed no fear, although he declined to pet Farrah.  Can't emphasize how gentle this dog is.  I feel she would be best in a home with children over the age of 8.  Farrah is a flight risk as she is a puppy mill dog and we need to ensure that she goes to a home where doors are always shut, gates are always locked, and the safety of this dog is on the forefront of everyone's mind. 
 Farrah does have spirit.  If an unfriendly dog passes and growls or barks at her, she'll wag her tail and bark back as if to say I'm friendly but don't mess with me.
Farrah very quickly learned the commands sit and down. We're still working on waiting and come isn't perfect yet.  She took it upon herself to give me a paw when moving from sitting to down. Farrah takes to body checks well.  I can handle her nails, ears, teeth,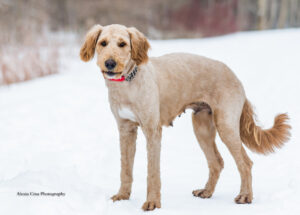 sleep in her eyes easily.
I was surprised at how quickly she responded to toys.  Her 2 favourites are two small squeaky ones that she enjoys fetching and returning to me.  Farrah runs and does a goofy bunny hop as she chases her toy down the hall.  She has such a mischievous sparkle in her eyes when playing this way.  When she tires of that part of the game, she teases, and I have to chase her around the house until she gets tired of the game and takes her toy to one of her beds. When she wants me to play, she simply brings me her toy and makes a soft whine to gain my attention.  Soft toys are not for Farrah.  She took apart a soft toy when I first brought her home and got all the stuffing out.  She still enjoys chewing on it occasionally, so I haven't taken it away.
She loves rubbing herself along the couch, and I didn't realize she was doing the same along my bed which is on casters until I noticed that it had moved significantly.
When company comes into our home, Farrah ignores me and sits on the floor near the person she feels will be her devoted petting slave. She does not demand attention, simply sitting quietly, resting her head on their lap and looking plaintively for contact, and snuggling in when she gets the attention she craves.  Farrah isn't allowed on furniture in my home, but I could easily see how she would become a lap dog on a couch.
Farrah has a healthy appetite and did counter-surf when she first came to me.  Easy fix-don't leave anything edible within her reach.  Also, she discovered facial tissues in my bathroom garbage bin-easy fix close the bathroom door or get a garbage bin with a lid.  Farrah is fascinated with water going down the drain after letting my bath water out or a toilet flushing.  She is curious about everything but totally non-destructive except for that soft toy.
I do yoga practice every morning, and Farrah does not always honour my yoga mat.  Once I'm on the floor on my back, she snuggles in for a tummy rub, her favourite type of petting.  Try doing a downward dog movement with a dog who decides to lie underneath you!  She is so loveable and constantly makes me laugh with her antics.  There is a mischievous streak in this girl. Farrah makes my exercise routine much fun.
Farrah loves to lie on soft cushy spaces.  If you leave laundry on the floor, she's right there.  A must buy if you choose to adopt Farrah-a 3 foot diameter cushy bed..  It's her go to bed for quiet alone time while I'm busy elsewhere in the house although she has other beds available.  After our evening walk we cuddle together on this bed in front of the fireplace before kenneling and bed. She tends to cuddle in tightly and has been known to push me off.  Farrah kennels well and quietly when I'm in the house but when I leave she plaintively whines and barks a bit.  Neighbours say she stops after a while and she's always silent when I return.
Farrah enjoys looking out the window watching people and dogs go by.  She occasionally gives a single bark and runs to the front door hoping I'll take her out to join them.  She will spend ages patiently standing or sitting by the patio door looking to the backyard for squirrels or chipmunks. When someone comes to the door she gives a single bark to let me know someone is there.
Farrah is a high energy dog outdoors although very laid back indoors.  We walk 8-10 km in a day over several walks and hikes.  She needs a long walk at least 30 minutes in the morning to do a full bathroom.  Most days we hike in the local conservation areas for a 5 or 6 km hike.  Farrah lives to be outside and can't wait to jump in my vehicle to start an adventure.  She is a great traveller.  I tether her in the vehicle and she lies down or quietly sits and stares out the back window.  If a passenger is in the back she joins them for petting.  She needs her people to be high energy, active people who can keep up or surpass the level of exercise she is currently getting.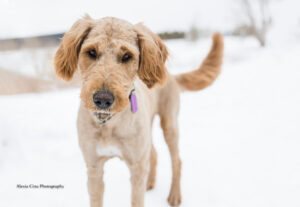 An enclosed fenced backyard is a must for Farrah.  She needs the freedom to run off leash and play.  She will require a home with someone who enjoys walking and hiking and isn't absent for long periods of time.  You have a special fun treat in store when the first snow comes.  Farrah will flop down on fresh snow and rub herself silly, legs flailing every which way.  Your job once you stop laughing is to keep her legs from getting tangled in her leash.  Once when the snow had ice on top she started sliding down an incline and I was hard pressed to keep my footing and not join her on the ground.  Farrah loves ploughing through the snow on hikes.  She flops down as well on grass but it's not nearly as comical as on snow.
Now to the megaesophagus issue.  Farrah must be elevated to eat and also afterwards to help her get the food down her esophagus and into her stomach for digesting.  I add a tablespoon of wet dog food and a bit of bouillon to her kibble to make it easier to go down.  There is a special chair, called a Bailey chair, somewhat like a babies high chair that a dog can be put in to eat if you prefer.  Farrah doesn't need this chair as we have found that she does very well just eating on an incline and having a cuddle with her front feet on my lap after for a few minutes.  I have had her eat on an ottoman and then she comes up on my lap afterwards while I stroke her throat.  At present I feed her 4 small meals a day rather than 2 large ones which makes it easier for her since treats in between meals must be very small.  Farrah loves chewing on an ice cube and it can take the place of a treat for her.  I only give her 2 or 3 mini training treats when I kennel her.  As she needs to eat smaller meals more often, Farrah shouldn't be left alone for more than 4 hours at a time.  Unfortunately Farrah will never have the pleasure of chewing on a large bone or dentastick. She has been on medication off and on for this issue since she's been with me but whether or not she will need to continue medication will depend on her and her vet's decision.  She takes pills easily if they're hidden in peanut butter which she adores.  Farrah will need to be monitored since this condition will be with her for life.  It in no way prevents this very loving,  special girl from leading an otherwise normal life.  
Farrah is such a patient, loving girl who has won the hearts of so many people in my neighbourhood with her gentle nature.  Farrah will make an amazing companion for someone willing to accept her dietary issues. Her forever family will be lucky to have such a sweet girl.  Anyone interested in Farrah needs to  research her megaesophagus condition before applying to adopt Farrah.  It is crucial that her adoptive family fully understand what living with a dog with this condition involves.  Farrah's condition is mild, with very little adaptive measures having to be done, but it is a lifelong condition and  needs to be kept on top of. You cannot slack and feed her from a bowl on the floor like most dogs…she needs gravity to help her get her food to her stomach.  So this requires dedication to the special care of this dog for life.   She is looking for a very special person or family…but we can tell you, this dog was made extra special to make up for her medical condition…you won't find a nicer dog, she is completely worth the maintenance involved and then some!