ADOPTED
Please read our dog bios carefully to be sure that the dog you are applying for suits your family and lifestyle. At Pound Dog Rescue, we believe in the benefits of post-adoption training for our dogs and their families. This allows for continued socialization, and learning and helps to create a well-mannered and balanced dog. Post-adoption training is a requirement in our adoption process.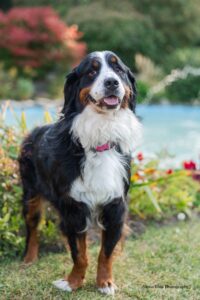 Looking for a sweet, easy-going companion who loves to relax beside your feet, almost as much as she enjoys road trips and hiking trails? Then look no further; meet Fernie!
Fernie is a ~3 year old Bernese Mountain Dog with a soft tri-colour coat and adorable chocolate brown freckles all over her white snout. She has been recently spayed, microchipped and vaccinated. She is a large sized dog, weighing 72 pounds. While this is quite skinny for a Berner, she has been steadily thickening up in foster care with a hearty diet and some extra treats for good measure.
Fernie's lanky frame is certainly not her fault. You see, before coming into our care, she was used for commercial breeding purposes and a ton of her calories would've gone to nursing her litters. Plus, puppy mills also have irregular feeding and types of food. As a result, she's not always sure that her high quality kibble is edible, but she does get inspiration to chow down when relaxed in her crate. While she's a bit of a hesitant eater, this lovely girl does enjoy some treats – especially Greek Yogurt or freeze dried beef – and will take them gently from you.
Fernie would be suitable for a mellower family with (or without) kids over 12, and with (or without) another mature, calm dog in the home. She is a lower energy dog who is happy to do whatever her people are doing, and enjoys active hiking days just as much as she enjoys a lazy Sunday. She will be good in a townhouse or detached home with a fenced yard. While she doesn't need much space, a condo would not be suitable as she's easily startled by sudden/strange noises & lots of people around. Plus, this girl loves her yard! If it were up to her, she could hang out with her people in her yard forever.
At her vet checkup, she received a clean bill of health with two minor dental observations; a tartar build up and a broken tooth. Her broken tooth is not infected and does not affect her, so our vet noted that it doesn't require any further action. Her tartar buildup can eventually be addressed with a good cleaning.
Fernie is good with other dogs and her laid back energy is well received by others. She spent a weekend with another dog who is quite particular about who they like, and the two got along beautifully. Fernie kept to herself and didn't try to take their food or toys, so she was easily accepted into the pack! However, Fernie can get scared when larger dogs frantically bark at her as she walks by. For this reason she will be suitable as an only dog, or as an addition to a home with another mature, lower energy dog(s).
Throughout the day, you can find her quietly resting at her foster mom's feet in the office, or in the nearby corner cozied up with her treasured 'puppy' toy (a purple fish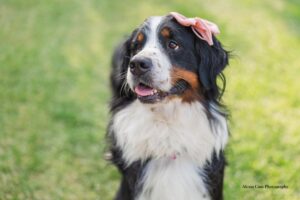 plushie that she babies). She is the perfect canine coworker; the only noise she will make is an adorable snore when she's deep into her doggy dreams. Every so often she will lift her head up and tilt it with perked ears, as if to ask "what da heck iz goin on?" when certain work calls pique her interest.
Fernie walks very well on a leash. She trots along at a steady pace, and remains beside or behind her handler the entire time. She is very curious about the world which results in some brief sniff stops, or gentle zig-zaggy walking because there's so much to discover. She is an easy walker, and doesn't pull or react to other dogs passing by. She really enjoys nature trails, but is equally as happy to cruise around the neighbourhood and soak in attention from her local fans (there are plenty). Fernie's walks may come to an unexpected halt when she suddenly decides it's time to do her business; and yes, occasionally that's in the middle of an intersection with a crossing guard watching in mild disbelief while laughing. Zero shame in this girl's game: if you gotta go, you gotta go!
Fernie is super praise motivated, so after her walks, she looks forward to coming inside and basking in "great job" accolades. She sits there proudly, with her head held high, eagerly anticipating her post-walk, paw-sitive affirmations. She LOVES to be told that she is so brave and smart while you pet her neck floof, which looks like a thick majestic scarf.
Fernie is house trained but doesn't yet know how to signal she needs to go out; she'd rather hold it all day, so taking her out at regular intervals is best. It may be a while before she's comfortable quickly relieving herself in the yard – for now, she is keen to do this off the property, so several brief walks throughout the day are key.
Fernie's mellow temperament suggests she would be fine with a dog-savvy cat. She has no prey drive towards small creatures like bunnies/birds/squirrels, and in fact has been taken aback by the local street cats that appear on walks (they're tough looking cats!). When she sees them, she pauses and looks surprised by their existence, then carries on with her stroll.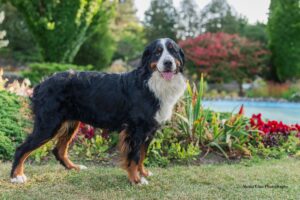 Fernie enjoys relaxing in her crate and it is her safe space, along with any corner of the house that is closest to the humans she trusts. She is crated overnight and is calm and quiet the whole time. She has been crated up to 4 hours when we were out of the house, and did very well.
Speaking of her favourite places, Fernie also loves the back seat of the car and the garden bed in the yard. So safe, so cool, so comfy – just like a crate! Like most Berners, she can have a stubborn side, so sometimes her fondness of these places results in her not wanting to leave when you do. She will get moving with some verbal encouragement and direction, but adopters should be patient and aware that occasional stubborn episodes may continue as she grows more confident.
Fernie  is a "passenger princess" in the car and will calmly ride along, most often napping in the back seat. She perhaps loves the trunk even more, and often leaps into the SUV as soon as the trunk pops open. She is a fabulous road trip partner and did a 3 hour car ride to Algonquin while relaxed and quiet the whole time! Sometimes when the window is open, she will get a streak of curiosity and quickly poke her nose out to smell the fresh air.
Barking is not a problem with Fernie. When new people enter the house, she is quiet but nervous, and most often will scurry over to her corner until she feels secure. After settling in, she will gladly come out of hiding and accept all the love from her new friends. Fernie does not have an aggressive bone in her, and her fear only manifests as hiding behind foster mom or retreating to a safe space until she's comfortable.
We have no doubt basic commands will be learned with some more time. She is a very smart girl and has almost fully picked up on "Wait" (heel) during her walks. We're slowly working on 'paw', but basic commands will need to be developed in her forever home.
Fernie is a super sweet, go-with-the-flow girl who will be a loyal, gentle companion. She is named after a ski mountain in BC because it's beautiful, fun, beginner-friendly, and offers something for any mood you're in; and she lives up to these traits! Whether it's snuggling up at home, relaxing outside with her humans, or hitting the hiking trails, Fernie is ready to take on the world by your side.