ADOPTION PENDING
Please read our dog bios carefully to be sure that the dog you are applying for suits your family and lifestyle.
We at PDR believe in the benefits of post-adoption training for our dogs and their families. This allows for continued socialization, learning and helps to create a well-mannered and balanced dog. Post-adoption training is a requirement in our adoption process.
Meet Frazier.  A 7 year old, male West Highland White Terrier who weighs in at 20 pounds and is a typical Terrier; Happy, Stubborn, Playful and Funny.  He is not hypoallergenic but is very low shedding.  Frazier is an amazing little dog that spent the first 7 years of his life living in a stall in a barn where he was used to sire litters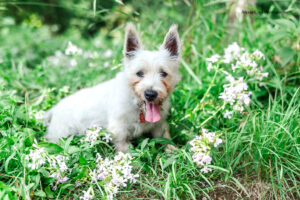 of puppy's at a puppy mill.  He came into our care with the typical mill dog problems, shy, skittish, dirty and afraid of the outside world.  Let me tell you, that has all changed very quickly.  He has learned to do his business outside and only had one accident the first day he arrived and since then he has been perfect and had no accidents in the house.  I would consider him 100% housebroken but he does not know yet how to signal that he has to go outside.  But when kept on a schedule he has been perfect.  I walk him at 7:30 a.m. and 7:30 p.m. and he always goes potty on these walks.  Then I take him out for a final pee at 10:00 p.m. and he is good for the night.  He would be very adaptable to any schedule as long as it is consistent.  That being said the first days in his new home will have to be monitored closely.
Frazier sleep 8 hours overnight in his crate and you won't hear a peep out of him.  When I get up in the morning he stays in his crate while I get ready for the day. He does not bark or whine, he just waits for me to let him out.  Recently I have not crated him at night and when I tell him it is bedtime he goes right to his dog bed and sleeps quietly throughout the night.  He stays in his bed until I'm ready to take him for his morning walk.  I do crate Frazier when I leave the house in the daytime and he goes into the crate easily and settles nicely.  I give him a peanut butter stuffed Kong which keeps him occupied while I am away.  He is very neat in his crate and has never made a mess.
Frazier is a dream to walk and we walk about 2 km in the morning and 3 km in the evening and he loves his walks.  He could walk more if you would like to but he is also quite adaptable and a longer or shorter walk is fine with him as long as he can get out to do his business.  He likes to go to the bathroom on his walks rather than in the yard.  But as I mentioned he is adaptable so I'm sure he could be trained to do his business in a fenced in yard.
Frazier loves other dogs and always greets them with respect.  There are a few dogs we have met on our walks that he wants to play with, but mostly it is just a quick sniff and then he is ready to walk again.  He has seen a few cats on our walks and doesn't seem the least bit interested in them, so I think with proper introduction he would be fine with a dog savvy cat.  Frazier spent a few days at another fosters home when I had to be away for a couple of days.  They had 3 dogs in the home and Frazier enjoyed their company.  Out in the yards he was also fine with their chickens, in fact it appeared the chickens were quite infatuated with Frazier.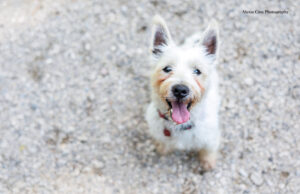 Frazier is no longer shy and goes up to every person we pass for a bit of a pet.  Once he has seen something or heard a loud noise he is no longer frightened.  He is fine now with cars, trucks, vacuum cleaners and even power tools.  Motorcycles do not bother him, but for some reason he still has a fear of a person on a bicycle and will shy away from them.  Having said that, we do want a quieter home neighbourhood for Frazier.  He is still adapting to the outside world and he will find busy city living too overwhelming.  
Frazier is a good eater.  He gets 1/2 cup of kibble in the morning after his walk and 2/3 cup kibble at 6:00 p.m.  He likes his kibble dry and does not like it mixed with wet food.  Frazier likes his dog treats, which aids in training.  Frazier is a smart dog and we are working on basic commands such as sit, come and stay and they are still a work in progress.  He does seem to understand what they mean but that stubborn terrier streak comes out sometimes unless you have a treat. 
Frazier is obsessed with toys.  When we return from our walks he will run to the living room and dump all the toys out of his toy box into the middle of the room and play with each one.  He loves balls, squeaky toys and stuffed toys but any stuffed toy needs to be very tough or he will destroy it.  He loves to play fetch with his ball either outside on a long line or in the house and most of the time he will return the ball to you.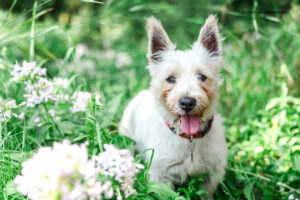 There are a couple of things to be aware of.  Frazier does get car sick and gravol does not help.  So he will never be the dog to ride shot gun with you on your trips around town, at least for the first while. I have taken him on short trips to go hiking and he is okay for about 10 minutes before he gets sick.  Maybe going to happy places will help with the motion sickness after a time but if not there are prescription medications from the vet that would work for a longer trips in the car.
Frazier does have a fair bit of tear staining and tear production but his eyes have been checked by our vet and they are fine.  He just came from a puppy mill and had very poor nutrition and living conditions.   This will get better in time now that he is on quality food.   The vet also thinks that Frazier may have had a history of on and off skin issues but with medicated shampoos and Epson salts soak of his feet it should take care of any problems. Frazier is easy to give a bath to and does not mind the dryer. I have been washing his face with a warm washcloth and then using a fine tooth comb under his eyes and the staining is decreasing every day.
Frazier has been fully vetted.  He is neutered, vaccinated, dewormed, heart worm negative, dental work done and he has been microchipped.  Frazier is a handsome dog who is very devoted to his person and family, but he does have a stubborn streak common with terriers. He is gentle with people and dogs but can play rough and he loves to play.  He is a very active dog for 7 years old. He rarely barks or whines.  Sometimes when playing with a squeaky toy he will give one or two barks.  He does not bark when a person or dog walk past the house.  When someone knocks on the door he merely trots over to investigate .  He loves to look out the window to see what is going on outside.
Frazier would be fine in most home situations; house, condo or apartment, as long as he gets sufficient exercise and love.  He loves children but I would recommend the children be dog savvy and over the age of 10 just because he can be a bit rough when he plays.  And again, being a mill dog, he needs a quieter home with little sudden noises or high energy. He has adapted wonderfully to life as a house dog, but a home with the noise and energy of young children will be too much for him.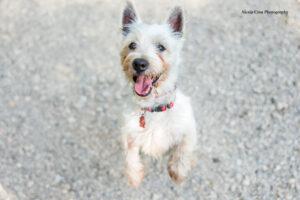 Although he would love a fully fenced yard it is not necessary.  But keep in mind he is a bit of an explorer so if you don't have a securely fenced yard he will need to be leashed or on a long line when outside or on walks or hikes.
So if you are looking for an active mature dog that will make you laugh everyday with his antics, then Frazier is your man.  He is a special little dog.