AVAILABLE
Please read our dog bios carefully to be sure that the dog you are applying for suits your family and lifestyle. At Pound Dog Rescue, we believe in the benefits of post-adoption training for our dogs and their families. This allows for continued socialization, and learning and helps to create a well-mannered and balanced dog. Post-adoption training is a requirement in our adoption process.
Before I get into her bio details, I need to impress upon everyone that we will be looking for a very specific home for Henley.  Please read her bio in detail to make sure you are interested and have a proper home for her.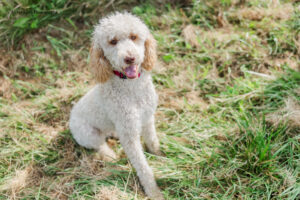 Henley is a beautiful 11mth old  Standard Poodle  currently weighing 40bs with some filling out to do still.  Henley's forever home will need a female presence and experience with timid dogs.  She requires her people to have patience and the right environment for a dog that might take a lot of time to fully come out of her shell.  Henley is a beautiful and sweet girl, and you may look at her picture and want adopt her, but please be honest if she is the right dog for you.  If you cannot imagine owning a dog who initially flinches when touched, runs and hides from you when approached, and does not want to spend cuddle time with you, then Henley is not the right girl for you.  She has made great strides in her foster home and will continue to blossom and gain confidence, but we just need to ensure that anyone interested in her has the patience and kindness to work with a timid dog . 
We took in Henley as part of a large rescue mission from a northern puppy mill.  She was living in filthy conditions with minimal nutrition, and she was under weight.  Henley had limited human interaction and what she did have must have been a negative experience.  She came to us as a very shut down, terrified and somewhat broken girl.  Henley is a very sensitive girl and her time being kept in a kennel with no socialization, positive human contact, exercise, or affection has really impacted her young life.
Henley has been with us in foster care for just over 3 months now.  She has been making some significant breakthroughs in the last couple weeks so it's time to start the search for Henley's forever home.  
Henley determined early on that females are somewhat safe and has accepted her foster mom into her space.  For Henley to be comfortable in her environment she must have a female presence in her home.  Males are still a bit scary, and she always has one eye on any males in the household.  Henley has gradually made some progress with men in her space.  She will now take treats, has offered gentle kisses and maybe a touch or two on her terms.  Each has been celebrated as a small victory and definite steps forward from her beginning.  It is really hard not to feel frustration when a dog you so want to help flees in fear when you walk into a room.  But this is the reality of a dog who has never learned that people are kind. Henley is a dog that needs her people to be super patient, and who know that she is a dog that will be a long-term project, but she will make strides forward and let me tell you, they are SO rewarding!
We can now walk Henley safely with a single martingale collar (previously it was double leash/collar).  She absolutely loves the outdoors and enjoys her daily walks,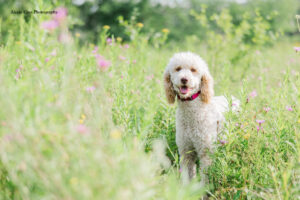 twice per day.  She walks in the front now with her foster dog sisters and is such a good quiet walker.  She doesn't bother with any of the other barking dogs in the area and will walk nicely by my side, especially if I have treats in my pocket.  Henley loves treats, so the way to her heart is definitely through her stomach.  This acceptance of food from our hands is a result from months of tossing treats to her from across the room.  Patience is key!  She will now come and sit in the living room with us and sometimes even hop up onto the couch.  This is a result of starting out with Henley leashed to one of us in the home at all times, and then moving to dragging a house line around so we could collect her if we needed to get her outside.  Now she moves about freely, inside the house and outside in the yard, no longer needing to be on leash as she will come when called.
Henley's most favourite spot to be is outside.  Rain or shine this girl loves to run, play, and even nap outside in the yard.  She feels completely free outdoors and turns into a goofy and playful pup.  She loves to play chase and wrestle with her foster dog sisters.  She is being fostered with 2 young standard poodles and is always the first to start play time and the last to stop playing.  She is a very energetic and lively pup.  When the dogs are finished playing, she will run around and throw her own toys and chase them down.  She has just started to bring her toys to me to be thrown and will happily jump and pounce in the yard to retrieve them.  We've had several summer BBQs at our place and Henley easily accepts new people when she is outside.  On her own terms, she has walked over to each person and quietly sniffed them.  She will back away if someone reaches out to touch her, but if left alone she will walk amongst your guests without issue.  My advice to any of my quests was just to leave her alone and to pretend like she wasn't there.  She is truly herself in the outdoors, so Henley's forever family will need to love the outside as much as she does and have a large, fully fenced yard for her to play in.  
Henley was a bit different from other mill dogs as she did not love her crate.  Her safe spot was always outside, and she still only tolerates her crate for 3-4 hours at most.  She doesn't love it but will go inside as she knows she gets a treat.  At night she sleeps on a dog bed next to her foster dog sisters in my bedroom.  She likes to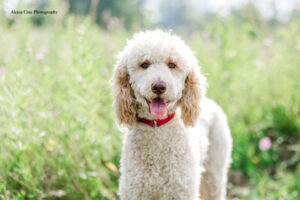 be close to her humans and pack.  She is house trained and will go a full 8 hours at night without any issue.  In the morning, this seems to be the one time that she lets her guard down.  She will hop onto my bed with the other dogs and will allows scratches, belly rubs and maybe even a kiss or two.  But after that, she is ready to move!  She is so excited to start each new day.  Sometimes her exuberance is a bit much before a cup of coffee 😊 She is so excited that she will bark/yip all the way to the back door.  We are working on this; however, it is definitely a work in progress.  She loves outside so much that she has a hard time containing her excitement.
Henley is still learning how to be a dog and gains most of her knowledge and confidence from her pack.  She has learned how to interact with people and other dogs and her confidence continues to grow from this.  Henley needs to live with a young, energetic, and confident dog.  She needs a playmate that can keep up with her energy levels and show her how to navigate through our scary world.  
Henley is a Standard Poodle and has a beautiful cream and red coat.  She is considered hypoallergenic as she is a hair breed dog.  With this comes regular brushing, bathing, ear cleaning and grooming.  Henley has handled all of her baths and grooming well.  I have done quick grooms on her and kept it to under an hour and she went through this process without issue.  I have kept her coat short so that she does not have to go through regular full brushes.  We are still getting her used to being touched so a long brushing does not work for her.  Keep her coat short and tidy and you should be able to keep any matting from occurring.  
Henley's ideal home will be one with direct access to a safe fenced, large yard in a quiet rural setting or very quiet neighbourhood.  She can get overwhelmed by a lot of traffic noises and will not enjoy busy areas where a lot of people are around her.  Henley is only crated for 3-4 hours at a time so she would need someone home more than away.  Henley requires an adult only home or a home with older teenage children.  Henley has been fantastic with every dog in our home and bonds quickly with her pack.  She needs another dog in the home as she loves to play and follow them around the house.   However, what Henley needs most is a person or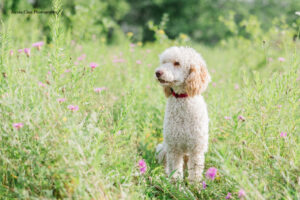 people who are kind, and patient and experienced in working with fearful dogs.  She has made huge strides in her foster home and is ready to move on to the next stage of her life in a loving forever home.  Henley is such a sweet and kindhearted girl.  She will grow to trust her forever family, she will just move at a different and slower pace than other dogs.  Her people need to understand that Henley is a work in progress, and she will be a marathon, not a sprint.  But when she stays and looks for you to give her a couple of chin scratches it will be an amazing moment to share with her.  Is Henley the dog for you?