ADOPTION PENDING
Please read our dog bios carefully to be sure that the dog you are applying for suits your family and lifestyle. At Pound Dog Rescue, we believe in the benefits of post-adoption training for our dogs and their families. This allows for continued socialization, and learning and helps to create a well-mannered and balanced dog. Post-adoption training is a requirement in our adoption process.
Aren't they adorable?  These puppies are 3mth old Bulldog mix babies named Lisa and Bart.  Lisa is the girl and she has a lot of white on her chest with beautiful brindle markings. Bart is the boy and he is a darker brindle with a white stripe on his face.  They came to us in terrible condition, having been left untreated with growing abscesses on their faces. Lisa was so bad that the abscess was growing over her eyes and obstructing her vision. We got them into the vet immediately where they were treated and put on antibiotics and now they are fully healed and ready to find their forever families!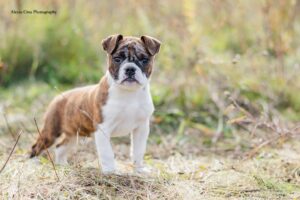 These pups are considered "mini" bulldogs, so are probably mixed with Boston Terrier to keep their size down, but full grown weight and height cant be said for sure as they arent a purebred dog.  They will be medium sized,sturdy, medium energy dogs capable of doing anything most things you wish to participate in. They have pushed in noses so caution needs to be taken with them around exercise in the heat.  These pups will not tolerate heat well at all so need a home with air conditioning for the hot summer days.   And with their breed mixes we expect these pups to be great family pets. They are shedding dogs, so if allergies are a concern they won't be an ideal fit.  They are being socialized with other dogs in their foster home.  A home with another dog would be fine, but not necessary.  Although sturdy pup they can get harmed too easily with rough play from a big dog so we have to ensure any dog in the home would be gentle with them.  For the same reason and because these pups nip, jump, and bite as all puppies do,  we will not consider homes with kids under 8 years of age.  Anyone interested in one of the pups needs to live within 1hr of Cambridge, Ont as they must be returned to our vet at 6mths of age to be spayed/neutered.  They will be adopted out on a contract that stipulates this and it is mandatory.  This is covered in the adoption fee. 
We will only consider homes for the pups where someone is home or has the capabilities to come home throughout the day.  Puppies need to be taken outside for bathroom breaks very regularly when they are small and will not be able to hold it for an 8hr work day.  Please keep in mind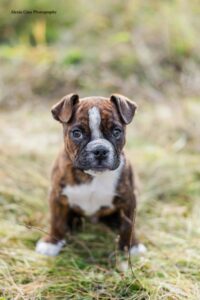 that if you work from home you need to have a plan in place for a crating schedule for the pup as puppies need 100% of your supervision when not in their crates; you cannot expect to work and have the puppy running around in the room with you as they won't have your full attention.  We are also looking for families that are fully aware of the time commitment of a puppy and the work involved.  Puppies are a total joy and bring so much love and happiness into a home, but you cannot underestimate the work and time involved in raising a puppy properly.  They need constant supervision while young to expedite the house training stage and to ensure they aren't chewing on anything inappropriate.  We are also looking for a family that will crate train the puppies as we fully believe that this is the best for pups and offers them a quiet and secure "den" to call their own.  A crate trained pup is a blessing as it offers a safe place to put them when you can't be watching them all the time.  
We are looking for families for the pups that have experience with the Bulldog breed and/or great knowledge of the breed.  This is a breed of dog that comes with many medical and genetic issues and anyone considering a Bulldog has to fully accept that and be fully capable of taking on any medical issue that may arise in this dog's life.  They are a brachycephalic breed and as such can have breathing issues in the heat or if allowed to get overweight so we need their people to be committed to ensuring that they are kept lean and trim for their life.   We know how cute Bulldogs are and how easy it is to get taken in with their sweetness but please really do your research before applying and ensure that a Bulldog is the right fit for you.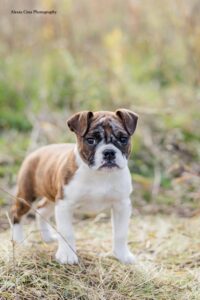 We will be expecting our adoptive families to attend puppy socialization class with their new pup immediately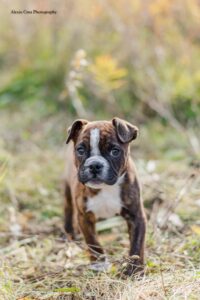 upon adoption, along with, at minimum, level 1 obedience school after. The guidance and lessons learned in puppy classes are very important to getting your pup off to a good start.  We handle these pups every day and will be offering them everything they need to be the best pups they can be when they leave our care but we need the adoptive families to take over for us when they get the pups home.  We take our responsibilities to these pups very seriously and only want the best for them.  They are being raised in our home, in our care, and have been since the first day when they made their presence into the world. We adore these puppies and will settle for nothing less than a dedicated, loving family that is well aware of the breed requirements and the needs of a puppy and this breed mix.  We also are looking for families that want the dogs they will grow to become, not just the little bundle of furry cuteness.  If you have been thinking about adding a small breed puppy to your family and have the time and patience to properly raise a pup then they may just be perfect for you.  We know you will fall in love with them as deeply as we have when you meet them.  They are simply adorable puppies.  The only question will be, which one to choose?