AVAILABLE
Please read our dog bios carefully to be sure that the dog you are applying for suits your family and lifestyle. At Pound Dog Rescue, we believe in the benefits of post-adoption training for our dogs and their families. This allows for continued socialization, and learning and helps to create a well-mannered and balanced dog. Post-adoption training is a requirement in our adoption process.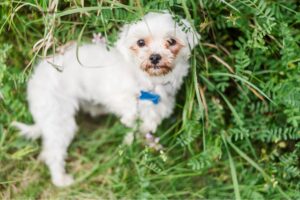 If you are looking for a tiny, non-shedding and affectionate dog, Moonflower the Maltese may be your match!   Moonflower, aka Moonie, is a 5 year old Maltese female who is only about 5 pounds. She's small b
ut mighty!  She's very open to humans and looks for attention from her people.  This girl has been a puppy mill mama and amazingly comes with a heart open to trusting humans and a desire to explore the world that has opened up to her.
Moonie has a snow white soft coat that will need regular brushing and grooming.  Her hair has been cut very short due to her coming from a puppy mill and being very matted, and so she is just starting to let us near her to brush her hair. Her new family will need to be prepared to take her to a groomer on a regular basis and to maintain her coat so that she doesn't get tangled. Her new hair is coming in healthy and is so soft and fluffy.
Housetraining has gone smoothly, considering Moonie's age and inexperience with a family home. She had only a few accidents in the first weeks which we feel were oversights in timing on our part.  Moonie prefers to do her business on walks, and despite spending many hours outside in our yard with the resident gardener, Moonie will wait until an actual walk to relieve herself. She has started to go to the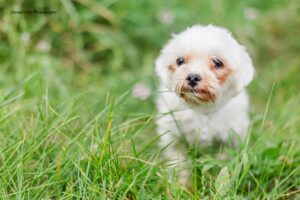 door to let us know. She never barks in our house so there is no noticeable indication, she is very subtle and once you've had her for a while you will start to read her cues.  In our home, there are several doors to the outside and she has one that she prefers already and will head to it. In the summer, someone has usually been home, but  since school started Moonie has been in the crate for the day without any accidents.
Moonie has definitely learned the word "walk" and will dance around in excitement at the prospect of getting out to explore the neighbourhood. She really wants to get out to sniff all the smells and meet all the other dogs and people who are out.  She boldly wants to meet every dog and is not intimidated by size or if they are barking at her.  Moonie's little tail wags in excitement of seeing someone that interests her and she pulls to get her human to go in the direction she wants!  She walks on the leash with confidence, often walking ahead of her person, falling in to walk beside her person once she's been walking for a while.  She will benefit from training in the future as she tends to cross back and forth in front of her person as she tries to explore everything on both sides of a path. Currently she goes for 2-3 30 minute walks a day, and happily lets her little legs go as fast as she can.  She has never tired out or sat down and asked to be carried.  She's so small that you would think that she would like to be carried around, but she's very independent and likes to explore on the ground!  Moonie is curious about all creatures and will stop and give a good long look.  She may want to go to meet someone or will pull to follow another dog down the sidewalk, and she's recently noticed bunnies and squirrels and is quite curious about them as well, sometimes pulling to try to follow them.  Moonie will stop and sniff, making sure to leave her mark on as many smells she can, so she releases a little at a time on her walks rather than all at once.
Moonie has spent time with other friendly dogs and once the introductions are over, she settles in near or beside the other dog. She hasn't engaged in play with another dog.  Moonie is living as the only pet in her foster home, but would be able to get along with another calm, small dog.  She is too tiny and delicate to live with a large dog. Moonie is not shy and will want to be the dominant dog in the home so a home with another female dog would not be a good fit for her, but she could certainly live nicely with a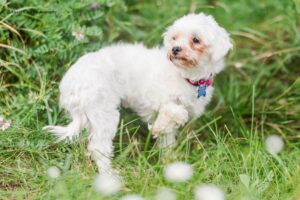 submissive male dog.  Moonie has not had any interactions with cats so we can't comment on how she would be with a cat.  A home with a very dog savvy cat that won't run from her or react to her would be considered.   She currently lives in a home with older teenagers and could live in a home with children as young as about ten years, but keep in mind that she isn't a playful girl, more of a lap dog looking for gentle belly and ear rubs.  Moonie could live in an apartment or condo but she absolutely loves her outside time and would need an active person or family to ensure she gets plenty of walks and outdoor time daily.  It would be anticipated that the winter weather would make Moonie less inclined to spend time outside and would need a warm coat to help her tolerate the cold.
Moonie has shown no interest in dog toys, but since she lives at home with teenagers, she will go into those bedrooms looking for something soft to steal. Once she has found a random sock, Moonie acts quickly and runs to her crate with her treasure! She doesn't destroy it, she just wants it near her, perhaps liking the smell of her people in her crate! When sorting laundry, Moonie is right in there looking for something, and even after she's been warned, she'll wait until a back is turned and then spring into action to make it hers!
Moonie loves her crate now.  At first she needed assistance to go in it, but now that she knows she gets a treat every time she goes in, she will run to her crate when she sees the Kong being filled with treats. These treat filled toys are the only ones that interest her and keep her occupied for extended periods of time. Moonie sleeps in the crate through the night quietly and will start to make a little whining sound when she hears her people getting up in the morning.  Moonie gets crate time every day, and especially in her first weeks, any time we couldn't have eyes on her she went into the crate, even if it was only briefly.  When we are home, she may whine to get out, but when she knows we have gone out we don't hear anysounds coming from her. Now, she will go to her crate on her own to nap with the door open during the day.  Moonie also chooses to go in her crate with the door open while we sit for dinner. Her crate is a safe and comfortable place for her and it will be necessary to provide this in her future home as well.
Moonie likes to be close to her people when they are home. She follows us around, and if she's napping and we leave the room, she immediately gets up to see where we are.  She has bonded with us very quickly and will do the same in her permanent home too.  Moonie can't get up on the furniture on her own.  She has a bed in our living room that she will head to, but more recently, she's decided she wants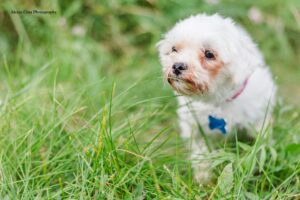 to sit with her people on the sofa and will pace back and forth in front of her people to indicate that she would like to sit with them.  She is quite open to cuddling, and loves to curl up on or beside her people, and if there's a blanket nearby, she's happy to make it hers!
Moonie travels quietly in a crate in the car, initially she's nervous about where she's going, but with time, she should settle down and enjoy rides when they become routine. Currently, she is very happy when she gets out of the car and discovers she's home!
Moonie has recovered from her spay and has had some dental work done.  Maintenance of the few teeth she has left will be important.  Despite having only four teeth, Moonie eats her kibble twice a day and will work to eat a hard treat with tremendous determination! She absolutely loves a spoonful of canned food mixed with her kibble but it isn't necessary to wet her food down at this point.  Moonie is treat motivated and that will prove beneficial when she goes to training classes in the future.  Moonie does tend to favour one of her hind legs every once in a while. We had this fully investigated by our vet and it was determined that she has a luxating patella which is common in small dogs.  It doesn't deter her in any way and does not need any surgical intervention at this time.   She may benefit from some joint support supplements like Omega 3's and  may need some form of arthritis medication as she ages.
Moonie's new people will need to know that despite Moonie's curiosity to explore, she has no idea or awareness of the dangers of being outside. Moonie will always need to be on a leash or be in a fenced yard because she is a flight risk. Moonie also is so quiet and underfoot that people in her home need to be aware of where she is every time the door is opened because she is an escape artist and will just walk out.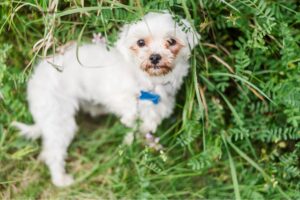 This is something her people will need to be very careful about and will need to ensure that she wears a martingale collar when outside.  Even if you are carrying her around in your yard or out and about, it will be essential that she is on a leash and that you have your hand securely on your end in case she were to spring from your arms
Moonie is a special girl who attracts attention from everyone she meets because she is so tiny and friendly.  She's a cuddler and it is amazing that she is so open to humans despite the treatment she had as a mill dog. She has put that life behind her and is willing to embrace all kinds of adventure with a loving, gentle family.  Moonie's ready to be your loyal best friend and she deserves the best life and all the love you can give her.