ADOPTION PENDING
Please read our dog bios carefully to be sure that the dog you are applying for suits your family and lifestyle.
We at PDR believe in the benefits of post-adoption training for our dogs and their families. This allows for continued socialization, learning and helps to create a well-mannered and balanced dog. Post-adoption training is a requirement in our adoption process.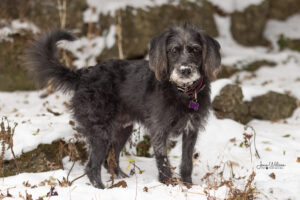 In the game of golf, a "Mulligan" is a do over and this handsome boy is happy to be getting a do over. Mulligan is a 6mth old Labrador and Poodle mix. Mulligan arrived in foster care as an unclaimed stray from an overcrowded shelter. He is currently around 40 pounds and has some growing and filling out to do. We expect he will be a large dog in the 60lb plus range when full grown. He was very friendly and happy right from the start, happily coming with us to his new foster home. He howled in the car for about the first 10 minutes but was quiet the rest of the ride home. On subsequent rides, he has been a silent passenger, happy to be along for the ride.
He would do best in a detached home as he can be quite loud when put in his crate when you leave. He mournfully cries and howls. I have left him out of the crate for short times and he is quiet and can usually be found keeping my chair warm for me. He cannot be trusted outside of his crate unattended for any length of time though as he is a puppy at his prime chewing stage. We would hate to see the damage he could do to a home if left unattended for long!
We have been working on leash skills and he is coming along nicely on the gentle leader. Without the gentle leader, he is an exuberant puller. I believe with practice he will be a good walker as he is very attentive to whomever is walking him. He would benefit greatly from obedience training, and given his size and capacity to learn, advanced obedience will be highly beneficial. I don't think he would be good with very young children as he is rough when he plays and still jumps up and throws his weight into you. We are working on this, but he is a puppy and doesn't understand his size and strength yet. He would require an adult home or one with children over the age of 10yrs of age where the adults are experienced dog owners and will supervise all interactions.
He knows his name and is fairly good at coming when called. He races inside when he hears that he is coming in for a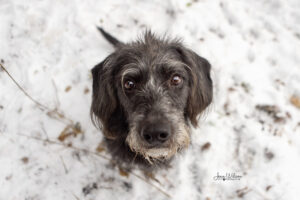 treat! He is pretty quick to do his business but don't bring him out if you have a ball in your hand because he forgets about everything but the ball. He loves to play fetch. He drops the ball close enough to pick it up with the ball thrower! He is amazing. He likes to run around the yard with my other dog and would benefit from having a playmate to run with.
He also loves to play fetch in the house and will happily retrieve for as long as you want to throw. He isn't persistent when you tell him it's done. He usually goes to find a chew toy. He is a toy destroyer; he needs to be redirected when he starts tearing into the toys. A firm aah-aah and supplementing with a sturdy chew toy and he corrects his behaviour. We have witnessed many toy destructions since we have had Mulligan. He certainly cannot have stuffies as those are immediately destroyed.
He is not a picky eater. We feed Mulligan in his crate so that the other dogs have a chance to eat their meals first. He enthusiastically gobbles up his food. He loves liver treats and biscuits and has to be advised to be gentle as he can be overly enthusiastic when taking them. I've lost a little bit of skin in the treating process!! This is a work in progress and needs continued training for him to learn to take his treats nicely.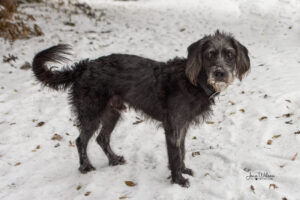 He has had one bath since we've had him, and it was the first day so I can't speak to how he would be with you. He didn't tolerate it very well, but it had been a very stressful day being his freedom ride day. He seems fairly tolerant of soft brushing. He sheds lightly and has a wiry, coarse black coat, sprinkled with a tiny bit of white and his face has silver tips by his muzzle and his eyebrows, giving him a wise appearance. He is so handsome; did I mention that yet?! His inner ears are more on the poodle side and will need to be kept trimmed short to help avoid debris and wax build up.
He would like to be a lap dog, but is a bit big for that. He does love to sit beside you on the couch. He seems to be a well rounded soul and is very easy to love. We almost foster failed with this amazing dog, but keeping him would prevent us from helping more dogs. We hope you will love him as much as we do!