AVAILABLE
Please read our dog bios carefully to be sure that the dog you are applying for suits your family and lifestyle. At Pound Dog Rescue, we believe in the benefits of post-adoption training for our dogs and their families. This allows for continued socialization, and learning and helps to create a well-mannered and balanced dog. Post-adoption training is a requirement in our adoption process.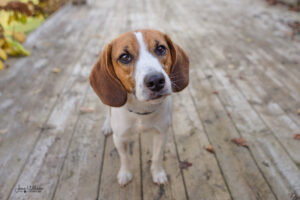 This little sweetheart is Earl and he is a 1yr old Beagle boy weighing about 21lbs. Earl came to us from a local shelter where he and his family of Beagles found themselves. They came from very unsuitable circumstances and had to be taken in by the shelter for their well-being. We took in his brother (Randy) and his mother (Bagelle) as his sister and father were adopted out by the shelter. Earl is the extrovert of the family and is a healthy, happy and friendly Beagle boy who would love to join his forever home for his happily ever after!
Earl is a total love of a dog and is more people focused than the typical hound. Now don't get us wrong, he is all about the smells and adores being outside with a world of sniffs around him, but he is also quite the cuddler and sucky and loves nothing more than to lie on your lap and fall asleep after a good day of smelling stuff. Earl also really enjoys meeting new people and getting the attention from strangers who are just friends he hasn't met yet. Earl is a social dog and really enjoys new places and meeting new people.
Earl adores being outside and running the yard constantly sniffing and exploring. Earl has asked for a home with a good sized fenced in yard where he can spend a good amount of time each day. He loves his outdoor time and always finds new things to sniff out. He also loves having outdoor toys to flip about and run around with. He is a puppy at heart and gets a lot of joy from playing. Now, Earl will need a very secure fenced in area as he can be a bit of an escape artist. His foster home has had to reinforce some areas as Earl will find any weakness in a fence and try for an opportunity to go off exploring. Although he enjoys leash walks, he does need the ability to run free in his fenced yard as this is such a joy for him. He is a generally quiet dog and rarely barks which is odd for a Beagle but super nice for the neighbours! He is very quiet in the home as well and doesn't cause a fuss. Earl is a very easy dog to live with. He doesn't ask for much, just some toys, good food, and to be allowed on the couch or chair as this is his preferred hang out locations. Earl is housetrained and will go to the door when he needs out. He is very quiet about this though so you have to pay attention and notice when he is telling you he has to pee. He is also crate trained and is crated whenever we aren't home and at night time. He is too young and mischievous to be left out in the home without supervision at this age.
Earl requires a home with a large fenced yard so won't be suitable to most apartment or condo settings. He can go to a home with or without another dog. He is a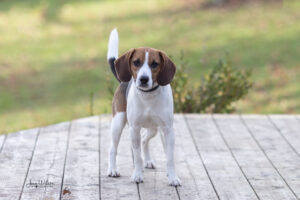 friendly sort, although a bit too enthusiastic when meeting a new dog, but makes friends easily once given time to calm down. He would do well with another playful, confident dog to buddy with and cuddle with when the play is done. Earl can also be the only dog and get all of the attention and he would be happy as well. Earl lives with cats in his foster home and always wants to chase the cats if he can. The foster's cats are very dog savvy though and don't run from dogs or react to them at all. If a cat were to cause a fuss or run, he would certainly chase. So we can only consider a home for him with a cat if that cat is VERY dog savvy and won't react to a new dog in the home at all. Earl also is keen on getting into kitty litter or the cat food so there would be a need to have these items in areas where he cannot access. It would be best if there weren't cats or small animals in the home at all as this will be best for Earl's good behavior but consideration would be given to a home where the cat absolutely will not run from Earl or react to him in any way.
Earl is gentle natured and is suitable for a home with children but only children old enough and responsible enough to ensure that doors are shut each and every time and the gate to the yard is not left ajar. As a hound, he will be off like a shot if given the opportunity. We cannot risk Earl's safety by having him run away so need to ensure that his home is safe for him and his family is hound dog savvy. A home with young children would not be suitable for this reason, but we cannot suggest an age of suitable children as there are some very responsible and intuitive 7yr olds whereas some older children are more unaware and can't be counted on to close a door behind them every time. We ask that anyone with kids who are interested in Earl think honestly about their children's natures and whether or not they can be counted on to keep the dog safely inside.
Earl is a character!! The word gregarious suits him well; social, outgoing, friendly, a liking of companionship. Earl has never met a person he didn't like! Earl can be a bit of a bull in a china shop type and when excited he forgets himself and can become jumpy. But in the home he is generally quiet and calm. Its only when it is feeding time does Earl race down the hall and do parkour moves off of the door leading to the feeding area. Earl loves his food and finds feeding times very exciting!! Earl never had the proper manners training his first year, until he entered his foster home, so he can get to be a bit much as his extroverted nature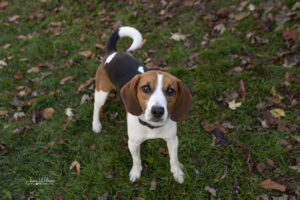 which makes him so loveable is also his Achilles heel when he gets over excited. He loves his walks but if he sees another dog, the prospect of meeting a new friend overwhelms him and makes him barky and jumpy on leash. This has been a work in progress teaching him impulse control and that he is not to meet other dogs when in an excited state. We use a Gentle Leader on him on his town walks to get better control of him and this works well. And we always have a pocket full of liver treats on hand for distraction training when another dog is nearby. He is at the point now in his training where he can be adopted and have his forever family continue working with him. He will not be suitable for 1st time dog owners as we do need Earl to go to a person or people who are experienced, particularly with dogs that can get over stimulated on leash and can confidently continue with the work and training we have instilled in Earl. A Beagle has a loud bark so when he gets going it is loud! It's based out of excitement and friendliness, but still, not a behavior that is wanted when out walking. We are looking for a home for Earl that is more rurally based, or is not in a quiet area where there are a lot of other dogs. He is doing very well on his training here with us and is learning to behave calmly when he sees another dog, but we don't need him to be seeing dogs every block when out walking as this will be too much for him. He is currently fostered rurally and loves his country walks where he doesn't have this distraction and can just enjoy the smells of the countryside, and then we take him into town for his more structured walks and see the occasional other dog which allows us to work on his training. This is what will set Earl up for success.
Earl travels well in the car. He is quiet for the ride and settles nicely in his crate. We crate him for car rides to keep him safe. He would love to come along on all adventures. Earl is destined to be some person or people's very best friend and companion. He is equal parts cuddle bug and outdoor adventurist! He is a moderate energy dog and needs some good yard running time along with a couple good paced walks every day. He is a fast walker and needs his person to be fit and active and able to keep up with him . But he is happy with his walks and doesn't need extensive running to be happy. He will happily lounge all evening on the couch with you as long as he got his outside time met during the day. He is not though a dog that will want to be left outside all day alone. We are not suggesting he be a kenneled dog or a yard dog…he just needs regular outings throughout the day to be happy. He is very much a family dog and we know that there is a lucky family out there that he will be the perfect dog for! Is that yours?