ADOPTED
Please read our dog bios carefully to be sure that the dog you are applying for suits your family and lifestyle. At Pound Dog Rescue, we believe in the benefits of post-adoption training for our dogs and their families. This allows for continued socialization, and learning and helps to create a well-mannered and balanced dog. Post-adoption training is a requirement in our adoption process.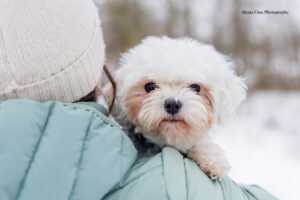 Snowball is a sweet little Maltese who is an abundance of fluffy whiteness. She is a tiny girl, weighing almost seven pounds and at two years old, is ready for a home that will give her all the love and affection she craves.
Snowball is adapting to life in a home very easily.  Prior to coming to foster care, she lived as a breeding dog in a for-profit facility, so Snowball's life has completely changed and she is curious and trusting and ready to embrace being a dog in a caring home.
Snowball is a playful girl and has discovered the joy of toys.  She particularly likes to spend time working on benny bully chews, or emptying out a Kong.  Soft squeaky toys get carried around the house and she often will pile them up inside her crate!  If you squeak a toy, she comes running and is curious about it, eventually taking it from you and trotting away with it to explore without you!
She loves her little round bed and any soft blankets or towels to cozy up in, and if she can be cuddled in something soft and get petted, then she is so happy!  When she is looking for attention she will lock eyes with you and then roll over for immediate belly rubs.  She also will do a little dance in front of you to let you know she wants to be picked up and sit with you.  She is open to letting you carry her around and will settle in on someone's chest and enjoy getting her back stroked.  Snowball is too small to get on any furniture on her own, but will gladly let you place her next to you so she can snuggle in.
Snowball has a super soft non shedding coat that will need regular brushing and visits to the groomer for trimming.  She has had several baths in her foster home, and while not a fan, she allows you to get the job done.  After a bath, she loves to be bundled up in blankets and sit close with the person who just made her go through the bath ordeal so she is very forgiving!
Housetraining is a work in progress.  She rarely goes to the door to let us know she needs to go out, and so we are offering her the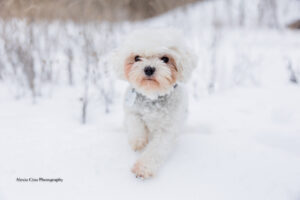 chance to go out every hour or two when we are home.  If she needs to go, she will do it in the first few minutes, so she can run back in the house to get out of the cold.  When Snowball is out of the crate, we always have eyes on her if she is moving around because she can pause to pee in a split second! New people will find Snowball amusing because she both crouches and lifts a leg to pee! Accidents are still a regular occurance so her new home will need to continue to offer her lots of opportunities to go outside and this will be something that they will need to be very mindful of.  She cannot be left to wander the home unattended and must be supervised and kept close by when not in her crate.  She is bound to have a setback in house training progress in a new home so patience and adherence to getting her outside very often in the first many weeks as she settles is mandatory.
Snowball gets along quite well with the other dog being fostered in our home.  The two cuddle close together and walk well side by side.  Occasionally, there is a little dispute over a toy but it has never been serious.  Snowball likes to see what is in the other dog's crate and will steal leftover treats and stuffies, so she should not be with a dog who guards their things. When her foster buddy takes things out of her crate, Snowball stands by and watches, she never tries to prevent it, but perhaps she's watching and  planning when she could steal it back! Snowball will run around the house with the other dog in bursts of energy and excitement.  She will play with the other dog for a few moments, but really is focused on getting attention from adults. She would do well in a home with another fairly calm dog or in a home where she's the only dog.  She is currently in a home without a cat so we can't comment on whether it could work or not but we expect a home with a cat that is dog savvy and wont run from her will be fine.
Snowball will bark occasionally.  She doesn't bark when someone rings the doorbell, but she will let out a short bark when she hears someone come in, and definitely in the mornings, she barks when she thinks it's time to get up! She also will get a little vocal if you don't pick her up when she's dancing for your attention.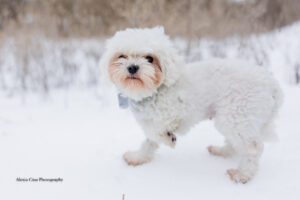 Snowball's favourite treats are freeze dried liver treats and she is motivated to get them.  She will go immediately into her crate for them, and she is learning to sit to get them. Future training will be necessary and these treats will be great aids in learning new skills!
Snowball has had several car rides.  She is not a fan of being crated in the car, but will settle and quiet down after a few minutes.  She has only travelled in a crate in our car.
Snowball is a curious little one and likes to explore.  She has managed to poke her eye and needed drops to help it heal. She was the easiest little one to give drops to. Other than that, she has been spayed and is in good health.
Snowball is a good eater.  She takes her meals in her crate, and if she doesn't eat right away, she waits until it is very quiet and even until she's the only one in the room. 
Snowball easily goes into her crate and can be in there while her people are away for the day at work. She settles in well with a treat each time.  She is quiet there all night and is usually quiet in the mornings, waiting for the door to open.  She also likes to hang out in the crate with the door open when we are home and in the kitchen where her crate is.
Snowball recognizes key phrases like: treat for bed, do you want to go out, let's go for a walk and sit.  She also picks up on cues.  When I put my coat on, she gets excited to go outside.  Walks mean chances to explore and she alternates between sniffing and then running ahead.  She seems to really come alive on walks and it is a real joy for her to get out to explore. As the weather warms in the spring, Snowball will love more opportunities to be outside, but on the very cold days she is happy to come back in.  She calmly lets us put her coat on and off and doesn't mind getting her paws wiped for snow.
In the short time that Snowball has been with us, she has opened her heart and is following us like a little shadow around our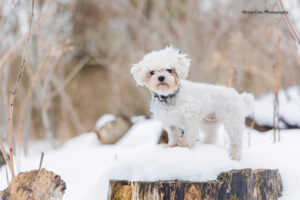 house.  When she sees us in the morning she is overcome with excitement and dances around us and when we arrive home she runs to greet us and let us know she is so happy to see us again.
Because Snowball is so tiny, she needs to be handled with care and needs a home with people who will not try to rough house with her.  Children over eight would be best and she could handle the comings and goings of a home with a number of family members.
With fur as white as snow and as soft as velvet, and a loyalty already showing itself, Snowball will make a great cuddly companion. She's just waiting for you to apply!