ADOPTION PENDING
Please read our dog bios carefully to be sure that the dog you are applying for suits your family and lifestyle. At Pound Dog Rescue, we believe in the benefits of post-adoption training for our dogs and their families. This allows for continued socialization, and learning and helps to create a well-mannered and balanced dog. Post-adoption training is a requirement in our adoption process.
T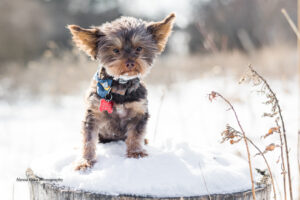 his handsome boy is Wicket and he can wear the heck out of a bowtie!
Named after the heroic Ewok, Wicket is a small Yorkshire Terrier/Poodle mix who has the softest chocolate brown coat with tan markings and a little white tuft on his chest. He has big, expressive ears and beautiful brown eyes. At almost 2 ½ years old he tops the scales at approximately 5 ½ lbs of pure love and he is ready to share it with his forever family. Wicket is the sweetest boy and he has made a friend of every person and animal that he's met.
Wicket was a rescue from a large for-profit breeding operation where he spent the first years of his life. He came to his foster mom knowing nothing of the world but bravely choosing to trust her. From the beginning Wicket has been a people dog even though the rest of the world is still pretty scary. In his time in foster care he has made ENORMOUS progress from that frightened, matted little boy and he is looking for a calm and supportive home to continue to build his confidence.
Wicket is a very quiet boy only barking to back up his foster siblings when they think there is an alert to be made, or occasionally whining when he thinks it's time to come out of his crate. As such he would really be suitable for any home environment as long as there is easy access to the outdoors for potty and play time. If there is a fenced yard it would need to be suitable for a small boy like Wicket as his fear makes him a flight risk for the foreseeable future. He still struggles with large flights of stairs but that will come as his confidence grows so any home layout would be fine. What's more important to be aware of is the temperament of the home as Wicket is a very sensitive boy. He needs a calm home that understands that he needs to be treated with love and patience, meeting him where he is while still encouraging him to tackle the scary things. Wicket cannot grow if he is coddled so he needs a home that can handle helping him out of his comfort zone with patience and encouragement.
Wicket walks very well on the leash and the only thing that has inhibited our outdoor adventures has been the recent inclement weather. Thankfully he can also wear the heck out of a sweater but any extensive exercise in the cold is just not possible. Luckily,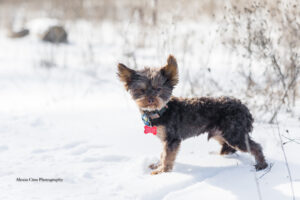 he is not a boy who requires lots of exercise to be a good dog although in the good weather he really comes alive outside. From the moment he arrived in foster care he was more comfortable in the yard than the living room. He is looking for a family who wants to get him out in the world walking in different environments and meeting all the people. As his confidence continues to grow so will his desire to adventure! Wicket handles car rides quite well even though he is a bit nervous. He settles as you get going and with continued exposure these rides will just get easier. 
There are infinite things that I love about Wicket – mostly his sweet kisses. He is such a soft and tender boy who wants nothing more than to be pet and loved – preferably on a couch stacked with dog beds and cushy blankets. The couch and his kennel are his safe spaces so he has requested a family who wants a couch dog! He's brave enough to go from his kennel to the couch, from the couch to the water bowl, or to help foster mom out in the kitchen when it's time for dinner – everything else he needs a little prompting. Wicket also has a mischievous streak when he thinks you aren't looking and likes to collect household objects. It's not enough that his couch-bed is full of dog toys, he's also gathered up dog sweaters, paper towels, heavy metal gardening tools, stickers – really anything that foster mom has been foolish enough to leave in his reach. His forever home needs to know that they have to keep Wicket's area clean of anything they DON'T want to see in his dog bed or blankets. He has not damaged anything that he has 'relocated' but he has definitely put teeth on things so better safe than sorry! Wicket loves to sleep in his couch bed on his back with his legs up and splayed, often with his eyes a little open, snoring softly. Cute doesn't even begin to describe it. Foster mom has a whole phone full of pictures of this pose because it never gets old. Wicket is also just learning what to do with toys and watching him move them around and paw at them is some of my favorite entertainment right now. And if it squeaks? He's in!
When Wicket came to rescue his coat was in terrible shape, full of many painful mats. On day 2 of his new life he visited a professional groomer and was a total gentleman, of course. Since then foster mom has given his baths and brushed his beautiful coat and he has been a patient boy, happy for the attention. He disagreed with nail trim time but with continued exposure this won't be an issue. Even in his disagreement he's still a sweet boy. Wicket's new family must be ready for the costs and time associated to maintaining a low-shed coat like his by having him in to regular grooming appointments and brushing him in between.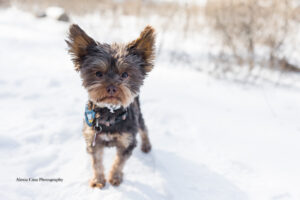 Wicket took to house training very quickly only having one accident in the home aside from a brief stomach issue in his kennel. He has yet to learn how to indicate that he needs to go out but I'm sure with repetition in his new home he will get the hang of it quickly. Wicket is also crate trained and as mentioned previously his crate is one of his safe spaces where he is very calm. He eats his meals in his crate and he is also in there whenever I am out of the house which right now is 4-5 hours at a time while I am at work. I come home and let him out for a break at lunch. Wicket says he would love to have company more often but he can handle this schedule if necessary. I keep a pee pad in front of Wicket's crate because he occasionally pees a little bit when coming out of his kennel – sometimes it's fear and sometimes it's excitement. It has already improved so I expect the improvement will continue. Wicket also sleeps in his kennel at night without a peep.
Wicket LOVES his foster siblings, especially his Chihuahua sister. He has benefitted from their presence and borrowed from their confidence and as such he would do very well with another small, confident dog who would be accepting of a new sibling. A large dog would pose difficulty just because of Wicket's small stature. He has not had any contact with cats but there is no reason to think he would have any issue, and he would definitely not pose any threat to a kind, dog-accepting cat. Remember, he's a sensitive boy! Wicket is completely unreactive to other dogs when we are walking although squirrels are kind of interesting – almost as big as him – but kind of interesting.
Wicket loves kids as long as they are tender with him and realize that he is not a toy. He is a very small boy so any children in his life would have to be older than 8 and taught how to properly handle him. Wicket's fear will also make him a flight risk so they need to be children old enough to be trusted to keep doors closed and to be sure that he is always wearing his martingale collar and leash when outside. When he met a small group of children in our home recently he just sat in the midst of them with a look of pure joy as they gently pet and cooed at him. He is such a lover. 
Wicket has *almost* mastered going into his crate when I ask him to. He had this down pat and then I had to move his crate and he just hasn't gotten comfortable with the command again yet. Same goes for getting off of the couch and heading in to his kennel for meal time. I don't think he will have any issue continuing to learn these things with his forever family as he settles in and becomes his confident self.
When he came to rescue Wicket was neutered without issue and he also had a dental checkup and cleaning. He did not need to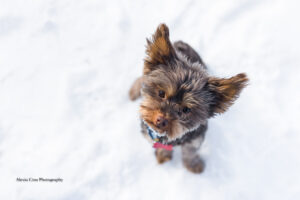 have any teeth removed and nothing else of concern was noted.
Wicket has been a joy to have with us and is sincerely just the sweetest little man. He is still shy and a bit frightened but every day brings a new obstacle to tackle and with that comes enhanced confidence. A day in the life of Wicket consists of lots of couch cuddles, learning to play with his MANY toys, tolerating foster mom's paparazzi-ish need to photograph his EVERY move, almost playing with foster sister, sleeping on his back for a while, curling up with foster mom for a while, a nice walk and more cuddles. He has been no trouble to have with us, bringing us nothing but love and happiness. It's easy to look at him and fall in love but he really needs the right home that can handle his insecurities while helping him move forward so a family with this kind of experience would be a benefit. He's going to take a bit of time but he will learn that the world is safe with his new family and then I can see a little sassy boy hidden underneath the fear. He deserves this second life to be the best we can give him and he promises to pay handsomely in furry faced kisses and little dog snuggles. If you think you can help Wicket the rest of the way to his confident self, and you can handle the cuteness that he wields, please consider submitting an application for this special boy. He'll be waiting right here snuggled up on the couch with me