ADOPTED
Please read our dog bios carefully to be sure that the dog you are applying for suits your family and lifestyle. At Pound Dog Rescue, we believe in the benefits of post-adoption training for our dogs and their families. This allows for continued socialization, and learning and helps to create a well-mannered and balanced dog. Post-adoption training is a requirement in our adoption process.
Alexis (A.K.A Lexi, Alex, or Lexis), this little bundle of fur wants to play, run, and eat. Alexis is a 3-year-old Shih Tzu coming from a for-profit breeding facility. When this girl arrived at her foster family she kept herself between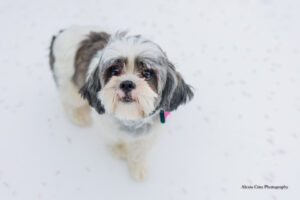 the human and the other rescue dog with her as if she was a defender. The family thought Alexis would be appropriate because it means defender.
Alexis is a brave and bold dog. She quickly found a space in the pack of the foster families' two other dogs. She has learned from these dogs about routine, rules, and running. Alexis is learning how to play with her foster brother and sister. Alexis would benefit from a household with other dogs and finding a place in a new pack but would also do well as the only dog, as long as she has dogs in her life to mentor from. 
Alexis enjoys playing and running in the backyard. She feels very confident in a family fence yard and has been known to spend hours happily playing, even on colder days. Alexis, however, does not enjoy walks on a leash. She is learning to walk on a leash, but a non-fenced world is still scary to her and she will need time to gain confidence. She also doesn't like to get her paws wet! Alexis has perfected a cat-like jump to help her avoid walking through puddles and, if the puddles cannot be jumped, will stop to figure out how to navigate around. She will arrive home in a dejected mood if forced to get wet on a walk.
On colder days, she wants to stay outside for longer than her little body can handle. She also hates clothing, literally becoming immobile when wearing any sort of clothing. For extremely cold weather, limiting her time outside and offering more play is the recommended course of action.
Alexis is also a good traveller in the car, but only when travelling in her crate. She settles quickly for the journey and is very happy about the adventure at the other end of the ride with her bright eyes open and tail happily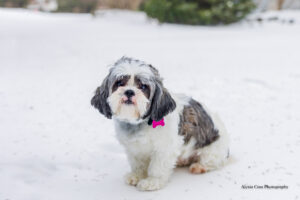 wagging.
Alexis sleeps happily in her crate during the night and will settle during the day. She had adapted well to her crate as well as a smaller confined area in the home. She could adapt to her humans leaving for work but would benefit from being let out midday to relieve herself. She wakes up with the rest of the family at 6:30 am. She doesn't make too much noise, but the moment the cover is off of her crate, she's ready to go. She is, currently, cautious when exiting the crate every morning; this is just a confidence thing, we have really seen her blossom with the rest of her foster brother and sisters.
Alexis has just started to learn the "sit" command and is capable of learning many others. She would benefit from training to help continue to build her confidence. She will also need time to learn about the joys of walks, and she would probably do better with a confident dog and a patient handler that could show her how these events go. It will take time before Alexis is able to keep up a fast-paced walk. The biggest thing is that her adopter fully understand that she needs to be pushed to gain confidence and keeping her home in the yard and not helping her expand her world is detrimental to her.
Alexis has adapted to being carried but is really nervous about being picked up. She will submit to being picked up on her own terms, usually playing the "catch me" game until she is ready. She has learned to approach her foster family recently to be picked up or rubbed. She will, given time, learn to trust her forever home. For her own safety, she should wear a leash around the house for a couple of weeks so that she can always be caught if need be, and so that she  isn't startled with a quick grabbing.
She has a wonderful tail wag, so you'll always know her mood. She is never too far away from her humans but is indifferent to snuggling. She does enjoy time on the bed, often thumping her tail on the mattress near the human, but she is also fine to be on her own, just near people. Alexis would like an adult only home and one without visiting  children as she is too timid for the noise and activity of kids.
We have not seen her interact with cats, so we don't know what she would think of them. Alexis has a very high-pitched bark and will state her presence loudly, especially if the pack is alert and barking at the door. We do not recommend her for an apartment as she needs more activity, and can be quite loud. We encourage her new family to train her to appropriate barking.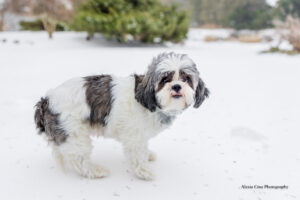 She surprised her foster family by going up a flight of stairs within 2 days of arrival, not something a new rescue would do! She had another trick up her sleeve by going downstairs one afternoon when heading out for a walk. She doesn't like to go down but has proven that she can. With some encouragement and a reason, Alexis will navigate the down.
Alexis is looking for a quiet and calm forever home where she can settle in slowly with patient people who will give her the patience and understanding she needs.